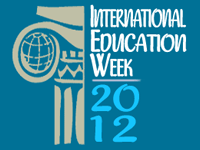 International Education Week (IEW) 2012 was a great opportunity to examine the impact of the educational exchange, celebrate new accomplishments in the field, and plan for the future of international education. In Washington, DC, several IEW events occurred, including the release of NAFSA's Economic Impact Analysis data and Internationalizing the Campus 2012, the Institute of International Education's Open Doors press briefing, and the Simon Award Presidential Panel and Awards Reception.
NAFSA was honored to host several presidents and senior international officers (SIOs) from institutions that received the 2012 Simon Award for Campus Internationalization, established in honor of the late Senator Paul Simon. This year marked the tenth anniversary of the award. Martin Simon, son of the late senator, joined the guests to speak of his father's enthusiasm for international travel, exchange, and education. 
Participating in a panel discussion led by Goucher College President Sanford Ungar were MaryAnn Baenninger, president of the College of Saint Benedict; Mary Sue Coleman, president of the University of Michigan; John Haeger, president of Northern Arizona University; Tori Haring-Smith, president of Washington & Jefferson College; and Thomas R. Kepple, Jr., president of Juniata College.
The presidents spoke of unique and innovative programs at their institutions and also discussed the importance of comprehensive internationalization efforts on campuses around the world. Much of the conversation focused on providing international access and experience to all students in higher education, regardless of their financial position, as well as preparing the next generation of leaders to approach international relations with an appropriate mindset.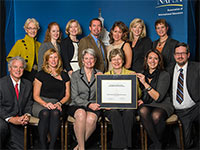 An awards reception followed the panel, with presidents and SIOs accepting the award on behalf of their institutions. Congratulating the Simon Award recipients were Ann Stock, assistant secretary of state for Educational and Cultural Affairs, and Maureen McLaughlin, senior adviser to the secretary of education and director of international affairs.
Colleges, universities, and organizations from around the world celebrated IEW 2012 with plenty of events and activities of their own.
Learn more about other celebrations and tell us what your campus did at NAFSA's Facebook page.