In May 2012, NAFSA held a video contest to celebrate international education. More than 70 videos were submitted, and we were overwhelmed by the response. A panel of judges watched all of the videos and invited visitors to vote for six of the top videos on the NAFSA website. After several weeks of voting, the video from La Trobe University (Melbourne, Australia) was named the winning entry. Several other outstanding videos were selected as finalists or honorable mentions.
La Trobe University
With stunning visuals and interviews with a variety of students and faculty, La Trobe University's entry highlights a multinational partnership working to improve urban planning in Sri Lanka. The video shows Australian and Sri Lankan students surveying locals and collaborating to determine what recommendations they can offer the local governments about future development.
Semester at Sea
Semester at Sea's video features students studying abroad in Belize who were given the unique challenge of enacting social change with a budget of $100. Students are shown engaging with locals and developing plans that make an immediate impact in the community.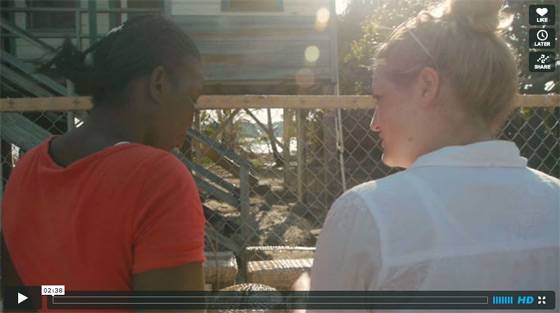 Miami University
Miami University (Oxford, Ohio) submitted this heart-warming video about a study abroad trip to Ghana to help construct teachers' quarters in the village of Abrafo Odumase. A long-running program offers students the opportunity to learn from and work with the villagers and sustain a valuable partnership over several years.
University of Houston
The University of Houston partnered with Bethlehem University (Bethlehem, Palestine) to teach a joint tourism class and give students the opportunity to learn and interact with each other during the course. The two institutions used video conferencing to share lectures, hold discussions, and allow students to make international connections without leaving the classroom.
University of South Carolina
Students from the University of South Carolina discuss the transformative experience of studying abroad and the lasting impact of exploring new cultures, education systems, and career paths.
Missouri State University
International and U.S. students from Missouri State University spend their spring break in Chicago, volunteering at various organizations, exploring social issues, and connecting with peers from different backgrounds.
Queens University of Charlotte
Students and faculty from Queens University of Charlotte (Charlotte, North Carolina) have been volunteering on a small Micronesian Island for nearly a decade, working with locals to map the island using geographic information systems (GIS) and promote sustainability.
Montclair State University
In spring 2012, Montclair State University (Montclair, New Jersey) held a conference on the Arab Spring featuring more than 15 events on politics, culture, and social change. Some students even traveled to Tunisia to interview leaders, artists, and journalists.
Michigan State University
Faculty and staff from Michigan State University's Office for International Studies and Programs address the importance of fostering peace, unity, and understanding around the world through a year-end video message sent to students.
University of Texas-Tyler
University of Texas-Tyler profiles students and staff whose experiences abroad taught them not only about culture and language, but also much about themselves.
Drexel University
A team from Drexel University (Philadelphia, Pennsylvania) travels to Thailand and collaborates with a charity to consult with farmers and develop a sustainable tool that makes rice planting easier and more efficient.
Virginia Tech
Humphrey Fellows at Virginia Tech are professionals from around the world who receive English language instruction and study leadership in order to advance their careers.