NAFSA Conference Speaker: Kakenya Ntaiya helps girls thrive in Kenya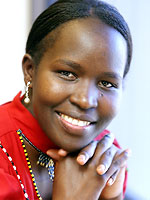 NAFSA's International Educator magazine interviews Kakenya Ntaiya, founder of the Kakenya Center for Excellence, a school for girls in her native Kenya.
Life for Kakenya Ntaiya was supposed to follow the traditional path. Engaged at age 5, she was to end her education by the time she was a teenager and begin her preparations for marriage. But Kakenya had a different plan. First she negotiated with her father to finish high school. Then she negotiated with the village elders to do what no girl had ever done: leave her Maasai village of Enoosaen in south Kenya to go to college in the United States. She promised that she would use her education to benefit Enoosaen. The entire village collected money to pay for her journey.
Kakenya received a scholarship to Randolph-Macon Women's College in Virginia. As an undergraduate, she became the first youth advisor to the United Nations Population Fund. In that capacity, she traveled around the world as a passionate advocate for girls' education, which she sees as a crucial tool for fighting the practices of female genital mutilation and child marriage. She went on to the University of Pittsburgh, where she received her doctorate in education in 2011.
Kakenya is now fulfilling her promise to her community. As the founder and president of Kakenya Center for Excellence, a girls' primary boarding school in Enoosaen, Kenya, Kakenya believes that education will empower and motivate young girls to become agents of change in their community and country.
IE: What inspired you to pursue your higher education in the United States?
Ntaiya: The opportunity to study in the United States came when I met Dr. Ole Ronkei, a man from our village, who was then studying at the University of Oregon. He had supported a few other men from our community to study abroad. I asked him if he could also help me go to the United States like the young men he had helped. He agreed, but the challenge for him to support me was the fact that I had an arranged husband waiting to marry me. I remember telling him not to worry about the husband and that I would handle that situation if he would just show me how to go to the United States. I applied to the Randolph-Macon Woman's College where I was accepted and given a scholarship.
IE: Why did you decide to return home to your village to start your school for girls?
Ntaiya: I was the first woman from my community to go to college and get an education. I was fortunate, as I avoided getting married at an early age, but many girls in my community undergo the ritual of female genital cutting and thereafter are forced to marry at an early age. Their dreams end when they get married. From my education in the United States, I learned about child rights, and I wanted to extend that information to the many vulnerable girls in my community. We started the Kakenya Center for Excellence as a way to provide girls with an opportunity to continue in school and to empower them to avoid female genital cutting and early marriages.
IE: You founded the Kakenya Center for Excellence in May 2009 with a first phase enrolling 32 fourth-grade girls. How are the girls from the first fourth-grade class doing now?
Ntaiya: Our first group of girls is now in high school. They performed extremely well in their eighth grade exams, which has enabled them to go to the best high schools in the country.
IE: How has your school grown since your first class enrolled? How many girls and grades are you serving now?
Ntaiya: There are 170 girls now at the school in fourth through eighth grade. We also have 22 girls in high school.
IE: What are your future plans or The Kakenya Center for Excellence and hopes for the girls who graduate one day?
Ntaiya: Our future plans are to expand our core programs to reach more girls, both through our health and leadership trainings and by building another school for girls in our community. We hope that the girls who graduate from our program will become leaders who will return like I did and invest in our community in one way or another.
---
International Educator first crossed paths with Kakenya Ntaiya in 2010 when her story was included in the feature article, "The Unprivileged Child" (1.8mb

) by Susan Ladika about education for girls and women in Africa, which appeared in the January/February 2010 issue.