The winners of NAFSA's prestigious annual awards were announced in May 2007 at the 59th Annual Conference in Minneapolis. Additionally, one member was honored with life membership.


Dr. Christian Bode Is Named Cassandra Pyle Award Recipient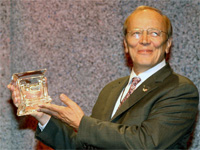 The Cassandra Pyle Award for Leadership and Collaboration in International Educational Exchange honors the contributions of a senior international educator to global international exchange. This year Dr. Christian Bode received this distinguished award honoring his lifelong impact on the field of international education. Dr. Bode received his Doctorate in Law from the University of Bonn and has held numerous leadership positions at the Federal Ministry of Education. He has been awarded four honorary doctorate degrees and served in a myriad of educational boards in Germany. Among his many accomplishments Dr. Bode has served as the Secretary General of the German Academic Exchange Service (DAAD) since 1990. DAAD is an organization that works to promote cultural exchange in Germany. Dr. Bode successfully launched a national campaign for the mobility of Germany university students to increase the internationalization of higher education in German society.

In his closing remarks, Dr. Bode accepted the award by saying: "to discover one's own identity in a foreign environment, to question conventional wisdom, to open up for the new and different, to see foreign cultures not as a threat and foreign language not as an obstacle but to appreciate both as enrichment – this is the kind of education that not only serves the individual but society as a whole."

Read Dr. Bode's entire acceptance speech.


Marty Etchison Babcock Is Named Marita Houlihan Award Recipient

The 2007 recipient of the Marita Houlihan Award is Marty Etchison Babcock. This award recognizes those who have displayed imaginative activity, outstanding personal enterprise, and creative contributions to the field through research, writing, or program development. Marty began her career as a study abroad adviser at Washington State University and later as an international student adviser at institutions in Washington, Georgia, and North Carolina. Marty is currently the Director of Programs at the Center for International Understanding at the University of North Carolina. In her work there, she has been instrumental in the expansion of the center's programs to address North Carolina's challenges using international experiential education for K-12 educators and policymakers.


Evelyn Levinson is named Homer Higbee Award recipient

The 2007 recipient of the Homer Higbee Award is Evelyn Levinson, Director of International Admissions at American University, Washington, DC. The Homer Higbee award is presented to NAFSAns currently involved in associational activities who have donated at least 10 years of distinguished service and plan to continue service to NAFSA's leadership. Recipients have developed leadership by acting as professional mentors to colleagues in a number of NAFSA knowledge communities. Evelyn has been an active member of NAFSA since 1988, serving both in overseas and national leadership since 1994. From 1996 to 1999, Evelyn was NAFSA's OSEAS Overseas Coordinator while working as Director of the Educational Information Center at the Fulbright Foundation, Tel Aviv, in Israel. In her NAFSA role, she promoted professional development, networking, and leadership for overseas advisers within NAFSA and its regions. After national leadership roles on the NAFSA Membership Committee and as the OSEAS Liaison to Study Abroad, she was elected Chair of the new NAFSA Leadership Development Committee. Evelyn's service to NAFSA reflects a commitment to identifying, mentoring, and engaging members (US based and those outside the US), and across all NAFSA communities, to utilize their talents to get involved in new leadership roles within the association. Evelyn has served on the advisory committees of the USIA-College Board, NAFSA Field Service-USIA, Petersons, and currently serves on the advisory boards for AMIDEAST, the American Cultural Exchange, the Washington International Education Council (WIEC), and the Florida-Israel Institute.


Gail Szenes is awarded NAFSA Life Membership

Life Membership is awarded each year to a senior NAFSA member to recognize their achievements in advancing the goals of the association and of international education and exchange. This year the award was given to Gail Szenes. Gail began her career in international education as a foreign student adviser at SUNY-Binghamton in 1977. Since becoming a NAFSA member in 1977, Gail has held numerous leadership positions at both the regional and national level. In 1996 Gail was awarded the Region X James O'Driscoll Distinguished Service Award. Since 1997, Gail has been the Director for the Office for International Faculty and Student Services at New York University. Her leadership and dedication has influenced her colleagues and fellow NAFSANs around the world.