Dear Colleagues,

NAFSA's annual election concluded at midnight on September 15th, 2021 and I want to first express my deep appreciation for all members who participated in the election by voting, nominating colleagues, or participating in the application and vetting process. I am pleased to announce that the nominees for the national leadership positions have been elected by the membership at large. 

I also want to thank the member leaders on the Governance Committee and the Leadership Development Committee tasked with identifying and vetting potential candidates under the NAFSA bylaws. These committee members work diligently over the course of the year to review the open positions, seek nominations, and interview candidates to ensure diverse perspectives and skills are represented on the slate. 

Congratulations to all of the 2022 elected leaders. We thank you for your service over the next several years to advance the strategic plan and the work of the association. I also want to urge all members to begin thinking now about nominating a colleague or applying for a leadership position when the next call for nominations opens in January. 

On September 23, as chair of NAFSA's Governance Committee I reported the following election results to the Board of Directors, and the Leadership Development Committee. A truly impressive group of leaders will begin service in January 2022.

Diana Carlin, Ph.D.
Secretary, Board of Directors and Chair, Governance Committee

2022 Elected Leaders
NAFSA Vice President for Professional Development and Engagement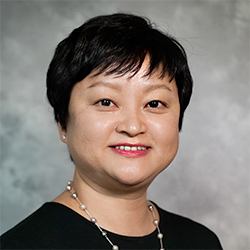 Shinsaeng Ko, MS
Shinsaeng Ko is the assistant vice provost of international student and scholar services at Emory University. She has held various national and regional leadership positions within NAFSA, including on the Leadership Development Committee, the Training Coordination Subcommittee, and others. She also has served as chair of the Professional Development Subcommittee for the Knowledge Community for International Student and Scholar Services and has presented numerous sessions and workshops at conferences and seminars.
Members-at-Large, NAFSA Board of Directors, 2022–2024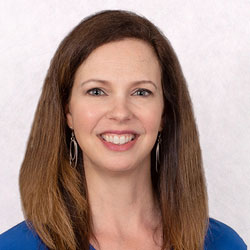 Heather Barclay Hamir, PhD
President and CEO, Institute for Study Abroad
Heather Barclay Hamir, PhD, is president and CEO of the Institute for Study Abroad. Hamir has worked in international education for 2 decades at both public and private universities. Over her career, she has focused on inclusion in study abroad and enhancing the quality of the educational experience, serving as an active contributor in national discussions on both topics. While at the University of Texas-Austin, the institution was recognized with the Senator Paul Simon Spotlight Award for Campus Internationalization and the Diversity Abroad Excellence in Diversifying International Education Institutional Award for initiatives that substantially increased participation among underrepresented populations. Barclay Hamir is co-editor of Promoting Inclusion in Education Abroad: A Handbook of Research and Practice (2018) and A House Where All Belong: Redesigning Education Abroad for Inclusive Excellence (forthcoming). She is an emeritus member of the Fund for Education Abroad's Board of Directors and a past member of the Forum on Education Abroad's Forum Council and Diversity Abroad's Advisory Committee.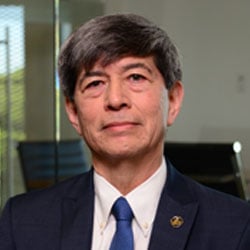 Fernando León-García, PhD
President, Centro de Enseñanza Técnica y Superior (CETYS) University
Fernando León-García, PhD, has been president of CETYS University since 2010, leading the institution to accreditation in the United States (WASC, ACBSP, ABET) and to one of the most internationalized universities in Mexico. Prior, he served as chancellor of City University of Seattle's International Division. León-García is president-elect of the International Association of University Presidents. He currently serves or has served on boards and advisory groups for the following: WASC, AGB, CIGE ACE, HACU, CASE, Universia Mexico, CONAHEC, ANUIES and FIMPES. León-García holds a doctoral degree in educational administration and policy analysis from Stanford University as well as a BS in industrial engineering from CETYS University.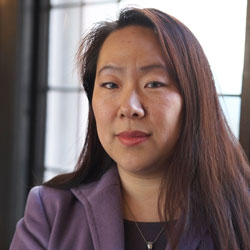 Samantha Lu
Associate Director, International Students Scholars Office, Columbia University
Samantha Lu is the associate director of the International Students Scholars Office at Columbia University. Lu has worked in the field of international education for more than 22 years. She is an active member of NAFSA, serving in many roles both at regional (Region XII, Region X) and national levels. Lu served as the past-chair of the Knowledge Community for International Student and Scholar Services (KC ISSS) and as the Region X chair. Additionally, she served as a mentor, trainer, facilitator, presenter, and NAFSA United Nations representative and was an elected member of the UN DPI/NGO Executive Committee.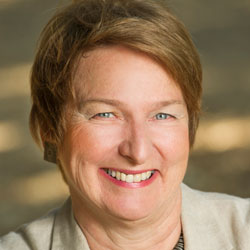 Joanna Regulska, PhD
Vice Provost and Dean, University of California-Davis
Joanna Regulska, PhD, vice provost and dean of global affairs and professor of gender, sexuality, and women's studies at the University of California-Davis, has for more than 30 years led large-scale programs that transform institutions, establish collaborative partnerships, and significantly improve globally focused services for students, faculty, and staff. She has striven to provide all students with global learning experiences. In 2019, she was honored as inaugural recipient of the Senior International Officer Award from the Institute of International Education. A respected scholar, her research concentrates on women's political activism and grassroots mobilization, with a focus on Europe and the Caucasus.

 Lawrence Schovanec, PhD
President, Texas Tech University
Lawrence Schovanec, PhD, began his role as the 17th president of Texas Tech University in August 2016. He previously served as chair of the Department of Mathematics & Statistics, dean of the College of Arts & Sciences, interim university president, and, most recently, provost. During Schovanec's tenure as president, Texas Tech has been designated a Hispanic-serving institution, was reaffirmed as a Carnegie Foundation Research 1 institution, and opened a branch campus in San José, Costa Rica. In 2018, Texas Tech received the W.K. Kellogg Foundation Community Engagement Scholarship Award from the Association of Pubic and Land-grant Universities and the Senator Paul Simon Award for Comprehensive Internationalization from NAFSA. In all of his administrative roles, Schovanec has emphasized the importance of student success, teaching excellence, and scholarship support. Schovanec received a doctorate in mathematics from Indiana University and has published primarily in the areas of biomechanical and physiological control systems and solid mechanics. He serves as Board Chair for the Texas International Education Association and was the recipient of the President's Award at the 2021 National Diversity and Leadership Conference.
Chair-elect, Education Abroad Knowledge Community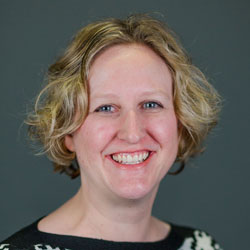 Susan Lochner Atkinson, MA
Associate Director for Advising, International Academic Programs, University of Wisconsin-Madison
Susan Lochner Atkinson, MA, is the associate director for advising in international academic programs at the University of Wisconsin-Madison. She has also worked at the University of Wisconsin-Eau Claire and the University of Minnesota. Atkinson has been active in NAFSA for more than 20 years, has presented at the regional and national  conferences, and is a past Trainer Corps chair. She holds a BA in Spanish from the University of Wisconsin-Eau Claire and an MA in comparative international development education from the University of Minnesota. Atkinson studied abroad in Mexico and Spain. Her professional interests include advising, curriculum integration, diversity and inclusion, and training.
Chair-elect, International Education Leadership Knowledge Community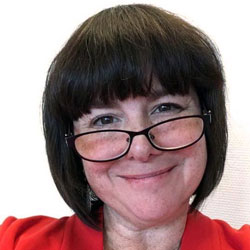 Kate Jennings
Director International Student Services, Vancouver Island University
Kate Jennings is the director of international student services at Vancouver Island University (VIU) in British Columbia, Canada. At VIU, she oversees international admissions, homestay and off-campus housing, international finance, and frontline services, as well as a team of clinical counselors and academic and immigration advisers for international students. Jennings previously worked at the University of Alberta, Simon Fraser University, Queen's University, and the University of Victoria. In June 2021, Jennings was awarded the British Columbia Council for International Education (BCCIE) International Education Distinguished Leadership Award. In addition to her professional roles, Jennings has volunteered with NAFSA throughout her career as a co-chair for the Canada Member Interest Group and a network leader. Jennings identifies as a person with disabilities and is an advocate for creating truly inclusive programs, services, and communities of practice for students, staff, and faculty.
Chair-elect, International Enrollment Management Knowledge Community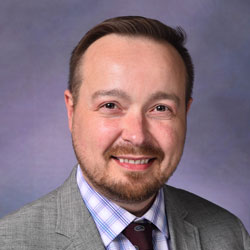 Aleksander Morawski, MA
Director of Evaluation Services, Scholaro, Inc.
Aleksander Morawski, MA, is the director of evaluation services at Scholaro, Inc. His professional experience includes international admissions at major U.S. universities, training and consulting on various topics in international education, and managing all aspects of international credential evaluation. Morawski has been an active member of the NAFSA Trainer Corps since 2009. He has co-authored NAFSA and American Association of Collegiate Registrars and Admissions Officers (AACRAO) publications and serves as the chair of the Scholarship and Publications Committee for the Association of International Credential Evaluators (AICE). He is a regular conference presenter and enjoys mentoring newcomers to the field of international education. Morawski earned an MA from San Diego State University.
Chair-elect, International Student and Scholar Services Knowledge Community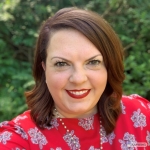 Regina George
Davis International Center, Princeton University
Regina George began her career in the University of Southern Mississippi's international student and scholar services department before taking on an immigration specialist role at INTO University of South Florida. She has also served as an international programs advisor at the University of Mississippi and the manager of immigration and international affairs and the director of immigration at the University of South Alabama. George's NAFSA leadership experience includes serving as chair for NAFSA's International Student and Scholar Regulatory Ombudspersons subcommittee, chair of the Region VII Local Arrangements, a Mississippi state representative for NAFSA Region VII, and regulatory ombudsperson for NAFSA. She has also served as chair of the Mississippi Association of International Educators. A member of NAFSA's Trainer Corps, George has vast experience presenting at state, regional, and national conferences for NAFSA She earned a bachelor's degree in American studies from the University of Southern Mississippi. 
Chair-elect, Teaching, Learning, and Scholarship Knowledge Community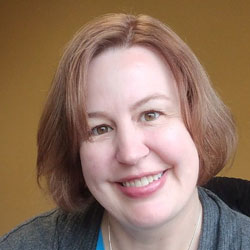 Katherine Punteney, EdD
Professor, Middlebury Institute of International Studies
Katherine Punteney, EdD, is a professor and founder of the MA in International Education Management program at the Middlebury Institute of International Studies (MIIS) in Monterey, California. She has more than 20 years of experience in the field of international education and is the author of the NAFSA resource The International Education Handbook: Principles and Practices of the Field. As a scholar-practitioner, Punteney focuses on supporting emerging professionals in their career development. Her research focuses on internationalization, intercultural competence, and graduate education.
Chair-elect, Leadership Development Committee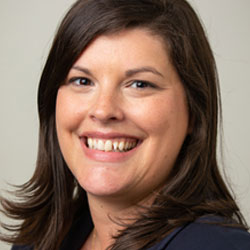 Katie Tudini, MA
Assistant Vice Provost and Director for International Student Services, The University at Buffalo
Katie Tudini, MS, is the assistant vice provost and director for international student services at the University at Buffalo in Buffalo, New York. She spent many years in Atlanta, Georgia, working at Georgia Institute of Technology, where she served as the assistant director of international student and scholar services and an international student adviser, and at Georgia State University as an international student adviser. Tudini served in as the chair of NAFSA's International Student and Scholar Regulatory Practice Committee from 2017 to 2019. She also has volunteered with NAFSA's Trainer Corps and enjoys serving as a mentor to fellow NAFSA members.
Chair-elect, Membership Engagement Committee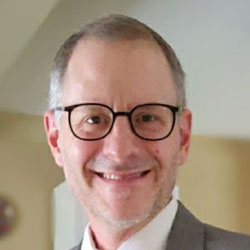 Daniel Whitmer, MA
Associate Director of Sponsored Student Services in the Office of International Services, Indiana University, Bloomington
Daniel Whitmer, MA, is the associate director of sponsored student services in the Office of International Services at Indiana University- Bloomington (IU). Before coming to IU, Whitmer worked at Vincennes University as the director of international and multicultural student affairs. His overseas experiences include 10 years living and working in Korea and China in the fields of education, poverty alleviation, and development. A NAFSA member since 2006, Whitmer served on the NAFSA Region VI leadership team for 7 years, was chair of NAFSA Region VI, and is a past member of Trainer Corps and the Member Engagement Committee. He recently concluded his role as the NAFSA regional chair cohort coach.