The Hugh M. Jenkins Award for Excellence in Community Programming recognizes individuals who have demonstrated a commitment to promoting global understanding and international exchange in the local community. Learn more about the award and how to nominate a colleague.
Recipients
2020 - Tia Gomez Zeller
Tia M. Gomez Zeller is currently the Associate Director for International Retention at Lane Community College, International Programs.  She started her education at Portland Community College where she completed her English as a Second Language program, as well as earning her Associate of Science Oregon Transfer Degree. As a graduate of Portland State University she holds a Bachelor of Science in Psychology, a Master of Science in Education, Leadership and Policy with a focus on Post-secondary Adult Education, and two graduate certificates in Student Affairs and Teaching Adult Learners. As a big believer in student centered education, Tia is an advocate for Internationalization and Cultural Competency in Higher Education.
Tia's varied background includes holding several leadership positions where she had the opportunity to work with diverse student populations. These opportunities provided her with the ideal foundation for her personal development. This allowed Tia to cultivate her awareness, knowledge, attitude and skills in regards cultural competency and working with people of different backgrounds. In her current position Tia developed a peer mentor program bringing together international and domestic students through meaningful service activities. This program supports the cultural adjustment and integration of new international students, as well as supporting leadership and professional development among continuing students.
2019 - Stacey Bieler
Stacey Bieler first helped recruit American undergraduates to go to the new international student reception at CSU Fresno in fall of 1978. She co-directed the Chinese Tutorial Project at UCLA, matching undergraduates with Chinese scholars for conversational English from 1982-84. In 1989 her husband, Tom, was hired to teach engineering at MSU. After the luncheon welcoming new professors and spouses to MSU, she was thrilled to see the booth for Community Volunteers for International Programs. She began helping with the newsletter because she was going to start graduate school in Chinese history. She was selected to attend NAFSA: Association of International Educators' Community Section Field Service Training in June 1993. During her final spring she was an intern in MSU Office for International Students and Scholars. She won the MSU Homer Higbee Award for International Education for an American student in 1994. Besides editing the CVIP newsletter, she has served twice as CVIP president (2004-5; 2014-16), directed MSU's Global Festival in 2005, served on CVIP's 50 Anniversary committee in 2011, and became a co-chair of Lending Center in 2015.
She wrote "Patriots" or "Traitors"? A History of American-Educated Chinese Students (Routledge). She has co-edited three volumes of short biographies, Salt and Light: Lives of Faith the Shaped Modern China with Carol Hamrin. She has also written Albrecht Dürer: Artist in the Midst of Two Storms.
2018 - Robert and Leah Rubenstein
Robert and Leah Rubenstein became involved in The College of William and Mary's Reves Center for International Studies shortly after their retirement to Williamsburg, VA. They signed up to be part of the Global Friends program, which matches international students with members of the community to foster cross-cultural friendships. Since their first connection, they have gone above and beyond the requirements of the program.
Global Friends are matched for an academic year, and the expectation is that community members will meet with their student once per month. However, Rob and Leah are one of the few members who chose to remain paired with all their students throughout the duration of their studies and beyond. They have also helped their students practice conversational English, review their school papers or resumes, and prepare for jobs by conducting mock interviews. They also arranged a summer internship for one of their students in the Beijing office of the firm from which Rob retired.
Students that have been matched with Rob and Leah not only benefit from establishing a connection with a local American family, but they get the added benefit of an in-depth connection, as Rob and Leah truly embraced their international students as part of their family, connecting them with their extended family, taking the students to concerts, athletic events, museums, and hosting the students in their home with family for the holidays. One of their students was preparing to spend last summer studying in Florence, Italy. Since they had a niece who lives there, they arranged for them to meet so that their international student would have a local contact in Italy for the summer.
Rob and Leah have also helped publicize the Reves Center programs and recruited friends and family to join the Global Friends program. They make time to attend many Reves Center events, even when their international students are unable to attend. They are always welcoming to new participants, and take the time to meet the international students, scholars and their families, having engaging conversations on a broad number of topics with the international community.
Unfortunately, Leah passed away on May 22, but she and Rob are incredibly deserving of this award, and it is an honor to be able to recognize their involvement in improving the lives of international students at William and Mary.
2017 - Sue Rohrer and Sharon Ogilvie
The 2017 Hugh M. Jenkins Award for Excellence in Community Programming was awarded to Mrs. Sue Rohrer and Mrs. Sharon Ogilvie for their dedication to promoting global understanding between international students and scholars in their Lancaster, Pennsylvania community for 25 and 13 years, respectively. Each year, 30-40 international university students are hosted by Lancaster area families to experience a traditional American Thanksgiving and learn about life and culture in this rural community. This meaningful exchange is made possible due to the commitment of Sue and Sharon and the support of the One To World Program based in New York. Both Sue and Sharon initially began their involvement as host families and were so touched by the experience that they volunteered to grow the program and recruit friends and community members to serve as hosts. Sue Rohrer took over coordinating the program in 1991. In 2003, Sharon Ogilvie volunteered to work with Sue in order to expand their outreach and bring more families into the program, enabling One To World to serve twice as many international students. Both Sue and Sharon work year-round to promote the program in their respective communities, hosting fundraisers and introducing the program to potential new hosts. They also travel to New York City, at their own expense, the weekend before Thanksgiving to meet each student who has registered to participate, prepare them for the weekend, and ensure that they have been matched with an appropriate family. Throughout the four-day program, in addition to hosting students, they serve as primary points of contact to ensure that each person has the best possible experience. Their unwavering commitment to international exchange and cultural understanding has helped over 1,000 international students experience American hospitality and has also exposed over 150 families in Lancaster, PA, to students from all over the world.
2016 - Joe Moore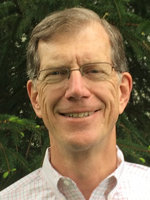 KCISSS is honored to present the Hugh M. Jenkins Award for Excellence in Community Programming to the International Cultural Center (ICC) in Tiffin, Ohio. The mission of the ICC is "To celebrate and demonstrate the relationships and interdependence among peoples and nations to foster understanding and appreciation of different cultures to equip people young and old to assume leadership roles in our global society." The center promotes global understanding in the vast amount of programs, festivals and activities it undertakes with local K-12 schools, two universities, community organizations and businesses.
The ICC hosts cultural events for patrons of all ages at the local public library, culturally-themed dinners at local restaurants, international cooking classes in high schools, cross-cultural dialogues at a local coffee shop, and international student presentations at service organizations and businesses. The ICC provides a great welcome to new international students at Tiffin University and Heidelberg University through orientation and year-round programs. Thanks to the efforts of the ICC, Tiffin is a more understanding and welcoming place for international students, and international students become immersed in their new home. Community members learn about other places and cultures, and international students learn about U.S. culture and life outside of campus.
Accepting the award on behalf of the ICC is the director, Mr. Joe Moore, who is a retired high school Spanish teacher. Since 2005, he has provided opportunities in this role for residents in the community to understand and appreciate people of other cultures. He has demonstrated a long-term commitment of promoting cultural awareness and exchange and the power of connecting people from all over the world to form positive relationships and create friendships. Congratulations, International Cultural Center, and thank you for all that you do!
2015 - Vera Wagenfür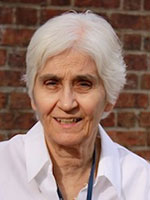 The University of Delaware's OISS staff considers Vera as an irreplaceable part of their family, offered this praise: "Vera's demonstrated passion for diversity and inclusion helped lay the foundation for us to be selected as the recipient of the prestigious Senator Paul Simon Award for Campus Internationalization."
Vera has a saying: "I was born with my family's disease, which is the disease of helping people!" She has been an integral part of the University of Delaware's Office for International Students and Scholars for over 30 years. She brings hospitality, compassion, and resilience to her beloved international population!
Vera has tirelessly served international students and scholars and has connected thousands of them with local U.S. residents. She is a vital link between the campus and community who diligently promotes cultural awareness and mutual understanding between these two diverse groups. She not only serves international visitors to the U.S. but also "goes above and beyond" to assist students studying abroad. She brings so much energy to sharing her wealth of knowledge while at the same time keeping a pulse on the needs of international students.
Her affinity, concern and provision for international students, her wealth of experience and sensitivity in working with the international community, her recruitment of scores of American volunteers, as well as her dedication to cultural exchange with the local community make her worthy of receiving this award!
2014 - Pat and Mary Barrett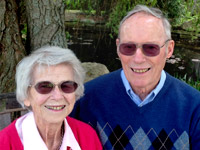 Pat and Mary Barrett are both long time members of Community Volunteers for International Programs (CVIP), an organization devoted to serving the international students at Michigan State University and helping them to interact with the residents in the greater Lansing area through cultural and social programs. Mary began volunteering in the early 1970s (first with the English conversation classes and later with a weekly international spouse support group called Every Tuesday). Upon retirement as a professor in MSU's English Language Center for 30 years, Pat began volunteering in the CVIP Office and later assumed responsibility as Office Manager. The couple served as Co-Presidents of CVIP from 1994-1996 and again in 1997-1998. Nationally, Pat served as the President of NAFSA-ATESL and the Chair of CIEP (Consortium of Intensive English Programs). Pat was honored with a Lifetime Membership in NAFSA:AIE, and both Mary and Pat have received a Homer Higbee Award, given by MSU's International Studies and Programs. They were also awarded the "East Lansing's International Citizens of the Year" by the East Lansing City Council.
2013 - Sue and Paul Westmark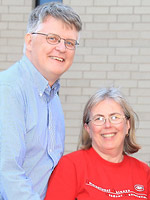 Sue and Paul Westmark have served international students at St. Cloud State University in St. Cloud, Minnesota for almost three decades. They assist with cultural sharing programs, holiday celebrations, and assist with new international student orientation. Sue and Paul also recruit St. Cloud residents to engage with the SCSU international community, promoting the university's cultural events to the local community and working with community members to coordinate meals for international students during holidays when the SCSU food service is closed. They also go into the community to gather necessities for new international students such as winter attire, bedding, cooking utensils, etc. The mayor of St. Cloud designated the Westmarks among the recipients of city's 2012 Rock-On Awards for outstanding civic contributions and leadership. One of the nominators for NAFSA's Hugh Jenkins Award wrote, "They are two people dedicated to making international students feel at home in an unfamiliar land, two people who are making our local and global community a more friendly place, and two people whose hospitality transcends the borders of religion, culture and language."
2012 - Julie Strecker

Julie Strecker is coordinator of international student and scholar services at Mercer University in Macon, Georgia. She has been a leader in creating international communities at her university and in the surrounding local community. She led the creation of Mercer's International House, the university's first living and learning community, where both domestic and international students reside. She implemented regular co-curricular international seminars, led by faculty, staff and members of the Macon community with notable international experience, for students at the International House. Leaders in the Macon community are also invited to participate in international student orientation activities.
To foster relationships between domestic and international students, Julie created a weekly Café Connections program which grew in popularity and assumed student leadership. At a local level, Julie approached an elementary school to propose the implementation of the school's first International Week celebration. She worked with teachers and parents to plan the week's activities, and she supported Mercer international students to prepare class presentations about their home countries. In addition to having elementary school students learn about the languages, food, dress, currency and life in other countries, children who speak English as a second language have felt a renewed sense of community during their school's International Week celebration.
Julie has been an active leader in the Georgia International Educators Association; she has taken domestic and international students to participate at the Georgia International Leadership Conference. Julie has also served as chair of Study Georgia, a state-wide, public-private consortium to promote international recruitment.
2011 - Eleanor Spiegel

Ellie Spiegel has spent the better part of six decades advocating for international understanding and education, and even in retirement, is still active in championing issues she cares about. In the 1950s, Spiegel became co-executive director of the International Student Center located at Cambridge, MA. This began a long career supporting international and underrepresented populations both in the United States and abroad.
For 10 years, Ellie served as the director of programs and resident services at the International House in New York, where she developed countless new programs and initiatives aimed at providing valuable support to international graduate students. In her time as director, she used her energy and dedication to bring distinguished speakers such as Bishop Desmond Tutu to "I House." She played a key role in launching the East/West Leadership Program in 1989 for residents of Central and Eastern Europe. She was successful in relating international students to communities and neighborhoods throughout Greater New York. Ellie was awarded the Region X Lifetime Services Award at the Region X 2010 conference for her extensive service to the regional and/or national NAFSA community.
Perhaps Spiegel's greatest legacy from her time at the International House was her creation of the Women's International Leadership (WIL) Program, which still lives on today. The WIL Program prepares a select group of women from diverse cultures and disciplines for future leadership positions. Since leaving the International House in 1994, she has maintained a role supporting the WIL Program.
Ellie has served NAFSA in a number of ways. She has built a robust partnership between the organization and the United Nation's Department of Public Information. As the first NAFSA's representatives to the UN, her tireless efforts have been aimed at involving as many universities and students as possible. Throughout her career, Ellie worked with a variety of educational endeavors. She taught as a volunteer in Kenya, South Korea, and the Philippines. While serving on the Leonia (NJ) Board of Education, Ellie helped start an alternative high school taught by community members and was appointed to the committee to create the Thomas Edison State College (NJ's external degree institution) of which she eventually became chair of the Board of Trustees. She is also the current president of Community of Friends in Action working with recent immigrants in Northern New Jersey.
2010 - Leiton and Lisa Chinn

Leiton and Lisa Chinn have been involved in voluntary service among internationals students since 1981. They pioneered the Truro International Programs and Services in Fairfax, Virginia, and led it for seven years, while they also encouraged other churches to be involved in outreach programs to students. They recruited, trained, and recognized hundreds of volunteers to be engaged in international exchange. The Chinns have given several workshops at NAFSA, both regionally and at the annual conferences, in addition to convening two national conferences of their own for people working with international students. Leiton served on the national COMSEC Team (predecessor of the Campus and Community Programs section of KC-ISSS) in the 90s, edited the COMSEC Newsletter, and wrote a NAFSA Working Paper on Reentry/Professional Integration.
In 2000, the Chinns assumed national positions of leadership related to enhancing the development of church and campus-based ministries among international students. Leiton became the president of ACMI (Association of Christians Ministering Among Internationals) and served in that role for eight years, many of them as a volunteer. When Lisa became the national director of International Student Ministries for Intervarsity Christian Fellowship in 2000, the Chinns moved to Wisconsin. They continue to promote NAFSA to the ACMI network.
2010 - Gigie and Larry Price

Gigie and Larry Price have been leaders of San Diego State University's International Student/Tutor Mentor Program for nine years. They expanded the program, originally created to assist students with development of English skills, to include mentoring. Under their leadership, the number of community members involved in the program has tripled, and the program now includes social and cultural activities. Before students are accepted into the program, Gigie personally interviews them to determine if they understand the goals and missions of the program. They personally meet with every prospective volunteer, to determine if he or she is suitable for the program. Once accepted, the volunteers are required to attend an orientation program that provides training on mentoring, tutoring best practices and English language materials, before they are assigned a student. Gigie and Larry then match students with tutors/mentors who best match their majors, areas of interest and their goals in English. The tutors/mentors are recognized for their contributions biannually at an elaborate potluck dinner involving more than 200 tutor/mentors and their students.
The Prices have also developed a comprehensive Web site, hosted through SDSU's International Student Center, with up-to-date information on program activities.
In nominating the Prices, the director of the International Student Center wrote, "The Prices are the volunteers every international center dreams of having in their programs. Committed, hardworking, dedicated, selfless, positive, forward thinking and globally minded are just a few words to describe the Prices."
2009 - Virginia Grenier

Virginia Grenier has been the executive director of the International Hospitality Foundation in Baton Rouge since 1984. IHF is an organization that has been building bridges between the community and international students at Louisiana State University for 50 years.
IHF pairs local volunteers with international students, provides an orientation and tour of Baton Rouge, arranges special social events, and helps students set up households through its Loan Closet. It also connects international students to local schools and organizations like Rotary and Kiwanis.
Virginia has been a community representative on the governing board of LSU's International Cultural Center in Baton Rouge since it was founded, and received a service award from its student president this year. She was a founding member and a past chair of the Baton Rouge Mayor's International Relations Commission. Virginia was instrumental in establishing the International Heritage Festival in Baton Rouge, which draws thousands of visitors each year.
The contacts that clearly bring out Virginia's broadest smile are welcome parties, performance events, picnics and rural outings, Thanksgiving Day dinners at the International Cultural Center for over 100 students, local Mardi Gras and other festivals, participation in ethnic and national celebrations the students put on themselves, and the new events she is always on the lookout for. Virginia Grenier is in her quiet glory when she manages to connect and reconnect her international students with the many Baton Rouge Americans to whom she proudly introduces them.
2009 - Lillian Kumata

Lillian Kumata was a founding member of the Community Volunteers for International Programs at Michigan State in 1964, a group that started giving warm coats to African students and now covers a wide array of activities, including the annual Global Festival that brings in 5,000 members of the community to interact for a day with MSU internationals. CVIP also provides home hospitality, household goods, activities for family members, and outreach to local K-12 Schools.
Lillian also created in 1973 a scholarship for spouses of MSU international students and she still raises money for it today. She has been a volunteer recruiter and leader in numerous other organizations ranging from the Red Cross to Sister Cities. She was the COMSEC representative for Region V in the 1980s, and has presented numerous times at national and regional conferences.
Lillian is a human "Ever-ready Bunny" with an unlimited supply of energy and a positive "can-do" attitude. Her life-long dedication to volunteerism in the international arena has inspired countless others to follow her lead. One of Lillian's current projects is a proposal to change the restriction on F-2s enrolling as part-time students.
Lillian has been honored in many ways and at many levels for her sustained global outreach. In 1999 the emperor of Japan presented her the Order of the Sacred Treasure, Gold and Silver Rays. The U.S. State Department and USA Today gave her the Millennium International Volunteer Award in 2000.
2008 - Jean Griswold

Jean Griswold was presented with the 2008 award for her enthusiastic dedication to serving the needs of international students and for her sustained leadership of community programming at the local, regional, and national levels.
Jean was director of the Office of International Student Services at Colorado State University in Ft. Collins until her retirement in 1995. At CSU she developed many outreach programs, including a Foreign Speakers Bureau, foreign language camps using internationals as native speakers, cross-cultural workshops for U.S. and international students, and day-long orientations for new students away from campus.
Jean was the COMSEC representative on the Region II Team in the mid-70s. She served many years on NAFSA's COMSEC (Community Programming) Team, where she became chair and served on NAFSA's Board of Directors. She also became a NAFSA Community Development Consultant and a member of NAFSA's COOP Committee. In 2001, Jean wrote a comprehensive history of COMSEC, published for the section's 40th anniversary. Over the years, Jean presented many sessions on community issues, student programming, and intercultural training of staff and volunteers. She has been a mentor to many others in community programming, ready with supportive help, an encouraging word, and ideas to take home and use.
Each year Jean brought international students by van to the annual conference, providing them with tools for leadership. To provide opportunities for students who couldn't go to NAFSA conferences, Jean initiated International Student Leadership Conferences in her region. Volunteers and international office staff members involved in community programs were also brought together in weekend-long Area Workshops.
For 30 years, the Griswolds have hosted a Sunday waffle breakfast for community friends, international students, and faculty. The waffle breakfasts continue in their home even when they are traveling. The Griswolds also have a loan closet in their garage to provide housekeeping items for international students.
Jean's love of internationals has continued in her retirement through volunteer work in CSU International Center programs. Each year a student at Colorado State University receives the William J. and Jean S. Griswold Scholarship, for his or her contribution to the school's international community.
NAFSA honored Jean with Life Membership in 1996, in appreciation for her service to the association and long-term commitment to international educational exchange. KC-ISSS is pleased to present this award for her dedicated service to the field of Campus and Community Programming.
2007 - Nancy Kopka

Nancy Kopka has demonstrated leadership and volunteerism in many areas. She served on the National COMSEC Team from 1986 through 1994, includingas  COMSEC chair and as the COMSEC representative to the Board of Directors. As a board member, she served on several committees, including the Search Committee for a new NAFSA CEO, Membership, Ethics, and Conference Planning. She has also been active in leadership roles in Community Volunteers in International Programs at Michigan State University.
In all her roles, Nancy has exhibited a gift for identifying potential leaders, finding them appropriate volunteer placements, nurturing their professional growth and helping them find success as leaders. She has been a coach, challenger, role model, and dear friend to those she has mentored.
Her many years of experience have been used to help others through the You, Too, Can Host an International Student pamphlet, "Understanding Islam" national seminar, and a workshop to promote better understanding between community organizations and international student offices.
In every area of service, from the National COMSEC Team to hosting the Every Tuesday program for international spouses, Nancy has exhibited a wonderful humbleness and a willingness to work behind the scenes to make things happen to help others enjoy success.
2006 - Bob and Nancy Sturtevant

Bob and Nancy Sturtevant have demonstrated leadership and volunteerism for many areas. They have served as president of the Fort Collins International Center, NAFSA COMSEC leaders, NAFSA COMINFO representatives, creators and chairs of the Fort Collins International Center Outdoor Committee, host family program chair, treasurer, newsletter editor, and coordinator of the weekly Friday Afternoon Club. In each of these roles and through presenting workshops and sessions, they have worked to recruit, train, recognize, and provide vision for other community volunteers. Their lives are characterized by a selfless ethic of service to others. They are always willing to step up when a job needs to be done and willing to rearrange their schedules to help someone else.
Their strong record of volunteerism extends over two decades and is driven by a satisfaction derived from sustained contact with international students. Their personal involvement takes the form of skiing, camping, white water rafting, holiday and birthday parties, moving services, stopping by to check on students even after putting in a long day, and opening their house for storage and lodging. They have lived out their commitment to promoting global understanding as demonstrated by the outstanding number of students they have been personally involved with.
For the Sturtevants, service to students extends beyond the local community and reaches students in other countries. Their "Books for Development" program gathers used textbooks and professional journals from universities and the community. The items are screened, sorted, and boxed for shipping. Working with a current student, a needy university is identified and a 20-foot container containing about 40,000 books and periodicals is sent for about 10 cents per item. Shipments have gone to Pakistan, Chile, Venezuela, Belize, Indonesia, Vietnam, and Zimbabwe.
2005 - Jane Dunham

Jane Dunham epitomizes the purpose and aims of the Hugh M. Jenkins Award. She embodies leadership and volunteerism. She has been professionally involved in international office leadership at three major Texas universities, and the volunteer coordinator at a fourth, the University of Texas-Austin's Family and Community Programs Office. In each institution Jane has demonstrated her strength as a leader who has recruited, trained, and recognized volunteers. Jane does the same within NAFSA, where she has held numerous national and regional leadership positions - COMSEC chair-elect, chair and past chair, Region III chair - to name a few. Jane's profile is also one of unbounded generosity. She has mentored, consulted, and given her time and talent to literally thousands of people seeking to know the best practices of community programming—in many countries.
Her strong track record of volunteerism extends over three decades. Whether it's the University of Texas-Austin or the Netherlands, U.S. private organizations, such as SIETAR, Youth for Understanding, and the Institute of International Education, or her leadership in Christmas International House for 17 years, Jane's spirit of volunteerism and long-term commitment to international exchange organizations are well-documented. Jane has lived out her commitment to promoting global understanding by the outstanding number of exchange students in year-long programs who have lived in her home. Without exaggeration, Jane and her family have hosted over 900 international visitors!
To quote one of the nomination letters: "Jane is an exemplary volunteer within our professional organization and wherever her open heart and time and personal resources are needed. It matters not at all to Jane what formal group or casual cluster of friends are engaged in crossing cultures. Bringing people of diverse backgrounds together in the spirit of peace and respect is a life value of Jane's. She couldn't accept another breath without thinking of making those around her more comfortable as they seek to find a home in the world."
2004 - Jack and D'Ann Burke

As in previous years, the 2004 nominations for the Hugh M. Jenkins Award were outstanding. However, this year there were two parties that received the highest of accolades. Their accomplishments epitomized the purpose and aims of the award, and thus the committee decided to grant two awards: one to a couple and the other to an individual.
One of the 2004 Hugh M. Jenkins Awards goes to Dr. Jack and Ms. D'Ann Burke.
Jack and D'Ann have been exemplary role models; Jack as the former director of the Office of International Student & Scholar Services, and D'Ann as the volunteer director of the Host Family Program, both at the University of Houston. Through their tireless efforts of more than 20 years, they established one of the premier international friendship programs in the United States. Their model for recruiting, training, and recognizing volunteers has been duplicated at numerous institutions, including Purdue University, the University of Arkansas, the University of Pennsylvania, and the University of Akron.
Jack and D'Ann have been involved with NAFSA for many years (Jack since 1963 and D'Ann since 1971). They are lifetime members of the association and are also founding members of the New Century Circle. D'Ann epitomizes a spirit of volunteerism as she organized, directed, and implemented the host family program at the University of Houston for two decades. She was never financially compensated for her efforts, nor did she ever expect or desire to be. She performed her service out of love for the students and their families.
Jack and D'Ann have hosted students from abroad in their home year after year for nearly 40 years. The hospitality that they have offered has always been unselfish, loving, and a natural expression of their genuine concern for international students.
To quote one of their nomination letters: "What distinguishes Jack and D'Ann above their peers, with similar interests, is their commitment over the years to infect others with this love and devotion for internationals. Indeed, their life's purpose has been very much in the arena of promoting global understanding at the one-to-one personal level between internationals and Americans."
2004 - Nell Magee

The other 2004 Hugh Jenkins Award is granted to Nell Magee. Nell has been a gentle yet firm voice supporting international education for nearly as long as NAFSA itself. In her role at the Baptist Student Ministry in Nashville, Tennessee, she spent more than 30 years attending to the needs of international students while helping them learn about the United States. Campus ministers, student organizations, and community groups have all benefited from her kind words of wisdom, given with the gentle humor of a self-described Mississippi belle and the knowledge and insight that comes from an open and loving heart. Nell has been a leader, encouraging many others to provide the volunteer services so important to all international students and scholars.
Nell's list of NAFSA involvement reflects her untiring energy, varied skills, and willingness to take on difficult challenges. She rose through the ranks of COMSEC to become National Chair in 1986-87 and followed this with a term on the NAFSA Board of Directors, where she helped usher through two critical changes by the association: the name change and the Code of Ethics.
Helping decipher ethical issues has been a natural responsibility for Nell, as she has spent many years educating both NAFSAns and members of the religious community on how Christian organizations can and should minister to international students while respecting the diverse beliefs and faiths of all involved. This balance is one that constantly needs definition and clarification, and Nell, better than perhaps any other NAFSA member, has provided the wisdom needed in this area.
2003 - Fahed Abu-Akel

The Hugh M. Jenkins Award for Excellence in Community Programming recognizes individuals who have demonstrated a commitment to promoting global understanding and international exchange in the local community. It honors individuals who exemplify a spirit of volunteerism and a long-term dedication to international exchange. It identifies individuals whose leadership encompasses outstanding skills in recruiting, training, and recognizing community volunteers. And it rewards personal involvement with internationals in the local community.
The 2003 recipient of the Hugh M. Jenkins award has led a life that personifies all of these ideals. After coming to the United States as an international student, Dr. Fahed Abu-Akel has spent the past 25 years creating and sustaining multiple programs that build bridges of friendship between U.S. citizens and international students and scholars in 22 colleges and universities in the greater Atlanta area. At the heart of all his programs is his belief that personal interaction among people from different cultures and backgrounds builds mutual respect and encourages constructive leadership in a global community.
Dr. Abu-Akel has been lauded by colleagues for his warmth, generosity, broad-mindedness, integrity, sense of humor, and deep commitment to cross-cultural and cross-national understanding. His programs create opportunities for Atlanta residents to become friends with international students through home hospitality, both year-round and during holidays. They also recognize the importance of international exchange by honoring international students at a high-level city-wide welcome reception. And they give students an appreciation of their new environment through tours of the city's historic landmarks.
The organization Dr. Abu-Akel founded, the Atlanta Ministry with International Students (AMIS), has succeeded in bringing together college professionals and local church communities to offer welcome, friendship, and hospitality to internationals, whatever their faith, with full respect. It has reached over 5,500 international students from more than 140 nations in the greater Atlanta area.
Dr. Abu-Akel has been active in NAFSA: Association of International Educators at the local, state, and regional level. A frequent presenter at conferences, he has often served on the state conference planning committee and was chair of Region VII.
The Community Programming Section is pleased to recognize Dr. Fahed Abu-Akel for his outstanding heartfelt and visionary leadership.
2002 - Mary Rogerson
The Hugh M. Jenkins Award for Excellence in Community Programming was established in 2001 by the Community Programming Section of NAFSA. The award was presented initially to Hugh M. Jenkins for his leadership, especially in the development of the Community Section.
The award was presented in 2002 to a person who worked closely with Mr. Jenkins as a volunteer for many years: Mrs. Mary Rogerson of Columbia, South Carolina.
Active as a volunteer in international educational exchange for at least 40 years, and with a strong commitment to helping international students, Mary and her husband, L.A. Rogerson, were instrumental in founding the Columbia Council for Internationals in 1965. The community support they enlisted included both the president of the University of South Carolina and the governor of the state. This all-volunteer organization continues to serve the international community in many ways, and Mary is still involved as a board member.
Mrs. Rogerson and her well-trained volunteers have developed benchmark programs for international students and scholars locally, many of which have become models of service. The training and protocol that she largely developed have resulted in a high level of consistency and continuity. She created a "Handbook" for board members and volunteers, which she continues to update, and which is used widely.
Her influence has extended far beyond the local community. She has been active in Region VII in many ways, and was on the national COMSEC team, serving as national COMSEC chair and on the NAFSA board in 1975-76. She became a national consultant for NAFSA, conducting close to 100 workshops and seminars, in addition to many consultations. Her leadership guided many colleges, universities, and communities in establishing programs to serve the international community. She became affectionately known as "Queen of the Road."
When there were not materials for training volunteers, she developed some resources, including revisions of the handbook she had done locally. She and her husband worked diligently alongside Ron Heinrich and others to establish, in 1972, the COMSEC Newsletter, which provided resources and communication for community leaders. NAFSA previously awarded her Life Membership.
Mary Rogerson has been a guiding force in shaping international educational exchange from the community perspective. The Hugh M. Jenkins Award is a fitting tribute to her long years of service.
2001 - Hugh M. Jenkins

Hugh M. Jenkins should be considered "Mr. NAFSA" for his commitment to international education and his outstanding leadership in many roles.
Mr. Jenkins became involved with international ("foreign") students in New York City, and was active in a group called "Committee on Friendly Relations among Foreign Students." He was the NAFSA president in 1965-66, the last NAFSA president to serve without an executive director, though his office in New York was considered a "working central office."
In 1966, he was selected as the first executive director of NAFSA, and led the organization to relocate its headquarters in Washington, DC, to be in closer contact with other offices related to higher education. His was the longest tenure in that position, serving from 1966 to 1979, during which time the title was changed to "Executive Vice President."
Mr. Jenkins' early leadership and persistence led to a proposal to the NAFSA Board of Directors in 1960 to create a Community Section, which was established at the annual conference in Columbus, Ohio, on April 11, 1961. At that time, he was elected the first COMSEC chair. He was influential in securing strong support for the new section from leaders both in and beyond NAFSA.
Throughout the intervening years, Mr. Jenkins has continued his involvement in NAFSA, especially his support of the Community Programming Section. After his retirement in 1979, he continued to develop many projects, served as Recorder for AID projects, wrote frequently for the organization, and spent long (and "dusty") months organizing the NAFSA archives. At the 40th anniversary of NAFSA, Mr. Jenkins was especially recognized as one of the 40 NAFSAns making unique contributions to the association.
It is with great respect, honor, and appreciation that the Community Programming Section is pleased to name its newly developed annual award the "Hugh M. Jenkins Award for Excellence in Community Programming," and to name Mr. Jenkins as the first recipient of the award.
Sadly, Mr. Jenkins passed away on June 29, 2005.