We care about going the extra mile to provide international education professionals with exposure to others in the field. If you want to promote your products or services to top decision makers, consider advertising, sponsoring, and/or exhibiting with us.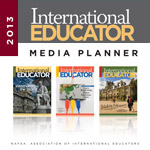 Advertise
International Educator, NAFSA.news, the Annual Conference Program & Pocket Planner, the Registration Brochure, and the online NAFSA Job Registry all provide excellent opportunities to advertise your services and products.
Exhibit
Exhibiting at the NAFSA Annual Conference & Expo is a powerful and noted tool for reaching our 9,000+ attendees who advise and influence students and international education colleagues.
Sponsor
Four different levels of sponsorship possibilities allow your organization to find the package that best fits your needs.
Underwrite
Underwriting is available for a spectrum of programs and projects, from e-Publications to webinars and many more.
Mailing List Rentals
Mailing lists can be targeted to primary interest areas to insure your marketing reaches the ideal audience.
International Education Marketplace
The International Education Marketplace is NAFSA's new "go-to" place for products and services in the field of international education. Whether you provide insurance services, study abroad programs, or anything in between, you will find a high-exposure opportunity to reach professionals and decision makers.