2016 Conference
2016 Bi-Regional Conference in New Orleans, LA
November 6 - 10, 2016
The 2016 NAFSA Region III Conference will be a Bi-Regional Conference with Region VII. The conference will take in New Orleans, Louisiana from November 6th to November 10 at the New Orleans Marriott on Canal Street. Pre-conference workshops will be on Sunday, November 6, and Monday, November 7. The conference will start at 12:00 p.m. on Monday, November 7 and run through 12:00 p.m. on Thursday, November 10. Join us for a dynamic conference featuring over 100 sessions, 10 preconference workshops, a Plenary Luncheon and a Business Lunch/Awards Ceremony. You can also engage in this year's book club discussion featuring Nine Lives: Mystery, Magic, Death and Life in New Orleans by Dan Baum (more information on the book here

). There will be restaurant hops on Sunday and Monday as well as a music hop on Tuesday night.
Region III looks forward to hosting our Region VII colleagues in the "Vieux Carre."
Laissez les bons temps rouler!
Access the online itinerary planner
Conference App
The NAFSA Bi-Regional App is available! Search the Apple or Google Play store for "NAFSA" and install the Regional Conference version. Once installed, simply choose the Region III/VII Bi-Regional Conference and have your registration email and confirmation ID handy!
Conference Registration and Workshop Fees
Need to pay by check? Please complete this form

and mail with your check to:
NAFSA 2016 Bi-Regional Conference
c/o Experient
5202 Presidents Court, Rm G100
Frederick, MD 21703
To assist in planning your travel budgets, the 2016 Bi-Regional registration fees are as follows:
Registration after October 12
Member: $400 Non-Member: $500
Community Volunteer, Retiree: $150
Student $125
Single Day Registration
Member: $225
Non-Member: $250
Workshop registration fees are as follows:
Half-Day Workshop*
Member: $275
Non-Member: $375
Student/K-12: $150
We are pleased to announce a discounted fee if you register for two half-day IEM workshops: $500 (member) or $600 (non-member)
Full-Day Workshop

 The deadline to register for the NAFSA CEP workshops has now passed.  There is no on-site registration for workshops.
HBCU Forum
Building Our Legacy: Expanding Global Engagement at Historically Black Colleges & Universities
Join us for a half-day of dynamic workshops where participants share best practices in campus-wide internationalization within the evolving context of the 21st century HBCU. Workshops are geared towards senior international officers, professionals within all fields of international education, campus administrators and faculty.
Member: $50
Non-Member: $75
The HBCU Forum is still available for registration up to the conference dates, including on-site registration on November 6.
The refund policy is as follows:
Participant
Full refund before October 9
50% refund from October 10 to October 23
No refunds after October 23
Vendor
Full refund before September 25
50% refund from September 26 to October 9
No refunds after October 9
Hotel Information
The conference hotel is the New Orleans Marriott located on Canal Street within the historic French Quarter and the heart of the city. You have easy access to the Central Business District, the riverfront and numerous attractions. 
For conference related questions, contact the conference planners, Sue Marlay in Region III or Sylvia Shortt in Region VII. To get in touch with a conference attendee, please call the New Orleans Marriott at 504-581-1000 to have a message left for them.
The Louis Armstrong New Orleans International Airport is located 13 miles from downtown. A taxi between the airport and the hotel is estimated at $36 USD one way for up to two people; $15 per person for three or more passengers. Shuttle services are available for an estimated $24 one way. The New Orleans Marriott is offering those attendees who choose to drive to the conference discounted valet parking at $29 per night.

In addition, Airport Shuttle, the Official Ground Transportation Company providing shared ride van service to and from the airport, is offering conference attendees a $40.00 per person round trip rate on all tickets booked at least 24 hours prior to flight arrival time. Make a reservation today!
Session Proposals
The deadline for session, seminar, and poster proposals has passed.
Please note: All presenters must register either for and pay for the full-conference or for the day of their presentation. All session and seminar rooms come equipped with an LCD projector, screen, and electrical outlets. Presenters are expected to provide their own laptops. Adapters to connect to a VGA cable are also suggested. Presenters should prepare presentations on a flashdrive in case they are unable to connect their laptop to the VGA cable.
Opening Night Networking Reception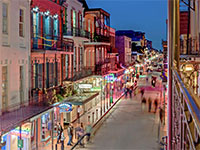 Join us for a Networking Reception on Monday night, November 7, 2016 in the Grand Ballroom, second floor, of the Astor Crowne Plaza Hotel from 6:00 pm to 7:30 pm. This hotel is located a short two-block walk from the Marriott Hotel. Come and network with NAFSAn's from both Region III and Region VII while enjoying light refreshments and a cash bar. After the reception, you can venture into the French Quarter and enjoy the sights, sounds, and food of the famous Vieux Carre. You might even want to grab a Bourbon Milk Punch from the Bourbon House restaurant on the first floor of the hotel on your way out.
Plenary Luncheon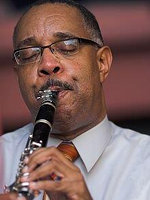 Come to the Plenary Luncheon on Tuesday, November 8 and enjoy a complete New Orleans experience with a delicious New Orleans Buffet Lunch and some traditional Jazz music. Dr. Michael White and the Dr. Michael White Quartet will take us on a journey through the history of New Orleans Jazz. Dr. White, a jazz clarinetist, composer, and musical educator, will provide a history of traditional Jazz music in New Orleans. Dr. White is a Professor of Spanish and holds an Endowed Chair in the Arts and Humanities at Xavier University of Louisiana.
Business Lunch and Regional Awards Ceremony - Region III and Region VII
Your conference registration includes a ticket to the Region III or Region VII Business Lunch and Regional Award Ceremony. Plan to receive regional updates, learn about the 2017 conference venue and share a meal with your fellow IE professionals. During this event, we will announce the 2016 regional awards,as well as the National Awards for those who have served in National leadership positions. Be there to congratulate your colleagues!
Visit the Region VII website for more information on Awards. This year we are accepting applications through September 9 for the following:
International Excellence Award
New Professional Award
Closing Reception/Off-Site Event

Sponsored by International Student Protection.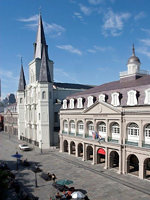 Regions III and VII will celebrate the end of the 2016 Bi-Regional Conference with an evening of festivities in true New Orleans style on November 9 from 6:30pm to 8:30pm! We will begin the festivities at the hotel with a second line and leisurely stroll to Cabildo and the Presbytere, sister museums on the historic Jackson Square for hors d'oeuvres, drinks, entertainment and history! Represent your institution's colors by bringing a handkerchief and or umbrella/parasol for the parade. Stop by the parasol station to add some extra pizazz! Following the reception, you can explore Jackson Square by night, maybe getting your fortune read, or continue your end-of-conference celebration in the Vieux Carre, better known as the French Quarter.
We would like to thank International Student Protection for sponsoring this event.
Pre-Conference Workshops
Registration for most of the pre-conference workshops is now closed. There will be no on-site registration. The exception to this is the HBCU forum, which is still allowing registration (including on-site registration).
This year, nine NAFSA CEP pre-conference workshops will be offered at the Bi-Regional Conference in New Orleans! Additionally, there will be a workshop on historically black colleges and universities (HBCU's). Be sure to register quickly when registration goes live as we expect the sections to fill-up quickly. All workshops (except those noted otherwise) will begin at 1:00PM CST on Sunday, November 6 continuing the next morning on Monday, November 7. The workshops hosted by Region III and Region VII at this bi-regional will be:
F-1 Beginners
F-1 Intermediate
J-1 Intermediate
Filing Academic H1-B Petitions
Internships, Research, and Service Learning Abroad – Monday only workshop begins at 8am
Health, Safety, and Risk Management in Education Abroad
International Credential Evaluation: Understanding the Essentials - Sunday only workshop
Introduction to U.S. Immigration Concepts for Educators - Monday only workshop begins at 8am
Intercultural Communication in Practice
Building our Legacy: Expanding Global Engagement at Historically Black Colleges and Universities
Pre-Conference University and Cultural Tours
We are pleased to invite attendees and guests of the conference to visit the beautiful campuses of area universities and centers. Sign up for Pre-Conference tours in Step 5 of the registration process in Special Events (with additional fees).
Marriott's destination concierge, Joieful, would be delighted to assist you in planning a tour or experience in and beyond the city. Visit Joieful's website for times and pricing information (more information can be found here

).
Tulane University and Loyola University
Monday, November 7, 2016
9:00 a.m.-12:30 p.m. $5.00 (Transportation Provided)
Chartered in 1912, Loyola University New Orleans is a Catholic, Jesuit university with undergraduate, graduate and professional degree programs. Loyola's more than 4,200 students are from over 50 states in the U.S. and 40 countries worldwide and our two scenic campuses are located in historic uptown New Orleans across from renowned Audubon Zoo and Park and are on the famous St. Charles Avenue streetcar line.
Founded in New Orleans in 1834 as a medical college, Tulane University is one of the nation's most prestigious educational and research institutions. Tulane University offers degrees in architecture, business, law, liberal arts, medicine, public health and tropical medicine, the sciences and engineering, and social work to students from 50 U.S. states and over 90 countries.
Dillard University and the University of New Orleans
Monday, November 7, 2016
9:00 a.m.-12:30 p.m. $5.00 (Transportation Provided)
Since 1869, Dillard University has been committed to providing students with a quality four-year liberal arts education. Dillard is a fully accredited private, historically black university. The University offers 21 academic majors including its two signature programs, physics and film. Dillard is also the North American partner for the Melton Foundation, a global Fellowship program that unites a network of more than 450 Fellows to act as global citizens.
The University of New Orleans (UNO) is a major research university on the shores of Lake Pontchartrain in one of the world's most fascinating cities. For nearly 60 years, it has been one of the city's foremost public resources, offering a diverse set of world-class, research-based programs, advancing shared knowledge and adding to the city's industry, culture and economy. Current enrollment is around 8,000 students and, since 1958, UNO has educated students from all 64 Louisiana parishes, all 50 states and more than 130 countries worldwide.
Louisiana State Health Sciences Center and University Medical Center
Monday, November 7, 2016
9:00 a.m.-12:30 p.m.$5 (Transportation Provided)
The Louisiana State University Health Sciences Center New Orleans has teaching, research, and health care functions state-wide through its six professional schools and eight Centers of Excellence, as well as the more than one hundred hospitals and other health science related institutions (including the new University Medical Center and the Louisiana Cancer Research Consortium). Through June 2015, a total of 37,682 LSU System degrees and certificates in the health sciences have been conferred on students completing academic programs included in the LSU Health Sciences Center's professional schools, dating from the initial academic convocation of the LSU Medical Center, October 1, 1931.
Exhibits, Sponsorship and Advertising
Exhibitors:
Information on shipping your products to the New Orleans Marriott hotel

NAFSA Region III and VII invite you to exhibit, sponsor, and advertise at the 2016 Bi-Regional Conference. By joining us in New Orleans, you will have the opportunity to connect your organization to international educators throughout the south and Caribbean. Please review the 2016 Exhibitor Flyer

for dynamic ways to showcase your products and services this November.
The Exhibit Hall has sold out for the 2016 Bi-Regional Conference. We welcome organizations to showcase your brand to attendees through advertising and sponsorship opportunities.
Advertisers who also exhibit will receive a discount on their ad purchase. To begin your Expo purchase, please click on the following link: Conference Exhibit Sales Portal.
For questions about exhibiting, advertising or sponsorship please contact Rebecca Crowell, Region III Development Chair or Fred von Schmeling, Region VII Chair-Elect, Email: [email protected]
Region VII Travel Grants
Once again, Region VII will offer 10 travel grants in the form of free conference registration and up to $400 in travel expenses.
The travel grant application opened July 5, same as the conference registration!
The deadline to apply for a Region VII travel grant was September 2, 2016.
Contact information: Fred von Schmeling at: [email protected]
There are several states within Region VII that offer travel grants as well. Please reach out to your state representative for more information.
Region III Travel Grants
The deadline for submitting an application for the Region III Travel Grant and Glenn Freeman First-Timers Scholarship has passed. Applicants will be notified about decisions by September 28, 2016.
Resume Review
Resume Reviewers Wanted!
If you are an experienced international educator, we need your help to review resumes and discuss career information with our newest NAFSAns and other interested in feedback. Click here to sign up for a time and please include your email.
Request a Resume Review!
Looking for a new position within international education (IE)? Looking for a new direction or guidance in your current IE career? Whether you are new to the field or a seasoned professional, sign up for a resume review session and be paired with an experienced NAFSA member who is willing to provide feedback on your resume and to provide guidance and encouragement in your job hunt. This is a great chance to polish up your resume as well as to make contact in the field!
If you are in having your resume reviewed and/or discuss professional advancement, click here.
For more information, please contact Lucy Dawson, Angie Edwards, or Stacye Fraser Thompson. Thank you!
Roommate Matching
Trying to find a roommate to split hotel costs? Please see the bi-regional conference Facebook page discussion forum for a thread dedicated to roommate matching. There is a similar thread for arranging carpools to and from the airport.
Volunteer Opportunities
There will be plenty of opportunities to volunteer at this year's conference. This is a great chance to network, help others, and add a bullet point to your resume.
Become a volunteer today!

Raffle Information
2016 Raffle Donation Form

To support Region III and VII's travel grant initiatives, we will need your help. We ask that you reach out to your institution or organization, colleagues, and friends for contributions. Items will be raffled throughout the conference primarily during coffee breaks.
Please bring your donated items with you to the conference with collection occurring at the Region III and VII table within the Exhibit Hall area. We also ask that you complete a donation form that includes your name, contact information and a good faith value of your donated item(s).
school specific or unique t-shirts
coffee mugs or water bottles
gift cards to restaurants, department/online stores or with a monetary value
wine or craft beer
books or magazine subscriptions
tours
items from New Orleans or your hometown/state
If you are interesting in donating items or have questions, please contact Rebecca Crowell in Region III or Fred von Schmelingin Region VII.
Raffle tickets can be purchased during the Exhibit Hall hours. General tickets are 1 for $2 and 3 for $5. Tickets for the State Baskets/Advisor's Manual are 1 for $5. Cash, checks, and credit cars will be accepted.
Most raffle drawings will be held in the Exhibit Hall during each of the coffee breaks:
November 7, 2:15 - 2:45pm
November 8, 9:15 - 10:15am
November 9, 9:15 - 9:30am and 3:00 - 3:30pm
The drawing for the NAFSA Manuals will be held during the luncheons on November 9 at noon.
Restaurant and Music Hops
After giving your brain a workout in one of the Sunday workshops and networking at Monday's Opening Reception, join new friends and chow down at one of the restaurant hops! Check the links below for information on the restaurant hops for each night and a form to sign up. Dana Criswell will send you a confirmation email and further details. The restaurant hops are limited to 10 individuals per restaurant so if you do sign up and your plans change please remove your name from the list.
On Tuesday, we'll have volunteers on hand to guide you to some great music (and food) spots on Frenchmen Street, easily accessible by streetcar from the Marriott. There is no limit to Music Hop attendance. Sign up below!