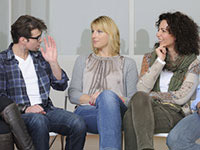 We all know that networking is key to getting the things that we want—new jobs, new ideas, new partnerships. Yet when I ask students or colleagues about their networking efforts their answers fall somewhere between "networking is so awkward" and "OMG I hate it."
Networking, at its simplest, is about conversations. Talking to strangers can feel awkward, no doubt, but your willingness to push through and engage strangers and actively listen can open the door to potential. And with a bit of preparation—a few opening lines and a dash of bravery—anyone can be a conversationalist. You never know where a conversation might lead. It may be a hint about an unadvertised job opening, or an invite to a coffee chat about your new idea. Conversations can lead to insightful career advice, or maybe even a fantastic travel tip.
So here are six ways to network at the NAFSA 2015 Annual Conference & Expo. Use the opening lines below to get those conversations started.
1. Find Your People
The key to good conversations is finding commonality with other people. The NAFSA conference is huge but it is extremely easy to find people with shared interests through the Knowledge Communities and Member Interest Groups. Look through the list before you get on-site. Find a meeting with your peers, show up, locate the host, and introduce yourself.
Opening line: "I didn't know this group existed. How long have you been part of it?"
2. Ask All the Questions
Fun fact: Plenty of people love to talk about themselves. The trick is to get them started. This is the best tip for introverts and non-native English speakers: approach a group of people like you are a cultural anthropologist and try to learn about them. When they've answered your questions ask follow up questions. Let them do the talking until they ask about you.
Opening line: "All this talk of study abroad reminds me I need to take a vacation. Where are you thinking about going on vacation this year?" Or try any of these awesome conversation-starting questions.
3. Chat Up the Presenters
Post-presentation chats are the perfect opportunity to connect on a topic of interest. I love the questions and ideas that audience members offer after a presentation. As a presenter, I'm always willing to share more because I can't fit everything I want to say into a presentation. So say hello to the presenters and ask them a question about their work.
Opening line: "I really enjoyed your talk and learning about (summarize what you learned). I was curious about how you (what do you want to know?)"
4. Treat the Expo Hall as a Career Center
The Expo Hall is where you can find out what's hot in international education. Go beyond the free stuff and engage the representatives. Ask them what attracted them to their company and what skills they look for in potential hires. Ask them about the most innovative new program or idea they've seen in international education. Use the Expo Hall as a place to get up to speed on what's new in the industry and to find out where you might fit in, now or in the future.
Opening lines:
"How did you get your job at this company?"
"What do you like most about working for this company?"
5. Go to the Parties, Seriously
The NAFSA conference is full of learning opportunities and professional development but don't forget the fun. You'll be mingling with a fabulously interesting group of globally curious people who love language and travel. Pick an after-party and join in the revelry. You'll probably make a friend or maybe even a future work colleague.
Opening line: "Have you ever been to (country sponsoring the party)? I want to go so badly."
6. Jump on the #NAFSA15 Hashtag
It's no secret that the #NAFSA15 hashtag is the online party happening all throughout the conference. Share photos of speakers or exhibitors that you're excited about. Tweet or retweet the people you're interested in. Job seekers: Use Twitter to tell people you are job searching and show what you're learning at NAFSA. Put your LinkedIn profile in your Twitter bio so people can learn more about you.
Opening tweet: @(person of interest) I'm very interested in the work you are doing. Are you free to meet up today? I'd like to learn more about your work. #NAFSA15.
Need more tips? I'll show you how to make networking less awkward so you can mingle throughout the NAFSA conference. Join me on Tuesday, May 26 from 9:00 a.m.–9:45 a.m. for my presentation "Creating Clever Conversations Online and Off."
---
Nicolle Merrill is a Global MBA Career Coach at the Yale School of Management. She's always on Twitter @pdxnicolle and writes about international education at www.internationalmingler.com