Special Focus Track: Cuba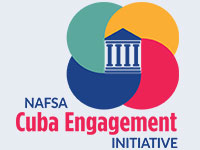 A special focus track for attendees interested in learning more about higher education in Cuba and opportunities to build sustainable partnerships between U.S. and Cuban academic institutions.
Learn more about the NAFSA Cuba Engagement Initiative to stay up-to-date with Cuba-related news, resources, and advocacy campaigns year-round.
Sunday, May 29, 2016

8:00 a.m.-6:00 p.m.

Partnering in the Americas: 100,000 Strong in the Americas Capacity-Building Workshop
Discover best practices for developing partnerships to drive student mobility in the region. Presenters, including Innovative Fund grant recipients, will discuss leveraging networks to build partnerships, making the experience affordable, and participating in new Innovation Fund grant competitions.

Monday, May 30, 2016

2:00 p.m.-4:00 p.m.

Latin America Forum: Developing Innovative and Effective Partnerships
Explore issues related to international partnerships and cooperation with Latin America. Latin American higher education leaders share innovative practices in the region and provide insight on how to develop sustainable and successful internationalization strategies and partnerships. Preregistration required.

Tuesday, May 31, 2016

9:00 a.m. – 3:00 p.m.

Global Learning Colloquium on Teacher Education: Curricular Design Strategies for High-Impact Global Learning
Lunch & Presentation: #Cubadaptable: What Educators Seeking to Engage Cuba's P-20 Systems Need to Know
NOTE: Colloquia are closed to the media  

11:45 a.m.-12:20 p.m.

Soundstage: NAFSA Film Festival: Crossing Cultures – Havana to Hollywood
Presented by the New York Film Academy.

2:30 p.m. – 3:30 p.m.

Forging Productive Educational Partnerships between Cuba and the United States
Presented by higher education leaders from the University of Cienfuegos in Cuba.

Wednesday, June 1, 2016

1:15 p.m. – 2:15 p.m.

Student Mobility between Cuba and the United States: A Relationship in Transition
A Relationship in Transition, explore the impact of changes in U.S. policies towards Cuba and the restoration of diplomatic relations on international education.

NOTE: This session will be off the record

Thursday, June 2, 2016

8:30 a.m.-9:30 a.m.

Soundstage: Beyond Havana
Come listen to international education colleagues from Cuba and the US talk about Cuba programs outside of Havana

9:30 a.m.-10:30 a.m.

The Cuban Higher Education Landscape: Opportunities of Engagement for International Educators
Join the President of the University of Cienfuegos, who will present an overview of higher education in Cuba and consider the opportunities and possibilities for increased international linkages.