U.S. Higher Education Partnership Fair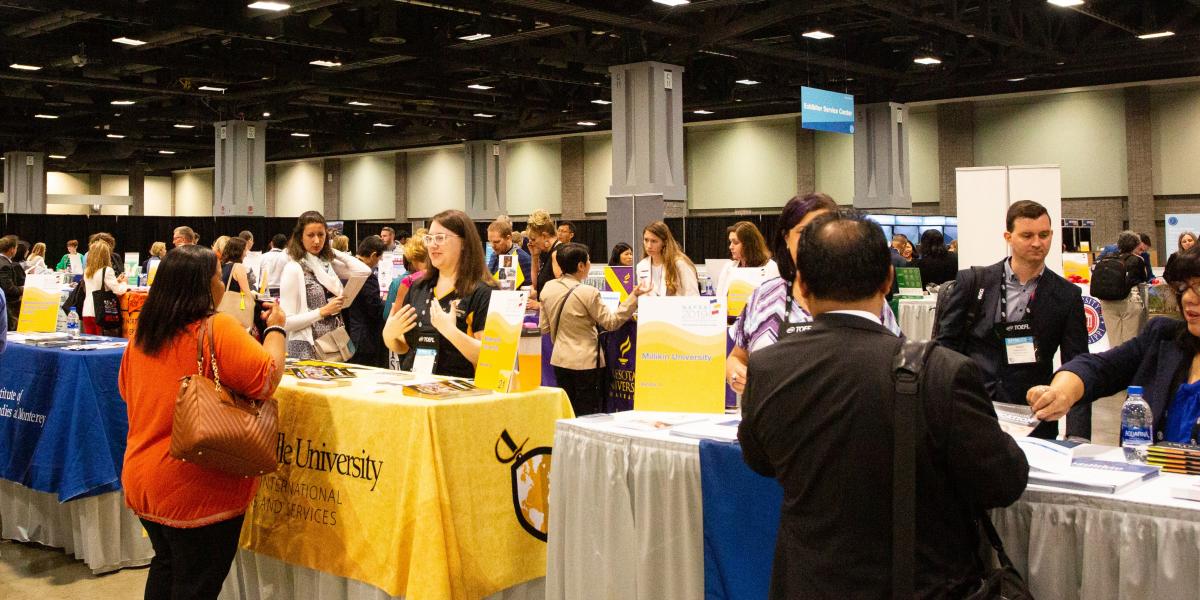 Washington, D.C.
The goal of the U.S. Higher Education Partnership Fair is to bring U.S.- and non-U.S.-based international education leaders together to learn about possibilities for developing institutional partnerships. This initiative is in response to the high value that non-U.S. institutions place on finding potential U.S. partner universities at the conference.
All accredited U.S. colleges and universities, and accredited intensive English programs are invited to take part in this fair and display information about their programs and interest in forming partnerships with overseas universities. NAFSA will develop specific marketing to non-U.S. conference attendees to encourage their attendance at the fair as a means of exploring institutional partnerships. The fair will be located in the poster fair area of the Expo Hall.
The Benefits of Participating
International attendees who make up over 35 percent of the conference audience (more than 3,000 attendees and exhibitors) report that meeting current and potential partners is one of their top three reasons for attending the NAFSA annual conference.
This dedicated time early in the conference will spotlight U.S. universities and colleges, allowing international attendees the opportunity to quickly focus attention on developing new partnerships and linkages.
Presenting will allow you to increase your institution's visibility with the international education community.
By holding the fair on the first day of the Expo, you and your colleagues will have all week to continue discussions with potential partners started at the fair.
Your institution can "test the waters" for future potential of exhibiting week long at the NAFSA conference.
How to Take Advantage of this Opportunity
Accredited U.S. colleges, universities, and intensive English programs that are physically located in the U.S. are invited to participate in the fair, which will be limited to 100 displays, offered on a first come, first served bases. A fee of $429 will be charged to the U.S. institutions that participate, but no fee will be charged to the conference audience entering the fair. Campus leaders who staff their display will also be required to register for the NAFSA conference. Please register prior to April 16, 2019 if you would like to receive complimentary signage (institution and table number).
Preparing for Your Participation 
Once registered, NAFSA will send specific guidance regarding display materials and content to institutions to make it easy for attendees at the fair to identify the programs of each participating U.S. institution and engage in meaningful discussion of potential partnerships.