2009 Region II Conference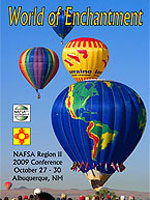 World of Enchantment
NAFSA Region II Regional Conference
October 27-30, 2009
Albuquerque, NM
Conference Chair: Kay Forsyth
Utah State University - [email protected]
Start planning ahead! Think hot chili peppers, southwestern sunsets and red rock vistas. Mark your caldendars NOW for Albuquerque, New Mexico, the site of our next Regional conference Oct 27-30, 2009. The conference will be located at the Hotel Albuquerque.
Hotel Albuquerque at Old Town exemplifies "Albuquerque Style," a unique blend of New Mexico's Pueblo, Spanish Territorial and Western cultural influences. Listed in Travel + Leisure in 2001 as one of "25 stylish hotels under $200," Hotel Albuquerque is a landmark hotel nestled in the heart of the historic Old Town Plaza and museum district with its 400 year history and more than 200 shops, restaurants, and galleries to explore. Hotel Albuquerque is also a convenient starting point for further exploration of all that Albuquerque and central New Mexico has to offer. For more information about the hotel: http://hhandr.com/alb_main.php.
More information about session proposals, conference activities will be added in the coming months. Tell your colleagues, plan a session and let's all meet in Albuquerque next October.
Kay Forsyth, Utah State University
Conference Chair
(Ms.) Kay Forsyth Director, Office of Study Abroad
Utah State University
0108 Old Main Hill
Logan, Utah 84322-0108 USA
T: +1.435.797.1253 or +1.435.797.0601
F: +1.435.797.8018 email: [email protected]
www.usu.edu/studyabroad
Although this event is over, you can still peruse the site and look at what was offered this year.