2017 Highlights - San Antonio
This year's conference was a huge success! Thanks to all attendees, sponsors, exhibitors, volunteers, and everyone else for taking part!
View photos from the conference.
View the online conference program.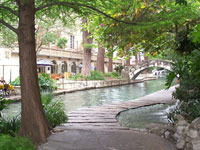 The 2017 NAFSA Region III Conference will be held in San Antonio, Texas, October 15-18, 2017 at the Westin Riverwalk Hotel. Pre-conference workshops will be held all day Sunday, October 15. Conference sessions will start Monday, October 16, at 9 am and run through 12:00 pm on Wednesday, October 18. The conference will include a Plenary Luncheon and a Business Lunch/Awards Ceremony. The Exhibitor Hall will be open all-day Monday, October 16 through Tuesday, October 17.
Download the schedule-at-a_glance

Plenary Luncheon Event
We are pleased to announce that the plenary speaker of NAFSA's Region III 2017 Plenary Luncheon is Dr. Adria Baker.
Baker is the Associate Vice Provost for International Education, and the Executive Director of the Office of International Students & Scholars at Rice University, where she has worked for 21 years. She also serves at the Director of the Brasil@Rice office, which won the 2015 Senator Paul Simon Campus Internationalization award for their academic initiatives. Her topics of publications and presentations include subjects on advocacy and public policy in international education, immigration advising, and other themes promoting global academic exchange.
The Plenary Luncheon will be held Monday, October 16, 2017 at 12:30 PM at the Navarro Ballroom (Ballroom). Music entertainment prior to the speaker will be provided by San Antonio local artist Galo Gutierrez. Mr. Gutierrez is from the Republic of Panama and performs Latin Jazz and other international styles throughout United States and Latin America. https://www.galomusic.com/biography  
Conference Registration and Workshop Fees
For questions about conference registration, please contact the Region III Registrar Norma Vallejo.
To assist in planning your travel budgets, the registration fees are as follows:
Registration after September 15
Member: $400
Non-member: $500
Full-time student: $200
Retiree, community volunteer, associate membership: $200
Single Day Registration (through September 15)
Daily Rate: $200
Full-time student: $50
Full-Day/Half-Day Workshops
Member: $350/$275
Non-member: $450/$375
The deadline to register for workshops is September 15.
Pre-Conference Workshops
Pre-conference workshops will be on Sunday, October 15, from 8:00 am to 6:00 pm. Be sure to register quickly when registration goes live as we expect the sections to fill-up quickly. Workshops below are all day except where otherwise noted.
International Student and Scholar Services
F-1 Student Advising for Beginners
F-1 Student Advising: Intermediate
J-1 Advising: Intermediate
International Enrollment Management
Admission & Placement of International Students (half-day, 8am - 12pm)
Recruiting International Students (half-day, 1pm - 5pm)
We are pleased to announce a discounted fee if you register for two half-day IEM workshops (includes lunch): $500 Member / $600 Non-member.
Education Abroad
Current Trends in Education Abroad Alumni Programming (half-day, 8am - 12pm)
We are pleased to announce a discounted fee if you register for two half-day EA workshops (includes lunch): $425 Member / $500 Non-member.
There will also be a Diversity/Minority Serving Institutions (MSI) Forum from 1pm to 5pm. This is a half-day workshop focused on increasing diversity in international education and providing support to HBCU's and Minority Serving Institutions. Presentations will be given by former participants of NAFSA's Diversity Impact Program. There will also be a resource fair with NAFSA resources and other international education resources. Registration fee: $50 for members; $75 for non-members.
Hotel Information
The Westin Riverwalk is located on the edge of the San Antonio River and is walking distance to restaurants, theaters, historical sites, and music venues. Negotiated room rates are $219 per night for single or double occupancy. Discounted room rates available until September 29, 2017.
Parking and Transportation
The hotel offers in/out valet parking only for an overnight fee of $39 per day. Otherwise, a self-parking garage is located across the street for the same price of $39 per day.
For transportation options, the hotel is located approximately eight miles south of the airport and is easily accessible by taxi and commercial shuttle service. Taxi cost average around $25 each way. Ride-share services are also available.
Local Parking Information
There are several parking lots on the corners where South St. Mary's, Nueva and Navarro Streets meet. Each lot ranges from $7 per day to $10 per day. They take cash and card.
There is a $5 parking lot on S. Presa Street across from La Villita. It is cash only.
To walk from these lots (S St Mary's & Nueva Streets along Navarro St) is 5 minutes to the Westin Riverwalk. As always, please secure or remove valuables from your vehicle.
On-Site Registration
Registration will be held at the Ballroom Level on the following dates and times:
Saturday, October 14: 2:00 pm – 6:00 pm
Sunday, October 15: 7:00 am – 6:30 pm
Monday, October 16: 7:00 am – 4:00 pm
Tuesday, October 17: 7:00 am – 10:00 am
Conference badge holder sponsored by CEA Abroad
Off-Site Events
Region III will celebrate with an evening of hors d'oeuvres, drinks and entertainment at the Briscoe Western Art Museum located a block away from the Westin Riverwalk Hotel. The off-site event will take place on Tuesday, October 17 from 6:00 to 8:30 pm (hosted by University of the Incarnate Word European Study Center).
Following the reception, you can explore by foot or by water taxi to area restaurants, shops and entertainment venues that line the banks of the San Antonio River as it winds through downtown. Wander a bit further and you'll discover the rich sites of culture and the arts. Breathe in some Texas history at The Alamo and the Spanish Governor's Palance, stroll through Market Square and La Vallita, San Antonio's historic arts village, or sip a cold microbrew at the Historic Pearly Brewery.
There will be restaurant and bar hops assisted by the Local Arrangements Committee on Monday night. Destination restaurants are Acenar and Paesanos Riverwalk. Sign up at the Hospitality table!
Exhibits, Sponsorship, and Advertising
All exhibitor booths have now been sold for the NAFSA Region III conference. If you would like to be added to a waitlist in the event that a booth becomes available, please email [email protected].
While there are no longer any exhibitor booths available, there are still several sponsorship opportunities available for purchase. A list of sponsorship opportunities available as of 9/15/17, along with descriptions and costs, can be found here.
For questions about exhibiting, advertising or sponsorship, please contact Blake Hart, Development Chair, email [email protected].
Volunteer Information
There will be plenty of opportunities to volunteer at this year's conference. This is a great chance to network, get involved and connect with members across the area. Please select volunteer interest during the registration process. For questions regarding volunteers, please contact Courtney Balderas at: [email protected].Sign up to be a volunteeer here.
Resume Review Session
Resume Reviewers Wanted!
If you are an experienced international educator, we need your help to review resumes and discuss career information with our newest NAFSAns and other interested in feedback.
Request a Resume Review!
Looking for a new position within international education (IE)? Looking for a new direction or guidance in your current IE career? Whether you are new to the field or a seasoned professional, sign up for a resume review session and be paired with an experienced NAFSA member who is willing to provide feedback on your resume and to provide guidance and encouragement in your job hunt. This is a great chance to polish up your resume as well as to make contacts in the field!
For conference related questions, contact the Region III Conference Planner, Jose Martinez at [email protected].