2014 Region IV Conference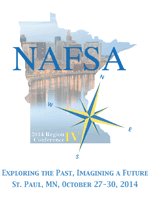 October 27-30, 2014
The 2014 Region IV conference took place at the Crowne Plaza – Riverfront Hotel in St. Paul Minnesota.
Special Events
Monday Night Pub Crawl, October 27
Arriving on Monday evening? Join fellow NAFSAns for an informal pub crawl. Routes are available at the conference registration desk or by going here. Gather your friends and go at your own pace, or meet in the hotel lobby if you would like to join up with a group.
Newcomer & Mentor/Mentee Session, Tuesday before Opening Reception
We hope to see new and seasoned NAFSAns at this fun/informative session, 4:30 pm to 6:00 pm in Kellogg I/II.
International Student College Fair - Tuesday, October 28
Tuesday, October 28, 2014 4:00 p.m. - 6:00 p.m.
Crowne Plaza Riverfront Hotel, Garden Court Room, St. Paul, MN
Come meet with University representatives about post-secondary opportunities! University representatives from across the Midwest US will be eager to talk to you about associate, short-term, undergraduate, and graduate study opportunities at their institutions.This is a special event only for international students in the Minneapolis-St. Paul area.
Several top-ranked and famous universities in United States will be looking to talk to international students just like you, including representatives from:
University of Minnesota, Twin Cities
University of Iowa, Iowa City, Iowa
Iowa State University, Ames, Iowa
University of Missouri, Columbia, Missouri
Plus many more top colleges and universities will be present including private colleges, public universities and community colleges from Minnesota and surrounding states. This college fair is only for international students! Don't miss this opportunity!
There is no charge or fee for students, parents, or counselors to come to this Fair. Please RSVP by October 10 (optional). Universities or colleges that are interested in participating are required to RSVP before October 10 (there is a fee for universities/colleges to participate).  To RSVP for the Fair, or for more information please contact Tim Tesar at [email protected].
Opening Reception, Tuesday, October 28 at Union Depot
Start the conference right! The reception goes from 6:30 pm to 8:30 pm. Please remember to check inat the Crowne Plaza Hotel before attending the Opening Reception" before attending the Opening Reception.
Show your school spirit on Thursday!
Tigers, Eagles and Bears … oh my! You are encouraged to wear your university gear on Thursday, October 30, 2014!