2017 Conference

Conference Registration
Please note: NAFSA membership is not required to access the conference registration portal. However, all registrants must create a free NAFSA Passport to access the registration portal. Just follow the prompts at the link above if you don't have a NAFSA Passport or would like to verify your NAFSA Passport information.
Early Registration (by Sept. 22)
Full Conference Registration
Regular/On-Site Registration (after Sept. 22)
Full Conference Registration
$285 NAFSA Member
$360 Non-Member
$99 NAFSA Academy Trainee, Retiree, Community Volunteer
$95 Full-time Student (not currently working in the field)
$365 NAFSA Member
$485 Non-Member
$99 NAFSA Academy Trainee, Retiree, Community Volunteer
$95 Full-time Student (not currently working in the field)
Daily Conference Registration
$235 Members, Non-Members
$99 NAFSA Academy Trainee, Retiree, Community Volunteer
$95 Full-time Student (not currently working in the field)
 
Pre-Conference Workshops
Region VII will offer 5 workshops plus a Historically Black Colleges and Universities (HBCU's) Forum.
All workshops (except Recruiting for International Students and the HBCU Forum, as indicated below) are held over a two-day period from 1:00PM - 6:00PM, Sunday, October 22, continuing the next morning from 8:00AM - 12:00PM for a total of 8 hours with breaks. Please note that if sufficient enrollment is not met by September 29, 2017, Region VII reserves the right to cancel a workshop, in which case registration fees would be refunded.
Cancelled. Managing the Education Abroad Office 
Cancelled. Recruiting International Students
HBCU Forum: Expanding the Global Landscape (Sunday only) Oct. 22, 1:00pm-6:00pm.

HBCUs Strategic Initiatives "Mapping the World" will focus on the importance of HBCU institutions remaining relevant and strategic within the context of internationalization. Experienced international educators will serve as resources, moderators, and share experiences on innovation in the field.

 
| | | | |
| --- | --- | --- | --- |
| CEP Workshops (by Sept. 22) | 8 Hour Workshop | 4 Hour Workshop | HBCU Forum |
| NAFSA Member | $350 | $300 | $50 |
| Non-Member | $450 | $400 | $50 |
| NAFSA Academy Trainee | $150 | $150 | $50 |
| Retiree | $250 | $200 | $50 |
| Community Volunteer | $250 | $200 | $50 |
| Full-time Student (not currently working in the field) | $250 | $200 | $50 |
Our thanks to IES Abroad for sponsoring the HBCU Forum!


Exhibitors, Sponsorship & Advertising
NAFSA Region VII invite you to exhibit, sponsor, and advertise at the 2017 Regional Conference. By joining us in Spartanburg, you will have the opportunity to connect your organization to international educators throughout the south and Caribbean. Please review the 2017 Exhibitor Flyer for dynamic ways to showcase your products and services this October. For questions about exhibiting, advertising or sponsorship please contact Erin Hillis, Region VII Chair-Elect, Email: [email protected]
Exhibitor Type
Regular Registration (by Sept. 8)
Late Registration (by Sept. 9)
Platinum
$750
$850
Gold
$650
$750
Exhibiting includes one complimentary registration and one 8ft table with two chairs
Rates are based on a non-bleed ad page (no copy going off the page)
Full: 7.75 x 10.25
Half: 7.75 x 4.75
Quarter: 3.75 x 4.75
Conference Schedule
As you prepare for the Region VII conference, we encourage you to review the conference program online available at the link below. You log in by using your email and registration confirmation ID (available in your confirmation email). Using this conference planner you may begin selecting sessions you would like to attend and can build your conference itinerary. Please note: The online conference planner is the most up to date version of the conference program. (An earlier PDF version listed here has been removed.)
Region VII 2017 Conference Program & Schedule
An added benefit, the online conference planner syncs with the Conference Mobil App which you can use with your Mobile Phone during the conference. So visit the App Store and Google Play to get the Conference Mobile app too. Hard copy conference programs will be available at the registration desk.
Our thanks to CISI for sponsoring the conference badges!


Online Conference Planner
A full list of attendees as well as the mobile app is available via the online planner. Please remember that while the online program is available to anyone, only registered conference attendees can log in to the mobile app. To use the app, you will need your registration ID number.
Access the Region VII conference planner.
Region VII Award Nominations
Each year during the annual business meeting, Region VII recognizes the contributions of community volunteers and outstanding colleagues who exemplify excellence in international education. Please nominate individuals for the following categories:
Community Volunteer Award
International Excellence Award
New Professional Award
2017 Nominations closed September 14, 2017. 
Hotel Reservations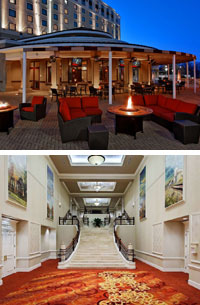 Conference rates for the primary host hotel, The Spartanburg Marriott, were $149 per night, single or double; and conference rates for the overflow hotel, The Courtyard Marriott, were $134 / night, single or double. Participants had until September 30, 2017 to take advantage of these rates. Please contact either property directly to inquire about additional availability. They may or may not be willing to honor the conference rate after the deadline. 
Reserve the Spartanburg Marriott
Reserve the Courtyard Marriott
Note: Booking via any other site will not include the conference discount.
Optional: Add daily breakfast buffet at check-in for $10/day (reg. $15/day). 
Parking is free
Roommate Matching: Please see the Region VII Facebook discussion forum for a thread dedicated to roommate matching and ride sharing.
Getting there
Airport: The closest airport is the Greenville-Spartanburg International Airport approximately 30 miles from the hotel.
Airport Shuttle: A shuttle service is available for participants and is offered by Atchison Transportation Services located at the GSP Airport. To book a ride or for more information about the shuttle service, please contact Elaine Brackett (864) 345-1264 or visit their website.
Rideshare (Lyft, Uber): Available from the airport to the hotel for approximately $30-35 one way. Taxis are a bit more expensive.
Session Proposals
The submission period for regular sessions and poster sessions has closed. Region VII looks forward to presenting a rich diverse conference.
Date of Poster Session: Monday, October 23, 2:45 p.m. - 4:00 p.m.
Travel Grants
Grant Amounts
Every year Region VII offers travel grants to attend the Region VII Conference. Past awards have been free conference registrations and reimbursement on travel expenses, up to a certain amount! We urge everyone to apply, especially those from two-year colleges; Historically Black Colleges and Universities; minority-serving institutions, including Hispanic-serving institutions and tribal colleges; first-time attendees; public institutions with significant budgetary constraints; and/or first time grantees or awardees.
How to Apply
Requires a statement of objectives and a letter of recommendation
Opens Wednesday, July 5, 2017. Closes Friday, September 8, 2017
Awardees will be notified via e-mail by Thursday, September 14, 2017, along with early bird registration instructions
Special thanks to Siskind Susser PC, Immigration Lawyers, OCS America Inc., and David Ware & Associates, LLC, who are matching a combined $1200 from our Travel Grant fundraiser!
Volunteering at the Conference
Volunteering is open to all conference attendees, and is a great opportunity to network, share best practices, help others, and learn a lot. Volunteers should report to the volunteer Table 15 minutes prior to the session start time. Volunteer slots are typically 1 1/2 to 2 hours. Prior experience or knowledge is not required to sign up as a volunteer -- all necessary information will be given to you when you report to the Volunteer Table.
How to Sign Up: Sign up to volunteer!
What's Next: When your check-in time arrives, go to the volunteer Management Desk, located in the Fort Prince Room. The Fort Prince Room is located on the first floor near the Grand Staircase and the Heritage Ballroom.
Resume Reviews in Spartanburg
Looking for a new position within international education or want to help fellow NAFSAns by sharing your professional insights and career advice? Back by popular demand, we'll be offering resume review opportunities at the Region VII Conference in Spartanburg! An optional head shot will also be offered to participants at no cost after completion of their review session, so keep that in mind in planning your attire for the session you select. Digital images will be sent soon after the conference to the email you provide.
Time slots are as follows:
Monday, October 23 - 9:00 a.m. - 10:00 a.m., 1:30 p.m. - 4:30 p.m.
Tuesday, October 24 - 8:30 a.m. - 11:00 a.m.
Wednesday, October 25 - 9:00 a.m. - 11:30 a.m.
Sign Up For a Resume Review by: October 6th via this form. Any open slots after the deadline will be available for sign-ups at the conference.
Sign Up To Review Resumes: via this form. Please include your email so we can confirm your time slot closer to conference time.
Contact Angie Edwards ([email protected]) or Rachel Hendrix ([email protected]) with any questions.
Book Club
This year's conference book is Expecting Goodness & Other Stories.
An anthology of short stories by 20 Spartanburg writers, this year's conference book was edited by C. Michael Curtis, a distinguished chair at Wofford College. The book was runner-up in the Independent Publisher IPPY Awards for the top collection of short stories in North America. The time and location for the conference book club discussion will be announced soon. The 2017 conference book makes great summer reading and goes well with vacation! Learn more about Expecting Goodness & Other Stories
Restaurant Hops
To sign up for Sunday night (10/22) restaurant hops at the conference, click the link below. Downtown Spartanburg is undergoing a wonderful renaissance, and several new spots have opened since the original sight visit. The Local Arrangements Co-chairs have coordinated 5 great hops!
https://docs.google.com/spreadsheets/d/1VjKie6jKC-MF4z94xrn72jeOjGsp0dAtQfLNM1P76X8/edit#gid=0
Maximum 15 each.
Raffle and Silent Auction Donation Information
Region VII is raising funds for Travel Grants, so we need your help!
Please donate an item(s) from your campus or organization by October 13th. Please send this form

to Erin Hillis, Chair-Elect, and bring your item to the conference.
Collection times for all items will be Monday, October 23rd, 9am - 1pm, booth 64.
Raffle Items
Sample raffle items needed:
School specific or unique t-shirts
Coffee mugs or water bottles
Gift cards to restaurants, department/online stores or with a monetary value
Wine or craft beers
Books or magazine subscriptions
Items from Spartanburg or your hometown/state
Silent Auction Items
For the 2nd year, we'll be seeking higher value items also. You can donate on behalf of your office or organization and we'll put your organization's name on the Silent Auction bid sheet, our site, and our newsletter, with great thanks, for each item you donate.
Technology: (Tablets; Latest Android, Samsung, or iPhone; Fitness trackers; eReaders; Smart watch, iWatch; Noise-canceling headphones; Apple gift certificates; iTunes gift certificates)
Events/Experiences: (Tickets to major events or attractions; Vacation rentals or use of a vacation home; Hotel gift certificates; Air travel vouchers)
Food/Beverage: (Wine or similar beverages; Well-known restaurant gift certificates)
Professional Items: (Brand-name writing utensils: Mont Blanc, Cross, etc; Leather portfolio; High-quality business card holder)
Personal Items: (Jewelry, cuff links; Amazon.com gift certificates; Etsy gift certificates; Watch case)
Items for Home or Office: (Pottery from your local artist, or one from the area where the conference is held; Framed art work, perhaps from Spartanburg)
If you have any questions regarding the Raffle or the Silent Auction Donation, please contact Erin Hillis, Chair Elect NAFSA Region VII.
Campus Tours
Campus Tours
The following institutions will offer free, pre-conference campus tours. Space is limited as indicated. Sign up via your conference registration form.
Note: tours will run simultaneously.
Converse College (capacity: 15)
Founded in 1889, Converse is a small private master's university which provides distinctive undergraduate liberal arts education for women and innovative programs for co-ed graduate study. With 25 majors, Converse is especially well-known for its outstanding music program.
University of South Carolina Upstate (capacity: 12)
USC Upstate is a public university and one of four accredited four-year schools in the University of South Carolina system. Founded in 1967 as a nursing school, the university has expanded well beyond nursing to include 40 bachelor's programs in the liberal arts, sciences, business, and teacher education. Master's programs are offered in education, informatics and nursing.
Wofford College (capacity: 14)
Wofford College, established in 1854, is an independent liberal arts college which offers bachelor's degrees in 26 major fields of study, and is well known for its programs leading to graduate and professional studies (medicine and other health professions, law, commerce, and advanced graduate study across academic disciplines).
Opening Day Plenary Luncheon
Monday, October 23
During the luncheon, let your imagination, with the help of beach music, transport you to the "Grand Strand", a 60 mile stretch of beautiful beaches along the South Carolina coast. Learn the official state dance, "The Shag!" with a live demonstration as you work off that dessert!
Food Truck Night & Opening Reception
Monday, October 23
Right in the Marriott's back yard, the Upstate's best food trucks will be waiting for you! Sample from every truck, or pick your favorite, but make sure to save room for treats from "Sugah Cakes"! Enjoy live music by the fire pit with your favorite beverage from the cash bar, including signature beers and wine flights. Cash and credit cards will be accepted by all vendors.
2nd Day Business Luncheon & Regional Awards
Tuesday, October 24
Join your fellow IE professionals from all around Region VII for our annual business luncheon and awards ceremony. Receive updates, celebrate regional and national IE member leaders for their service, and learn about next year's conference in 2018 Conference!
All Conference Event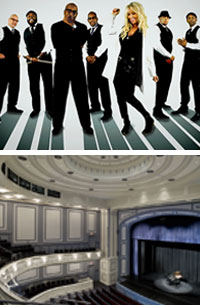 Tuesday night, Oct. 24
The evening will be filled with delicious Southern fare, live music, and an open bar. Just a 5 minute walk from the rear of the conference hotel, the Chapman Cultural Center is a local hub of creative initiatives providing major funding and educational programs for many of Spartanburg's arts and cultural organizations. Within the center, explore the Spartanburg Art Museum and the Spartanburg Regional History museum. Then enjoy the sounds of Mo' Money. The group has performed with or opened for Aretha Franklin and Gladys Knight among others. Mo' Money is sure to get you on your feet, so wear your smile and your dancing shoes!
Our thanks to ISP for sponsoring the All Conference Event!

NAFSA Region VII 2018 Conference
Memphis, Tennessee
November 10-14, 2018
Peabody Hotel