All Conference Dinner & Closing Celebration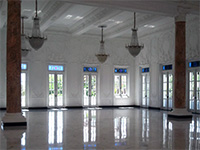 Wednesday, October 17
6:00 p.m. - 10:30 p.m.
Included in the conference registration fee
The NAFSA Region III and VII Teams and the Puerto Rico Local Arrangements Committee invite you to share the All Conference Closing Event with us. NAFSA Region III and Region VII, Tourism Company of Puerto Rico and Banco Santander de Puerto Rico sponsor this activity. It will be celebrated in one of the historic building in Puerto Rico. We are planning a Fiesta Puertorriqueña, with music, cocktail and dinner.
The Casino of Puerto Rico, inaugurated in 1917, (also known as the Reception Center of the Government of Puerto Rico), is the structure that best demonstrates the architectonic knowledge and the French vocabulary in the arts in Puerto Rico. This social center represented the modernization and culture of Puerto Rican society of that period. In Puerto Rico, the use of the Second Empire Baroque architectural style in the local architecture was characterized by the inclusion of elements of classicist origin. This combination of architectonic and stylistic influences represented an important contribution to the development of the classicist philosophy in the Island during the first decades of the Twenty Century.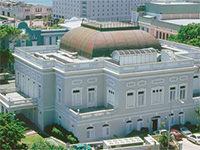 The building is exactly located in the place that occupied the Door of Santiago (Puerto de Santiago), one of the defense walls that surround the city. This door was also known as Puerto de Tierra (Earth Door) because it was the unique access to San Juan through land. The location of the lot in Ponce de Leon Avenue was instrumental in establishing the legitimacy of the social group. At the beginning of the century, the successive North American administrations visualized the entrance of San Juan by the old Door of Santiago - well known also like the Earth Door - as the place to demonstrate the idea of civism and its paradigm of democracy and freedom. Some authors say that El Casino, with its "Frenchified apparel", symbolized the summit of decades of Puerto Rican affirmation, and in it, the French architectural style found its zenith and its goodbye.
The Reception Center at present is named after the last president of the Association of the Casino of Puerto Rico, Dr. Manuel Pavia and it is used for receptions for distinguished visitors. In addition, diverse community and cultural groups and governmental organizations to celebrate activities that result in the improvement of the quality of life and contribute to the cultural and social advancement of the city use these facilities.