Puerto Rico Convention Center
Nearly all of the conference events will be held in the Puerto Rico Convention Center (PRCC), the largest and most technologically advanced convention center in the Caribbean.
The workshops, sessions, and the poster fair will take place in the state-of-the-art meeting rooms on the second floor, while the luncheons will be in one of the ballrooms on the third floor. And our opening reception will be on the outdoor terrace overlooking the harbor and the beautiful city of San Juan. The PRCC is adjacent to the Sheraton Puerto Rico Hotel & Casino, the conference hotel.
You can see San Juan and the harbor from the outdoor terrace, and the Sheraton Hotel just steps away!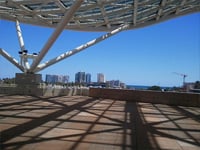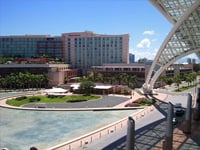 For additional information, please visit: www.prconvention.com