Session Proposals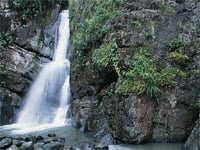 Standard session proposal deadline has passed, but you can still submit a Poster Session until June 29!
We are looking for conference sessions or poster presentations from all knowledge community (KC) areas, including community programming, orientation, international student support, immigration issues, enrollment management, recruitment and admissions, teaching learning and scholarship, and international education leadership and advocacy.
Think as well about related areas that may not fall directly under a "KC," such as professional development, stress reduction, and IT or technology areas.
We encourage people to think about sessions that will highlight hot topics, present new or innovative ways of doing our work, and take into consideration the location of our conference this year–Puerto Rico!
Tips for submitting a good proposal include:
Define the title and description accurately and concisely to allow attendees a good idea of what the goals of the session include, and who is the target audience.
Have at least one or two other presenters from differing schools and backgrounds, so that you can offer your audience a range of perspectives.
Try to have a biregional cross-section of presenters.
Make sure there are interactive portions of your session so your audience stays engaged. (Note all rooms have a theater-style set up.)
Allow some time for questions and answers during and after the session.
If you would like assistance with developing your ideas, or connecting with possible presenters in another region, please contact your KC representative directly. A list of the regional team members can be found here: