Plenary Information
Dan Roberts - Radio's A Moment in Time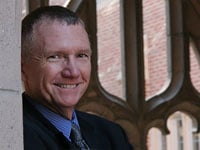 If anyone can be accurately described as a Renaissance man, it would be Dan Roberts, executive producer and host of the award-winning radio series, A Moment in Time. Created to excite and enlighten the public about the past, its relevance to the present and its impact on the future, A Moment in Time is a captivating historical narrative that is currently broadcast worldwide.
After receiving a B. A. in history from Presbyterian College in 1969, Roberts served as an officer in the U. S. Army, including a tour in Vietnam where he was awarded the Bronze Star in 1971. Roberts had begun training as a Presbyterian minister and completed his professional education at Princeton Theological Seminary in 1974. In August, 1986, he was invited to serve as Guest Chaplain of the United States Senate.
In 1990, Roberts obtained a Master's Degree from the University of Richmond and, in 1997, a Ph. D. in British and American Colonial History from the University of Virginia. He is currently Professor of Liberal Arts and History at the University of Richmond with teaching and administrative responsibilities in the History Department and School of Continuing Studies. He has also been a guest contributor and columnist for Education Week, USA Today, the Scripps-Howard Papers and Media General's Richmond Times Dispatch. He is a regular history commentator on CNN, CNN Headline, and Fox News.
A Moment in Time originates in Richmond, Virginia on public radio station 88.9 FM-- WCVE, and is heard by more than four million listeners each day on over 146 public and commercial radio stations throughout the United States, plus the 400 stations of the Armed Forces Radio Network worldwide. A Moment in Time is also broadcast in Canada, New Zealand, and the Philippines. In addition, 3200 members, including subscribers from 25 countries, receive the transcripts with audio and video versions daily by email.
Dan's most recent video, Dan Roberts' Ten Minute Guide: Western Civilization is part of a series that will provide entertaining and academically sound historical programming to a wide audience. He has recently completed an 81-video series, A Moment in Time – Louisiana: A Visual History of a State. He has created two radio series for commercial radio, This Moment in Time and A Sports Moment in Time. A Moment in Time for Television is under development. With co-authors Nuray Grove and Aylin Graves, he published a multi-media resource for English language learners, Time to Read, in 2012.
Dan is a popular jazz pianist and an avid reader. He travels each year to a part of the world for research in his continuous quest to popularize history. He also spends a great deal of time on the road as a popular speaker for corporations, organizations and national audiences.
Roberts has three children Heather Elizabeth Roberts, Mrs. Kathleen Taylor Hunt and Daniel McDonald Roberts, III, and a granddaughter Ava McKenzie Hunt.