For many, international education is more than a profession. "Many NAFSAns [NAFSA members] have spent their entire careers focusing on international education. It's not just a job," says Linda Heaney, NAFSA Life Member and founder of Linden Educational Services, "It's something they believe in deep down." So what happens to NAFSA members when they retire from their day jobs but want to stay involved? Enter Phase II.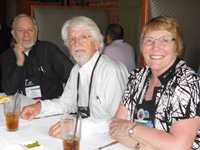 The Phase II MIG is a NAFSA group for retired members and those preparing for retirement or a career transition. Founded in 2010, Phase II allows members to stay involved in the field, maintain relationships with life-long colleagues, and serve as mentors to other international educators. According to the Pew Research Center, roughly 10,000 U.S. citizens turn 65 every day. "You could ask the question of how many people retire every day," says Marty Tillman, president of Global Career Compass. "Phase II is important for the association because if there were no such platform, all of that experience would truly be lost," he adds. "The more that we can get retired NAFSAns to stay involved and connect with younger NAFSAns, the stronger the organization will be," says Heaney.
Passing It On
Phase II members share knowledge and experience through a range of activities, especially at NAFSA regional and annual conferences. "One of the principal avenues for contributions from Phase II members is in the Career Center," says Tillman. Reviewing résumés, counseling job seekers, and mentoring, activities that overwhelmingly involve volunteer retired members and professionals nearing retirement, have been staples in the annual conference's Career Center. "These are some of the outgrowths of the thinking that was going on about how to remain engaged and contribute to the future of NAFSA and NAFSAns," says Bill Smart, a Life Member and retired international educator from Oregon State University.
Making Plans
Preparing for retirement is a central issue for Phase II members. The annual conference in recent years has featured more open meetings, sessions, and roundtable discussions. "In 2012, we had an open meeting on the emotional and psychological aspects and a second meeting on financial planning for retirement, and 75 people showed up," says Sue Marlay, a Life Member and retired international educator from Arkansas State University who served as Phase II's first coordinator. Phase II expects more of the same at this year's conference in San Diego.
"A lot of people are concerned about the financial aspects of retirement and the psychological preparation. 'I've always been in the office and on a schedule. When I let go of that, what am I going to do with the rest of my life?' Those are the things some people are concerned about," adds Smart.
Going Abroad
With more free time, one of the activities that fits well with the interests of Phase II members is travel, and this April, several members will head to Cuba on Phase II's first group trip. The week-long people-to-people educational trip will feature activities including guided tours, museum visits, and meetings with students, community leaders, and artists.
"The Cuba trip is a milestone. Only NAFSA members and retirees are going, and it's great because you know the people in the group and you share a common world view," says Tillman.
"I'm actively involved in the planning," adds Heaney, who spent her career organizing trips. "One of the things that [the Cuba trip] has done for me is allow me to continue to use the skills I've honed so much." Phase II is well into developing a Vietnam trip in 2015, and future travel opportunities will become a big part of Phase II.
Bright Future
As the Baby Boom generation transitions into retirement, Phase II members hope that more professionals will join the group and remain an integral part of the association. "Being in Phase II is being part of a group that serves as a voice to NAFSA about what the organization can do and should do for its retirees," says Marlay.
"For many of us, NAFSA was this big glue stick that kept us together through our careers, so if you're engaged in international education and you retire, you don't want to give up the friendships and the substance," says Heaney.
"Do you still have that fervor, that commitment, that passion for things international?" asks Smart. If so, check out Phase II's MIG page and get in touch with its members to learn more.