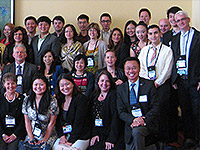 In the United States, more than a quarter of all international higher education students come from China. Recruiting and advising Chinese students poses its own unique set of challenges, and international educators now more than ever are looking for ways to proactively respond to the changing demographics on U.S. campuses. For Joaquin Lim, coordinator of NAFSA's China Specific Interest Group (SIG), all of this is good news. "A lot of things are happening to generate interest, and the China SIG can only go in one direction: growth," said Lim, president of the American International Education Foundation.
NAFSA's China SIG Celebrates 20 Years with Big Plans for the Future
The China SIG recently celebrated its 20th anniversary at NAFSA's 2013 Annual Conference and Expo in St. Louis, Missouri, and Lim has high hopes for the future of the group. "We held a China SIG meeting, and we were flabbergasted with the number of people that attended. One-fifth of the world speaks Chinese, and a mix of people are interested in China from different perspectives: scholars, scientists, and students."
The China SIG, like all of NAFSA's Member Interest Groups (MIGs), allows members to explore a specific or personal interest while networking with like-minded professionals. With the growing need for expertise and resources related to China, Lim has outlined several initiatives he hopes will expand the scope and size of the group.
Reaching "China-philes," as Lim calls them, is his highest priority. By promoting the SIG listserv and updating its database of professionals with an interest in China, Lim hopes to offer a quality networking tool to those who join the SIG. "Our idea is to reach out to as many members as possible. There are about 200,000 Chinese students [studying in the United States], and it's a very significant population that needs help. China is a very important area for educators, and we're going to try to bring the message across to members to get them interested in the activities that we will be doing," says Lim.
Lim also wants to spread ownership of the China SIG. "I want to encourage more people to volunteer to be leaders of our different working groups [for membership, activities, and advocacy]." In the past, the SIG has presented conference sessions and organized events with other groups, and Lim would like for the new members to work on SIG groups to build on this tradition.
Above all, the mission of the SIG is to promote educational exchanges between China and the United States. With an eye toward more annual conference sessions, online resources, and member participation, Lim sees the China SIG playing a vital role within NAFSA in the coming years. "Tomorrow's China is going to be even more powerful, so I believe that the interest in China is going to grow, and therefore, people will continue to be interested in the China SIG," says Lim.
To learn more about the China SIG and how to get involved, please contact Joaquin Lim at [email protected] or join the China SIG listserv.