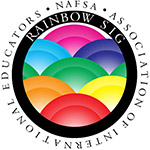 For Scott King and others, the formation of NAFSA's Rainbow SIG (Special Interest Group) was not only about the creation of a community for LGBT professionals. King, the SIG's founder and first coordinator, lost his partner to AIDS a few years before the SIG was founded, and he was able to turn to the group for help. "It affirmed a very important part of me, and it helped me through a difficult part of my life."
At the first SIG meeting in 1993 at the annual conference in San Francisco, California, Kathy Sideli, another founder, arranged for interested attendees to visit the AIDS Memorial Quilt at the NAMES Project headquarters, and King was able to personally deliver his partner's panel. "It was a watershed moment to have the panels come in. It was part of my personal therapy, and it helped with closure," said King. In 1996, Sideli collected names of individuals that NAFSA members wanted to remember and later submitted a panel in Washington, DC, when the project was displayed in its entirety for the final time. "It was a rather historic event. We have photos of the NAFSA quilt panel, and it ended up covered in the NAFSA newsletter at the time," said Sideli.
The Rainbow SIG just celebrated its 20th anniversary, and its importance to the members and the association cannot be overstated. The SIG was founded with the purpose of providing a community for international educators of all sexual orientations, offering resources for professionals advising LGBT students, and promoting a welcoming and safe environment within NAFSA. For two decades, the Rainbow SIG has not only been a safe space for LGBT professionals and allies, but also a source of counseling and support for members dealing with a variety of challenges.
"A big focus was making sure people felt welcome [in NAFSA]," said King, "when even a neutral environment can be viewed as hostile. We didn't want to lose a single member because of sexual orientation."
Sideli added that many people felt threatened professionally for being open with their sexuality or supporting LGBT professionals. "NAFSA took a bold step to let this particular interest group be so publicly visible," she said, "and we worked really hard to make people know that we are here and welcoming."
Over the years, the Rainbow SIG has continued to expand and reach new members. Jennie Weingarten, the outgoing coordinator, was looking for a home within NAFSA when she found the SIG. "NAFSA was large and intimidating. I wanted to make NAFSA smaller, and the Rainbow SIG really stood out. Joining was the best decision I have made."
"Their level of engagement with members and the community is truly inspirational," added Erika Rohrbach, NAFSA's diversity adviser. "The Rainbow SIG is one of NAFSA's most vibrant member interest groups, with regional representatives across the country and wonderful outreach programs."
The SIG update meeting at the annual conference is also one of the best attended meetings, regularly drawing more than 70 members. In 2011, Weingarten established SIG representatives at the regional level. "We created regional representatives to have more ways to be involved with the SIG and leadership. When we saw how many people came [to meetings], we couldn't let them walk out without ownership of the SIG. The more we grow," said Weingarten, "the more knowledge we have."
That knowledge, especially for educators advising students, is vital to the field. "An overseas experience is when they realize their inner self," said King of students who come out while studying in a foreign country, "and they have to deal with issues of how that will play out back home." In an age of increased student mobility, differences in cultural acceptance of LGBT lifestyles become more prevalent, and international educators often have to counsel and advocate for these students. "We are still dealing with international students that don't understand the mores and standards. With our students going abroad, they may not be able to be themselves all of the time," said Sideli. The SIG has collected a wealth of resources on these topics and continues to add to its library as new issues arise.
In the future, members of the SIG look to continue working closely with NAFSA on equality initiatives and creating further opportunities for LGBT students to become involved in international education. SIG members celebrated the recent Supreme Court rulings on DOMA and Prop 8, but challenges persist for the LGBT community. "[Same-sex couples] often lose rights and dignity when they attend annual and/or regional NAFSA conferences in certain U.S. locations. While work remains to be done, NAFSA and Rainbow SIG are thrilled that these decisions affirm that all loving, committed couples who marry deserve equal legal respect and treatment," said George Kacenga, a current SIG coordinator. To provide study abroad financial aid for LGBT students, the SIG has established the Rainbow Scholarship Fund. The fund supports up to 15 students each year, all thanks to generous donations from SIG members and others.
With its vast resources, countless members, and high level of engagement, the Rainbow SIG is a model member group within NAFSA. "I'm pleased to see NAFSA has recognized this," said King, reflecting on the 20th anniversary. "When I talk to young folks, I'm proud that we made the association a safer place."