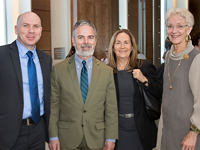 NAFSA's annual Seminar on Peace and Global Civil Society provides international educators with the opportunity to connect with experts in the fields of peacebuilding and conflict resolution to share strategies for linking the ideals and theories of peacebuilding with the practice of international education programming.
One of the common themes highlighted in presentations and discussions during this year's event at Northeastern University in Boston was the idea that effective communication skills are a shared core component in both international education and peacebuilding. As international educators work to develop skilled communicators, they are also developing empowered peacebuilders.
In his keynote remarks, Ambassador Antonio de Aguir Patriota, currently the permanent representative of Brazil to the United Nations and former chairman of the United Nations Peacebuilding Commission, first introduced this important parallel. Drawing on his rich professional experience, Ambassador Patriota made a compelling case that effective communication skills are essential not only to education, but to peacebuilding as well. The ambassador's insights set the tone for the remainder of the two-day seminar, helping serve as a catalyst for both presenters and participants, which included NAFSA leaders, Northeastern students, and Nobel Peace Prize laureate Tawwakol Karman and her husband, to further examine the multiple ways in which education can be a vital tool in peacebuilding efforts.
Critical Thinking and Communication
Jeffrey Helsing, PhD, acting vice president of the United States Institute of Peace Academy for International Conflict Management and Peacebuilding, illustrated how education has a vital role to play in countering the messages of violent extremism. He noted that education provides students with critical-thinking skills that allow them to understand and respond constructively to such messages. For example, he noted that Tunisia has actively begun using its universities to develop a more robust civil society that is better prepared to address violence in constructive ways, including effective communication. Helsing asked seminar participants to explore new ways of teaching so that students learn crucial peacebuilding skills of critical thinking, leadership, and most importantly, ways to constructively dialogue with others who may have different perspectives.
Building Relationships for Effective Dialogue
Ismael Muvingi, PhD, a noted scholar and practitioner of conflict resolution, observed that trust is not something that can be taught or repaired simply in a lecture, it has to be built over time with great care. An important part of education for peacebuilding is providing opportunities for people to work together to establish, or reestablish, trust through careful communication and dialogue. Participants discussed ways in which international education programs can provide opportunities for students to develop respectful relationships with those from other backgrounds and cultures. Participants also discussed potential problems that should be avoided, such as stereotyping, objectification, and post-colonial models of oppression.
Local Communication is Global Communication
Muvingi pointed out that it is often tempting to talk about peacebuilding in locations that are exotic and "out there," rather than those that are local and a part of our own society. However, he pointed out that global learning opportunities help students recognize how interrelated local and global events often are. Conflict happens in Ferguson, Missouri, and it happens in al-Qaryatayn, Syria. Such conflicts can be related in surprising ways. For example, Islamic State activists on Twitter used the conflict in Ferguson to encourage its supporters to incite more violence in Missouri, and to claim that adherents to the Islamic State's version of Islam cared more about the black community than Americans did, and thus recruit others to their cause in Syria.
Global Learning for Peacebuilding
International education has the capacity to develop the core peacebuilding skills of relationship building, active listening, and cooperation with others. Through interactions with people from different backgrounds and cultures, students can learn about how people interact with global systems (the environment, capitalism, religion) in ways that can lead to either peace or conflict, and how this interaction can have both local and global implications. One of the goals of the Moffatt seminar is to ask participants to share ideas about how this potential can become reality; whether through curricular, cocurricular, or extracurricular programming that promotes core peacebuilding skills such as effective communication with others.