Thank you for your interest in the My Cultural Awareness Profile (myCAP©) Suite of Resources. Please note that these products have been discontinued.
For questions, please contact NAFSA's Academic Affairs and Internationalization staff.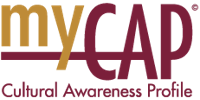 The My Cultural Awareness Profile (myCAP©) Suite of Resources is part of a series of professional development opportunities and materials provided by NAFSA to encourage internationalization of teacher education and support faculty members in colleges and departments of education in preparing teachers for twenty-first century classrooms.
Initiating Discussion About Cultural and Global Awareness
In the twenty-first century, teachers are working in a culturally diverse and globally interconnected world. Classrooms are increasingly diverse, leading to calls for teachers to become better equipped to differentiate instruction and approaches to learning. Developing cultural awareness, intercultural skills, and global perspectives is essential. Preservice and in-service teachers should have access to training and preparation that can help them learn about the cultural and global dimensions of the content they will teach, uncover their own cultural identities, and learn to teach within culturally diverse classrooms.
The myCAP© Suite of Resources:
Is purposefully designed for use by teacher educators seeking to prepare teachers at all levels to teach in culturally and globally responsive ways.
Supports cultural and global learning across three dimensions of cultural and global awareness: understanding of cultural and global contexts; integration of cultural and global perspectives in the curriculum; and responsiveness to the influence of culture on teaching and learning.
Is designed to help teachers and teacher candidates become more self-reflective and actively involved in continuing their cultural learning.
Can be used at any point in a preservice or in-service teachers' program of study and will complement a program's existing structures for supporting reflection.
Encourages confidence that one can build cultural awareness and global knowledge through study, experience, discussion, and self-reflection.
Explore the myCAP© Suite of Resources
NAFSA is grateful to the Longview Foundation for World Affairs and International Understanding for its encouragement and support of the development of the myCAP© Suite of Resources. For more information, visit www.longviewfdn.org.
---
© 2018 by NAFSA: Association of International Educators | All rights reserved.