Image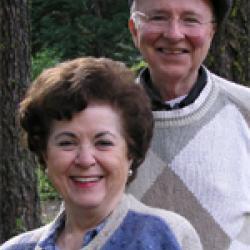 Jack and D'Ann Burke
As in previous years, the 2004 nominations for the Hugh M. Jenkins Award for Excellence in Community Programming were outstanding. However, this year there were two parties that received the highest of accolades. Their accomplishments epitomized the purpose and aims of the award, and thus the committee decided to grant two awards: one to a couple and the other to an individual.
One of the 2004 Hugh M. Jenkins Awards goes to Dr. Jack and Ms. D'Ann Burke.
Jack and D'Ann have been exemplary role models; Jack as the former director of the Office of International Student & Scholar Services, and D'Ann as the volunteer director of the Host Family Program, both at the University of Houston. Through their tireless efforts of more than 20 years, they established one of the premier international friendship programs in the United States. Their model for recruiting, training, and recognizing volunteers has been duplicated at numerous institutions, including Purdue University, the University of Arkansas, the University of Pennsylvania, and the University of Akron.
Jack and D'Ann have been involved with NAFSA for many years (Jack since 1963 and D'Ann since 1971). They are lifetime members of the association and are also founding members of the New Century Circle. D'Ann epitomizes a spirit of volunteerism as she organized, directed, and implemented the host family program at the University of Houston for two decades. She was never financially compensated for her efforts, nor did she ever expect or desire to be. She performed her service out of love for the students and their families.
Jack and D'Ann have hosted students from abroad in their home year after year for nearly 40 years. The hospitality that they have offered has always been unselfish, loving, and a natural expression of their genuine concern for international students.
To quote one of their Hugh M. Jenkins Award nomination letters: "What distinguishes Jack and D'Ann above their peers, with similar interests, is their commitment over the years to infect others with this love and devotion for internationals. Indeed, their life's purpose has been very much in the arena of promoting global understanding at the one-to-one personal level between internationals and Americans."