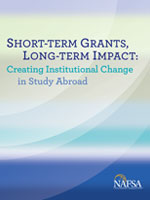 Short-Term Grants, Long-Term Impact: Creating Institutional Change in Study Abroad is a follow-up study to the 2016 Moving the Needle report that examined the impact of certain study abroad grant programs on the higher education institutions that applied for and received funding. Short-Term Grants, Long-Term Impact confirms the original study's findings that even the relatively small, one-time grants awarded through these programs can help encourage an institution to make a more long-term, sustainable investment in study abroad. The report concluded that the "success and sustainability of the Innovation Grants is found not in the simple question of whether or not students continued to participate in the specific study abroad program, but how the institution now engages in study abroad activities across campus."
The programs included in this study—the 100,000 Strong in the Americas Innovation Fund and the Partnership for Collaboration and Innovation in Study Abroad— were modeled after the recommendations of NAFSA's 2003 Strategic Task Force on Education Abroad and the subsequent Commission on the Abraham Lincoln Study Abroad Fellowship Program. The task force determined that in order to increase study abroad it would be necessary to incentivize colleges and universities to remove the barriers that prevent their students from studying abroad. The Lincoln Commission advocated for a new national study abroad program that would primarily target higher education institutions, rather than individual students.
For over a decade, NAFSA has advocated for the development of such a national study abroad program through passage of the Senator Paul Simon Study Abroad Act. NAFSA has also worked closely with the U.S. Department of State and private sector partners to facilitate the grant programs included in this study and pilot the type of grant envisioned by the Simon Act. This report shows that these grants can be an effective and efficient way to increase the number and diversity of students studying abroad by incentivizing higher education institutions to prioritize study abroad.