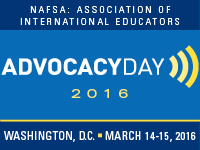 March 14-15, 2016
Washington, D.C.
Help drive legislation on international education: Whether you're a first-timer or a seasoned veteran, you'll make important contributions at NAFSA's Advocacy Day and leave Washington, DC, empowered to do more.
If a first-timer, get a better understanding of international education policy issues, congressional processes, and proven methods to effectively tell your story and frame your issues. Open the door to new relationships with your representatives and their staffs.
If a returning veteran, deepen your relationship with congressional staff. Leverage up-to-the-minute legislative updates provided to all NAFSA Advocacy Day participants. Drive home how legislation that impacts international education can make America more welcoming.
Advocate for the Students and Scholars you Serve
Meet with your members of Congress and their staffs. Give voice to the power of international education and what it means to the global economy. Use data on how international education impacts your state and district.
Advocacy Day will put you in touch with peers from other educational institutions that face the same challenges you face, so you advocate in a community of peers. You'll leave Washington, DC, with an individualized advocacy plan and year-long support from NAFSA's national office to help you with ongoing advocacy efforts in your congressional district. We've taken all the ingredients that make Advocacy Day so empowering and enhanced it with new resources—so you can expand your influence in the legislative process all year long.
It's a Great Investment in Building your Skills
Through NAFSA's proven advocacy training, develop highly transferrable skills that enhance your persuasion and influence. Take advantage of this opportunity to strengthen your network, perfect presentation skills, and get first-hand experience in the legislative process. Leave Washington, DC, with a sense of personal empowerment and pride in your civic service—plus an expanded peer network and tools to continue your advocacy efforts all year long.
Testimonials
Don't Just Take Our Word for It - Hear what advocacy day participants say about international education!
Advocacy Day 2013

"It went beyond my expectations! Such an awesome experience and so empowering." Advocacy Day 2013 participant