On March 29, 2006, during NAFSA's Advocacy Day, NAFSA President Mariam Assefa presented Adria Baker with the first Advocate of the Year Award.
Assefa lauded Baker for five dedicated years of work to keep international education front and center on the agenda of the state government in Austin as well as the Texas congressional delegation. Assefa noted that in her role as state whip, Baker has "consistently 'whipped' her colleagues to write letters in response to NAFSA action alerts; and as a result, her state has consistently generated significant numbers of letters to Congress."
Last year, Baker successfully spearheaded her state's effort to secure passage of an international education policy resolution and then encouraged and assisted her colleagues to do the same in their respective states.
As the chair of the Region III Advocacy Committee, Baker engaged in creative advocacy activities by organizing fundraisers to help the region send participants to Advocacy Day. She also works with NAFSA to recruit new members to participate in the whip network, and frequently serves as a presenter on grassroots advocacy at various conferences.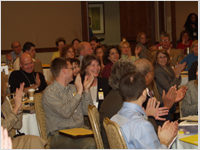 As a result of her continued efforts on behalf of international education, Baker was recently invited by the director of Texas Homeland Security to join the Critical Infrastructure Protection Council as it addresses the REAL ID issue.
As the first recipient of this award, Baker has set a high standard for those who will follow.