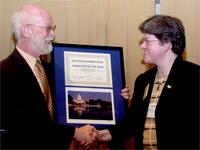 On March 27, during Advocacy Day, NAFSA President Ron Moffatt presented Bonnie Bissonette (Northcentral Technical College, Wis.) with the 2007 Advocate of the Year Award.
In her role as Wisconsin State Whip, Bissonette excels in her own advocacy efforts, but also has increased the quality and frequency of advocacy participation throughout Region V.
Moffatt congratulated Bissonette, who serves as Associate Dean for Business and International Education at Northcentral Technical College in Wausau, Wis., for her leadership in educating her peers about the fundamentals of communicating effectively with Congress through advocacy training sessions at state, regional, and national conferences.
In November of 2006, while attending the Region V conference, Bissonette recruited over 50 new members to join ACT, NAFSA's Advocacy Centered Team. As a result of her achievement, she earned a complimentary Advocacy Day registration for her region. This was used to support a NAFSA member from Michigan to participate in Advocacy Day who otherwise would not have come if it weren't for this complimentary registration.
This year, Bissonette worked with other leaders in her region to establish travel grants in the amount of $400 each to encourage more participants to attend Advocacy Day. As a result, six NAFSA members (two from Illinois and four from Wisconsin) were able to participate who otherwise would not have been able to travel to Washington, DC.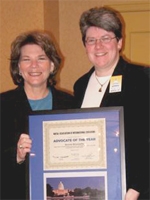 More impressive, Bissonette has built and maintained a fruitful working relationship with the staff of Senator Russ Feingold's (D-Wis.) office and has served as a key resource on international education programs. For example, last fall, Senator Feingold's staff contacted her to collect stories from other NAFSAns in the state that he could use in a Senate floor speech on the importance of International Education Week. They were grateful for the response that Bissonette was able to generate. As a result, when the Senator's office learned Bissonette was being nominated for this award, they submitted a letter of recommendation to NAFSA on her behalf.
Emily Plagman, who serves as Senator Feingold's legislative aide for foreign policy, attended the award presentation on behalf of the Senator and in her remarks at the ceremony, Plagman praised Bissonette for her ability to provide concise, accurate information in a timely fashion on issues related to international education and exchange.