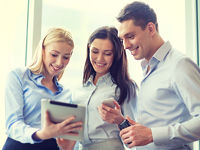 Launched in 2010 by a group of dedicated TLS KC volunteers seeking to help graduate students both advance in their studies and succeed in launching their careers, NAFSA Graduate Student Central today is animated by a growing community of young educators dedicated to teaching, learning and scholarship in the field of international higher education.
This initiative first started as a special project within the Teaching, Learning, and Scholarship Knowledge Community(TLS KC) of NAFSA and was spearheaded as a subcommittee under the TLS KC Research and Scholarship Network. To learn about academic and professional needs of graduate students, the project leaders conducted an online survey and held several focus groups contacting students in graduate programs in international education across the globe. Based on the findings, NAFSA Graduate Student Central was created in 2010, updated in 2015 and is now at your service.
Current Members
NAFSA Graduate Student Central:
Yuliya Kartoshkina, University of North Dakota
Scott Blair, Transnational Learning Consulting, LLC
LinkedIn Group:
Diana Yefanova, University of Minnesota
Global Studies Literature Review:
Emily Gorlewski, Western Illinois University
Theory Connections:
Rhiannon Williams, University of Minnesota
Recognition
NAFSA Graduate Student Central is pleased to recognize the people who joined and supported this community since its inception:
Bryan McAllister-Grande, Brandeis University
David Comp, University of Chicago
Louis Berends, SIT Graduate Institute
Noelle Sallaz, University of Arizona>
and many others!
Join us and add your name to this list. Contact us!