Toward Globally Competent Pedagogy
Deans, faculty members, and other international educators met at the NAFSA 2012 Colloquium on Internationalizing Teacher Education to explore ways to prepare globally competent teachers in colleges, schools, and departments of education. Through collaborative discussions, participants in this two-day program articulated the markers of content knowledge and best practice among teachers in K-12 classrooms focused on building global competence, and then considered how that competence can be developed in teacher education programs. Presentations by leaders in the field and video samples stimulated the discussions.
Participants left with strategies for curriculum transformation to help build preservice teachers' capacity to grasp global and cross-cultural issues.


NAFSA thanks the Longview Foundation and ELS Educational Services, Inc. for their generous support of the colloquium.
NAFSA also thanks our partner organization, the American Association of State Colleges and Universities (AASCU).
2012 E-Publication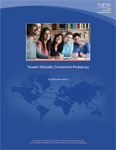 Toward Globally Competent Pedagogy by Charlotte West
A report on the 2012 colloquium.
Presentation Materials
Learn more about the 2012 speakers.
All links are to PDFs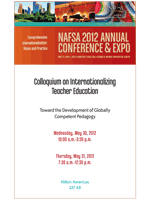 Colloquium Program
The colloquium was held in Houston, Texas, in May 2012. Sixty-five participants from teacher education programs and related organizations heard presentations, examined materials, and participated in collaborative work, discussions, and networking opportunities. The program provides the schedule of events, session titles and descriptions, and the presenters' names and institutions.
Global Competence in K-12 Schools
Shari Becker Albright of Trinity University, San Antonio, Texas, set the stage for the colloquium by giving an overview of a key resource, the EdSteps rubric in the CCSSO and the Asia Society book, Educating for Global Competence: Preparing our Youth to Engage the World, and discussing the importance of preparing K-12 students for the global context.
Defining "Globally Competent Pedagogy"
Heather Lattimer, University of San Diego, California, invited the participants to outline the knowledge, skills, and dispositions critical to globally competent pedagogy. She provided information and insights into the transformation of preservice teacher preparation at the University of San Diego through the internationalization of coursework and field experiences, and support for faculty research.
Collaborative Exercise: What should globally competent teachers know and be able to do?
Working in small groups, the colloquium participants and facilitators developed a draft rubric of knowledge, skills, and dispositions critical to globally competent pedagogy. The draft is under revision by a group of the participants and other interested faculty members. The revised version will be posted here in fall 2012.
International Perspectives
Three educators presented information about teacher education outside the U.S. and the preparation of pre-service teachers with global competence. Their insights provided inspiration to participants to seek out and consider new approaches in teacher preparation.
Vivien Stewart, Asia Society, discussed global trends in the teaching profession, citing high-performing education systems and using the example of Singapore's strategy for preparing 21st Century Learners.
Elisabeth Hermes, president of University of Education (ret.), Karlsruhe, Germany, disussed the preparation of globally competent teachers in the state of Baden-Wuerttemberg and in Germany, and provided a handout describing teacher preparation in the German education system.
Kedir Assefa Tessema, Addis Ababa University and University of San Diego, described the preparation of teachers in Ethiopia and provided a handout about the system of education in Ethiopia.
Assessing Global Competence
David M. Moss, University of Connecticut, led participants in discussions of key concepts in performance assessment and asked them to consider how assessment of global competence among preservice teachers related to their home curriculums and programs. He emphasized the need for self-reflection of global awareness and competence among teachers and highlighted NAFSA's tool "myCAP" (My Cultural Awareness Profile) in a handout. The tool is available online at www.nafsa.org/mycap.
Developing Action Plans for Impact
David M. Moss also invited the participants to plan strategies for making use of the colloquium discussions at their home institutions and beyond. Participants discussed how they could influence curriculum and program design, faculty professional learning and scholarship, building partnerships for student and faculty exchanges and study abroad, and the use of technology in their home programs. Participants also planned presentations for local, regional, state, and national teacher educator groups to share highlights of the colloquium content.
Related Conference Sessions
Two additional concurrent sessions at the NAFSA 2012 Annual Conference highlighted related topics in internationalizing teacher education.
Internationalizing Teacher Education: Exploring Essential Elements of U.S. Teacher Education Abroad
Sharon Brennan, University of Kentucky, David M. Moss, University of Connecticut, Craig Kissock, Educators Abroad LTD, and Margo Glew, Michigan State University, shared insights into the value, integration, and strategies for providing experiences abroad for preservice teachers. They outlined programs they have developed and encouraged participants to work to expand the horizons of preservice teachers.
Globally Aware: The Impact of Comprehensive Internationalization in Teacher Education
James K. Daly, Seton Hall University, argued that teacher education programs need to equip candidates with skills to address changes that evolve from a more global society and discussed a program that supports the growth of global knowledge, skills, and dispositions among teachers in preparation.