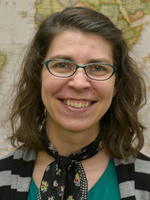 Deana Olsen, an academic support coordinator at the University of Kansas, has one of the newer jobs in international education. Olsen and others at larger institutions work with international students and scholars to ensure academic and personal success during their time in the United States. As institutions welcome greater numbers of students to campus, specialized roles such as academic support coordinators help universities meet the needs of students and improve satisfaction and retention.
In 10 words or fewer, what do you do?
I assist international students navigate the higher education system.
| | |
| --- | --- |
| School Type | Research University |
| Total Enrollment | 27,784 |
| International Enrollment | 2,200 |
| NAFSA Region | Region II |
How do you spend a typical work week, breaking your time into percentages?
It really depends on the time of year and the point of time in the term, but here is a general breakdown of my tasks:
Coordinate and provide support for international students – 40 percent
Inform students of immigration regulations and academic policies, and how the two systems interact. Assist students in evaluating their academic standing and making necessary changes and/or transitions as smoothly as possible.
Evaluate individual level of risk based on academic, social, personal, linguistic, and cultural indicators, and identify students who are in need of additional academic or other support. Act as a liaison for university schools, departments, advisors, staff, and instructors regarding international student issues or concerns
Coordinate student programming and resource utilization and development – 25 percent
Strengthen current student success programs available to international students
Propose and implement programs that strengthen or complement retention efforts already in place
Handle administrative tasks, training, and support – 20 percent
Support other international student services as needed, specifically programing and outreach activities (including orientation and checking-in new students)
Advocate at meetings for international students and strengthening student support
Analyze systems – 15 percent
Observe interactions of University of Kansas (KU) policies and immigration regulations
Gather retention data
Identify gaps and areas where processes and systems can be streamlined, and areas that contribute to attrition
What factors at your organization make this position different from similar ones elsewhere?
My position has focused on the type of issues you see at a large, decentralized campus. I do a lot of bridge building with other units on campus to make sure our offices are being consistent in the information we are sharing with students. I communicate regularly with academic advisors and other key student success units that are on the frontlines with students. Often times, the connection is all that is needed for beneficial changes to start taking shape.

Similar positions at other schools have focused on other institutional issues with a more strategic internationalization perspective. Some have zeroed in on gaps in areas such as programming or transition guidance for incoming transfer students, or students transitioning from intensive English language coursework to general academic coursework. I have also seen this type of position become a catch-all for a range of practical and specific issues ranging from community needs (landlord tenant training and education), to school break housing options.
What is one thing that many people don't understand about the work you do?
The strategic system analysis is probably the most complex part of my work. One approach or formula won't work for every obstacle in the higher education system or for every individual international student situation that comes up. We need to approach each person as an individual in order to be able to provide help when and where it is needed. And, if the opportunity arises, improve or streamline the system as well. Often times, a change that will benefit international students will turn out to be a benefit for all students.
What skills, experience, and qualifications are necessary for doing your job?
Cross-cultural communication experience and excellent relational abilities are a must. Relevant higher education experience and appropriate clerical skills are also necessary. Other qualities include patience; flexibility; compassion; rationality; good attention to detail; creativity; initiative; the ability to listen and ask questions to discover issues that are under the surface; and the ability to solve problems and present a variety of possible options.
What qualities would make someone exceptional at your job?
Multiple language skills and a substantial living or learning abroad experience would make someone exceptional at this job, as would advanced study in intercultural counseling or a related discipline. A passion for international education and a willingness to use your voice to achieve goals help as well.
What is the most rewarding aspect of your job?
It is very rewarding to be able to make a difference for students, both in general ways on large-scale projects, and in more specific ways on a more individual personal level.

Being able to divert disasters by assisting students with each unique situation is rewarding. Seeing changes for good, both on the individual level and on the large scale is great. Watching retention rates improve is good, but helping friendless students make connections and not just survive but actually thrive is even better. Celebrating a student's success and playing even a small role in the success of an international student is very worthwhile.
What challenges come with the job?
Pioneering:
Working in a new field is exciting and rewarding, although, as with any pioneer work, it can also be challenging to do groundbreaking work. Blazing your own trail takes more time and effort than following a clear-cut path.

Connecting and Communicating:
On a large, decentralized campus, it can be a challenge to connect with all the compartmentalized units. Communicating with students can also be a challenge. Our university likes to use campus e-mail to communicate with students, but this mode of communication can be a little out of touch for many students from more technologically savvy countries who use texting and social media platforms more regularly than e-mailing or phone calls. When we do connect with students, language and cultural differences can create a challenge that results in ineffective communication or even misunderstandings.

Process of Change:
Higher education environments can be slower to adopt or implement changes. Some changes must be made from a top-down standpoint and the decisionmakers need to fully understand the front lines in order to make changes effective. Patience is required when advocating for change. In general, the steps in the process can move slowly. At the university level, it can take a few years or longer for major changes to take place.
What positions did you hold before your current role and what decisions led you to where you are today?
I started out as a student assistant in a community college humanities department. The department housed more than half of the international student advisors who promoted additional opportunities for me to learn and grow in the area of international education. I became involved in the international club, and was able to attend a regional NAFSA conference as a student and stay in an international house at the campus who hosted the conference. When I transferred to KU, I took a student position in the international student services office and was later offered a temporary position in an international admissions unit. By the time my current position opened up, I had developed a solid background of knowledge of international student services and international admissions operations.
What decisions led you to where you are today?
My family moved around a lot for various reasons, and the experience of being "new" and in different environments helped me have a better understanding for what international student go through when they come to a new country.

When I was in elementary school my family became aquatinted with an international family from Ukraine. Trying to communicate with English language learners and spending time learning about this family's culture affected me more than I realized at the time, and I think it helped to foster my curiosity to learn more about other countries, languages, and cultures.

I started college as a nontraditional student on a small community college campus in a small rural community in Wyoming that didn't have a lot of international diversity. Due to my previous experiences, I gravitated toward the international students in my classes, which led to additional out-of-class interaction with people from all around the world. The international student population was only about 30 students at one time, but we had students from Japan, Germany, Sweden, Taiwan, Pakistan, India, Korea, Argentina, Australia, Mexico, Thailand, Ecuador, Chile, Switzerland, Senegal, Mauritania, Latvia, Lithuania, Vietnam, and the Maldives. Informal settings are a great place for knowledge and understanding of other cultures to grow and mature. Through language clubs, the international club, and other international friendship groups and programs, I was able to participate in events, excursions, and social activities in close contact with internationals.
What advice do you have for job seekers interested in your position?
Experience in higher education environments and experience working closely with internationals is vital.

Expand your knowledge of higher education systems. Learn about higher education structures, student support units, and what helps students be successful. If you are a student, choose projects in the area of international student retention or support whenever possible.

To some extent, experiences can be of more practical valuable than non-experiential credentials. Study or live abroad if possible, but even if you can't go abroad, you can spend time with internationals. Expand your comfort zone, try new things, take other language courses, explore various cultures, volunteer with international-related groups or organizations. Be friendship partners with an international student. Make connections with people. The stronger the friendship, the richer the experience (and learning) will be.
View more professional profiles to continue exploring international education career paths.