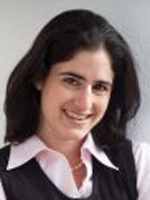 After the international recruiting season winds down, applications start rolling in to a university's admissions office. Assistant deans like Merav Frazier from the University of Virginia transition from travel mode to begin the lengthy process of reviewing each one and deciding whether to offer that international student a place at the school.
In 10 words or fewer, what do you do?
All aspects of the global admission and recruitment process.
| | |
| --- | --- |
| School Type | Research University |
| Total Enrollment | 24,355 |
| International Enrollment | 2,399 |
| NAFSA Region | Region VIII |
How do you spend a typical work week, breaking your time into percentages?
My typical work week depends on which season we are in. From August to November, I spend about 75 percent of my time planning and executing recruitment travel. About 15 percent of my time is spent working with various student organizations to plan student-driven recruitment strategies. The last 10 percent is spent performing "Dean of the Day" responsibilities, such as answering e-mails and phone calls, and leading prospective student information sessions.

From November to April, 75 percent of my time changes from recruitment to application evaluation.

From April to May, I spend about 15-20 percent of my time planning and executing recruitment travel, 30 percent reading transfer applications, 15-20 percent performing "Dean of the Day" responsibilities, about 25 percent working on yield programming, and approximately 5 percent on evaluation applications for various scholarships and internships.

From May to August, I spend about 25 percent of my time reviewing waitlisted candidates, 25 percent writing up various reports, 35 percent supervising student interns, and 15 percent performing "Dean of the Day" responsibilities.
What factors at your organization make this position different from similar ones elsewhere?
There many opportunities for me to participate in events and programming outside of the Admission Office. For example, I serve of the International Education Week Planning Committee and also assist with various scholarship selection processes that are beyond the admission or even university realm.
What is one thing that many people don't understand about the work you do?
How much time actually goes in to reviewing each applicant and the total number of applications that admission deans review. Many people think that computers filter out all of the "bad" applications so that we only have to read the competitive ones, but that's definitely not the case, especially at a school like the University of Virginia (U.Va.), where the process of admission is holistic.
What skills, experience, and qualifications are necessary for doing your job? What qualities would make someone exceptional at your job?
A background in international relations, foreign affairs, or higher education is helpful, but not necessary. Someone who can demonstrate sensitivity to working with myriad cultural backgrounds; has strong cross-cultural communication, writing, and public speaking ability; and has strong event and travel planning, public relations, customer service, problem-solving, and computer skills would excel in this position. Also, the person should be able to flip the personality switch and go from outgoing recruiter to calm and focused reader.
What is the most rewarding aspect of your job?
Seeing the cycle come full circle–from meeting with a student during recruitment travel, reading their application, and meeting them once again at orientation because they've selected your school.
What challenges come with the job?
Flipping the personality switch is by far the biggest challenge. It's sometimes hard to just sit down and get through reading season. It's also difficult to deny an applicant that you have met and liked even though they are not competitive academically.
What positions did you hold before your current role and what decisions led you to where you are today?
I started my career in higher education as an undergraduate intern at my university's international student and scholar services office. From there I worked as a receptionist for the international admissions office and interned at the United States Israel Education Foundation. When I moved to Charlottesville, I was very fortunate to get a job working as the receptionist for the admissions office. After a year and a half in that role, I was promoted to admission counselor, and after 2 years, assistant dean.
What advice do you have for job seekers interested in your position?
Don't be afraid to start at the bottom and work your way up; promotions happen faster than you expect when you are qualified and have a strong work ethic. Network as often as possible throughout the university or conferences. Also, starting out in domestic admission is a great way to get your foot in the door.
What program or event has left the biggest mark on you in your career?
About 2 years ago, I had a father of a prospective Chinese student come for a visit at U.Va. I spoke to him about his daughter and promised to visit if I ever went to China. I went to China and invited them to join my information session. They attended, the student applied, and I offered her admission. She was exceptional! The student emailed me frequently, sent holiday cards, and had me convinced that she would matriculate. Unfortunately, she ended up selecting another institution. However, she remains in touch. I think that, even though she didn't select U.Va., I still helped her in the college search process, which is ultimately the goal.
View more professional profiles to continue exploring international education career paths.