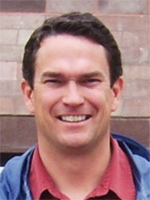 Students all over the world are interested in coming to the United States to attend college, but deciding where to go and how to apply may not be an easy task. Andy Fraher, director of international admissions and programs at Embry-Riddle Aeronautical University-Prescott, and others like him travel the globe to recruit talented students and guide them through the process of university admissions process.
In 10 words or fewer, what do you do?
I help people make their dreams come true.
| | |
| --- | --- |
| School Type | 4-year Technical University |
| Total Enrollment | 1,850 |
| NAFSA Region | Region II |
How do you spend a typical work week, breaking your time into percentages?
A typical work week at an immigration law office consists of:
Reading student applications for admission and responding to admission inquiries – 30 percent
Responding to current student inquiries about international student status, student activities, etc. – 20 percent
Travel planning for recruitment – 10 percent
Administrative meetings – 10 percent
Recruitment travel and events – 10 percent
Budget review – 5 percent
Student programming – 5 percent
Activities not related to international education – 5 percent
Miscellaneous – 5 percent
What factors at your organization make this position different from similar ones elsewhere?
The focus of my university (very technical, aviation and aerospace oriented) leaves us with extremely motivated students. We don't have undecided majors here – our students are very driven for their particular fields of study. The small size of our institution (total enrollment of 1,850) allows for involvement in decisionmaking at higher levels than typical at larger institutions. With this size, small increases or decreases in enrollments have a profound impact on our campus and our office – success and failure are a razor's edge removed from one another in a small school environment.
What is one thing that many people don't understand about the work you do?
That traveling and recruiting are difficult. Yes, it is incredibly rewarding and exhilarating to have a chance to see parts of the world that many don't have a chance to see. But we also have long days filled with multiple events and we must be "on" for all of these. We can be out the door of our hotel at 6:30 a.m., have a full slate of visits to high schools with limited opportunities for regular meals, then get back to the hotel 12 hours later and get ready for a college fair that night. In the morning, we pack up and get on a plane, bus, or train to go to the next city and do it all over again. All the while, you learn to deal with jet lag, language differences, cultural differences, and getting used to the food in the city you are staying. It's exciting, but you are definitely tired when your plane lands at home again.
What skills, experience, and qualifications are necessary for doing your job?
You need to be open to change and flexible. A critical eye for detail when reading applications (yes, we do receive fraudulent documents) is a must. Most of all, a person needs to be accepting of others and willing to stretch their boundaries by seeing and experiencing people, places, and customs that are not what they are used to experiencing. One of the unfortunate things I see in job descriptions for international education roles is "fluency in a language other than English" – this is a bias we need to get away from. There are plenty of people with multiple language skill who are not able to handle this type of job, while many well-qualified English-only speakers get discouraged from entering the field when they see this on a job posting. We need to break away from this view. How does having fluency in one other language help you deal with students from all over the world? I would argue that a willingness to learn about other cultures and an openness to working with people who are learning English are far more important qualifications than fluency in a language other than English.
What qualities would make someone exceptional at your job?
A sense of humor and an adventurous spirit. Also, being able to listen well and identify what people are asking for, then tailoring your presentation to those needs. You need to always understand your audience and what their background and knowledge base is; stay away from acronyms peculiar to your institution. Avoid colloquialisms that have a basis in U.S. culture. Always, always, always, respect the person in front of you enough to tell them the truth. If you don't have what they are looking for, suggest an alternative.
What is the most rewarding aspect of your job?
Seeing a person that you worked with when they were in high school show up on your campus, having never left their country of origin, and seeing them succeed in the classroom. This is great – but then hearing from them after they have left and succeeded outside of the classroom might even surpass that.
What challenges come with the job?
Pretty much the same as any other job – we never feel we are resourced at the level we want; there is always more we can do to improve what we offer and how we operate. Some of the biggest challenges, though, are the human challenges, such as seeing students who run out of funding or aren't as successful in academic life as they had hoped they would be. Having to help students deal with tragedy, whether here in the United States or involving family and friends back home, can be overwhelming and draining at times. The emotions are hard to anticipate. You become so close to some of the students that there is nearly a parental relationship – and you hate to see your children deal with difficult problems so far from home. Imagine learning of the loss of a loved one and having to decide whether or not you should return home? The cost may be too high, or the travel too difficult, or the time lost from class too hard to make up. These are things international students deal with on a regular basis that most people cannot fathom. We are usually about 5 hours away from our loved ones in the United States. Some of our students have more than 30 hours of travel to get home. These things break my heart.
What positions did you hold before your current role and what decisions led you to where you are today?
I taught high school for 4 years, worked as an academic advisor, a personal counselor, and associate dean of students. I am currently the director of international programs and services at my university.
What decisions led you to where you are today?
I hated teaching. I admire teachers, but I couldn't do it. I work much better with people in a one-to-one setting. Getting into international education was accidental; it was an "other duty as assigned" in my primary role, and over the years, I've been lucky enough to see this role grow into what I am doing now. It's very rewarding.
What advice do you have for job seekers interested in your position?
When you see a chance, take it. Talk to people in the field and make connections. You never know who will be impressed by you and who will forward your name on to be considered for your dream job. Also, don't give up too easily. If you believe in something, you'll always get pulled back in the direction of your passion. Go with it and see where it takes you.
What program or event has left the biggest mark on you in your career?
It would have to be September 11, 2001. In so many ways, that day changed everything. The involvement I had with our students and federal agencies is a whole story unto itself, but that day, event, and the time after it has made our jobs so much more meaningful and important. It's almost impossible to put into words, but while that was a terribly tragic event that still affects our country and culture today, it reinforced for so many international educators the absolute value and importance of what we do.
View more professional profiles to continue exploring international education career paths.