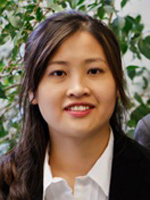 There are more than 60 types of visas that visitors can use to enter the United States, and the regulations for international students, scholars, and immigrants can be daunting. Immigration lawyers like Lucy Cheung, an associate attorney at the Law Offices of Eugene Goldstein & Associates, play an important in international exchange by providing legal advice and information to help keep clients in compliance with the law. Armed with the best information, international students and scholars are able to avoid complicated situations that may affect their statuses.
In 10 words or fewer, what do you do?
I help clients navigate the U.S. immigration minefield.
How do you spend a typical work week, breaking your time into percentages?
A typical work week at an immigration law office consists of:
corresponding with clients via e-mail or phone – 20 percent
conducting in-person consultation – 40 percent
preparing applications, petitions, motions, and appeals, as well as drafting documents for clients – 30 percent
reviewing immigration bulletin boards and correspondence on NAFSA listservs and other association listservs and websites – 10 percent
What factors at your organization make this position different from similar ones elsewhere?
Unlike other immigration law firms, our law office has a focus on students and scholars while continuing to be a full-service immigration law firm. Because of the relationships we have developed through NAFSA, we have the knowledge and ability to stay up-to-date on important issues involving ever-changing government interpretations and policy changes regarding how students come to the United States to study and how they stay to continue to work. As an immigration lawyer who has served in the capacity of regulatory ombudsman in NAFSA Region X, I have met some incredible advisers, government representatives, and students. This opportunity provides personal interactions and experiences that are not typical for most immigration lawyers.
| | |
| --- | --- |
| Organization Type | Immigration Law Firm |
| Location | New York, New York |
| NAFSA Region | Region X |
What is one thing that many people don't understand about the work you do?
I don't have all the answers. My job is to give clients information so that they can make their own informed decisions after balancing the risks and benefits involved.
What skills, experience, and qualifications are necessary for doing your job? What qualities would make someone exceptional at your job?
It's important to keep an open mind and to be understanding. People generally don't seek lawyers when everything is fine. Problem solving is an essential skill, but we also have to remember that we are counseling human beings, often providing general counseling in addition to specific immigration-related advice.
What is the most rewarding aspect of your job?
Working with really interesting people and helping them reach their goals. As an immigration attorney, I have the opportunity to work with people from all over the world in different phases of their lives. Helping a student gain work authorization for their first job is very rewarding. Similarly, connecting families and providing them with peace of mind is extremely satisfying.
What challenges come with the job?
Working in this field can be extremely stressful. Not only are there challenges of law, we also deal with different personalities and cultures. Also, to be an effective advocate, I have to understand my adversary. In this field, my adversary is the government and understanding its perspective can be challenging at times.
What positions did you hold before your current role and what decisions led you to where you are today?
Before becoming an immigration lawyer, I worked as a manager at a retail store; an interpreter for a legal service providing assistance to low-income clients; an administrator at an art institution; a student lawyer at a law clinic and a legal services organization; and a contract lawyer for a multinational corporation. All of my work experience, coupled together with my own experience as an immigrant, have pointed me in the direction of a career in helping others.

Before I joined my current law firm, I wanted to become a legal service lawyer helping low-income families through representation, community outreach, and promotion of public policy change. A decision to move to New York City changed my path, and I decided to become an immigration lawyer to help others navigate the complicated immigration system so they can have the same opportunities I had when I immigrated to the United States with my family many years ago.
What advice do you have for job seekers interested in your position?
The immigration law field is a crowded field. The more experience you can get the better. Sometimes this starts as a student-intern or clerking experience, but it can also occur much earlier on as an undergraduate or as a volunteer. It's important to be passionate for the people you help; the job can be frustrating on many levels, but that just makes the reward much more gratifying.
What program or event has left the biggest mark on you in your career?
The law school program that has left the biggest mark on me was my law school's clinical program, which provides opportunities for second-year law students to serve as student attorneys under the supervision of a licensed attorney faculty member. The experience I had interviewing low-income clients and representing them at Social Security Administrative Court and Family Court provided me with the skills and confidence to interact and identify with my clients. These interactions drove me to find the best solutions for them. It's something I always remember and keeps me motivated to this day.