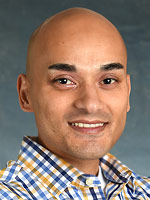 Studying abroad can be the highlight of one's college years, but not all overseas options are the same. Study abroad counselors like Ned Khatrichettri from Davidson College guide students through the process of researching, choosing, and preparing for programs that best suit their needs.
In 10 words or fewer, what do you do?
I encourage students to make informed choices about study abroad.
How do you spend a typical work week, breaking your time into percentages?

| | |
| --- | --- |
| School Type | Private Liberal Arts College |
| Total Enrollment | 1,788 |
| Study Abroad Programs | ~200 |
| NAFSA Region | Region VII |

Counsel students about their prospective study abroad programs from nearly 200 options. Advise them in the selection of programs compatible with their academic curriculum, interests, and concerns, and guide them through the application, acceptance, preparation, departure, and re-entry stages. Communicate with traditionally underrepresented students through outreach events to understand their real and perceived challenges with regard to academic study in different cultural environments. – 40 percent
Work with third-party provider study abroad programs regarding student issues, both while students are applying to programs and while they are abroad. Answer inquiries pertaining to education abroad from students, parents, faculty, and staff. Write recommendations and sign home campus approval forms for students applying to third-party provider programs. – 40 percent
Maintain and update various aspects of the study abroad website. – 10 percent
Complete additional tasks as assigned. – 10 percent
What factors at your school make this position different from similar ones elsewhere?
I have a great supervisor who is constantly supportive, cares about my professional development, and allows me to grow at my own pace.
What is one thing that many people don't understand about the work you do?
My work involves having to deal with people more than what others may necessarily believe.
What skills, experience, and qualifications are necessary for doing your job? What qualities would make someone exceptional at your job?
An unyielding sense of curiosity, active listening skills, and experience studying and or working in diverse environments are necessary for doing my job. A strong degree of empathy affords individuals to be exceptional at my job. After all, you're encouraging students to leave their comfort zones, so it's important to be aware of their concerns or limits about how far they're willing to push themselves.
What is the most rewarding aspect of your job?
The most rewarding aspect of my job is interacting with students after their return from abroad. The majority of them have undergone numerous paradigm shifts because of being in a new cultural, educational, social, and political environment. Subsequently, they are more cognizant about their own upbringing; they are more confident and curious, and more aware about current affairs.
What challenges come with the job?
The biggest challenge, for me, is to balance competing demands and interests from a variety of individuals.
What positions did you hold before your current role? What decisions led you to where you are today?
I studied abroad twice in Japan as an undergraduate and moved there after graduation to teach English for 5 consecutive years. I then relocated to Australia, where I completed my graduate work. These experiences inspired me to get involved with facilitating the administrative aspect of overseas academic study for college students.
What advice do you have for job seekers interested in your position?
I encourage aspiring education abroad professionals to acquire diverse work and life experience in the United States or abroad prior to getting involved in this industry. An MA in something you are passionate about will also be helpful. In the job hunting process, apply to a lot of positions and be willing to relocate.
View more professional profiles to continue exploring international education career paths.