Cuba, Turkey, & the Middle East: New Opportunities in a New Era
October 22-23, 2009
Washington, DC

The Obama administration. Changing U.S. relations with Cuba, Turkey, and the Middle East. The global economic crisis. What's on the horizon for international education and how can your institution seize the opportunities ahead? Gain insight from Washington insiders on the impact that external forces and changing political and policy environments are having on higher education and international education to help formulate innovation at your institution.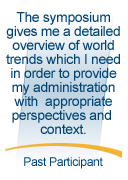 Cuba remains the only country in the world where the United States restricts study by U.S. students as well as academic travel by bona fide teachers and researchers. Under the new administration, the possibility is greater for the "opening up" of educational exchange and partnerships with the island nation. Turkey, the gateway between the West and the Middle East, is expanding its internal international education policies to increase outreach to other countries. Turkey continues to play a key role in U.S. foreign policy as a cultural and social bridge. In the Middle East, a number of countries are expanding education, including launching new campuses, supporting branch campuses of institutions based in other countries, and creating new higher education institutions.

U.S. relations in these regions of the world are transforming, and this represents emerging opportunities for U.S. higher education institutions to formulate innovations in multiple aspects of internationalization, including student and faculty mobility, faculty development, research, funding, development, and institution building.


Presentations
Symposium presentations will:
Focus on what international education leaders need to know to take advantage of changes in the policies of the Obama administration, policy changes abroad, and changes related to the state of the global economy.
Explore the Middle East region, Turkey, and Cuba, looking at specific examples related to the effects of changes in U.S. policy and leadership, changes in country- and region-specific policies and leadership, and the global economy.
Expose participants to trends, ideas, and policies that make up the broad context in which they pursue internationalization on their campuses and challenge them to consider how such matters inform their work.
Provide access to key Washington policymakers and insiders for senior-level international education leaders.
Create opportunities to apply the broad scope to campus realities.
Participation Benefits
You will leave having engaged leading experts on the broad context in which you pursue internationalization at your institution and how that knowledge affects the work of people and departments across campus.


Fees and Deadlines
Exclusive Campus Team Offer

Send a team from your institution and save at the special team rate. A team comprises two or more individuals from the same institution.
Start a campus dialogue in Washington, DC, by sending a team of your campus leaders and international education faculty. With more ears to hear and minds to consider information from some of the nation's top thinkers, your team will have a head start on connecting programming and curriculum to take advantage of these new opportunities.
If you would like to bring a team of more than three people, please contact Sandy Tennies at PFLmailbox[at]nafsa.org or 202.737.3699, x2569.
Early Registration (through Sep 18, 2009)
NAFSA Member
$679
Nonmember
$799
Campus Team Member
$629
Regular Registration (after Sep. 18, 2009)
NAFSA Member
$779
Nonmember
$849
Campus Team Member
$729
NAFSA reserves the right to limit registration.


Hotel Accommodations
Hotel accommodations are the responsibility of the participant. A limited number of discounted hotel rooms at $239 USD per night (plus tax) are available at the Embassy Suites Hotel. Rooms must be booked by September 26, 2009, to guarantee the discounted room rate. Reservations after September 26, 2009 will be accepted on a space and rate available basis. Reference NAFSA: Washington Symposium when you make your reservation.



In its ninth year, the 2009 Washington Symposium is a joint program of NAFSA: Association of International Educators and the Association of International Education Administrators (AIEA) and is offered in partnership with the George Mason University School of Public Policy.