Date(s):
October 22-23, 2009
Event Type:
Symposium
Early Registration Deadline:
September 18, 2009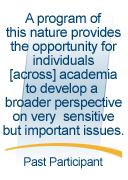 What's on the horizon for international education and how can your institution seize the opportunities ahead? Gain insight from Washington insiders on the impact that external forces and changing environments are having on higher education and international education.

Audience
Senior international officers, international education leaders, faculty involved in international education, deans, vice-provosts, and vice-chancellors who are responsible for or contribute significantly to international education and internationalization strategy.

We encourage you to create an institutional team with representation from campus administration and international education faculty to harness campus synergy that will result from participation. There is no limit on team size.

Day 1 - Thursday, October 22, 2009
11:00 a.m. - 12:00 p.m.
Symposium Check-in/Registration
12:00 p.m. - 1:15 p.m.
Opening Lunch and Welcome
Moderator: A. Lee Fritschler, professor of public policy, George Mason University
1:15 p.m. - 2:15 p.m.
Keynote
Overview of the Political Landscape: The Obama Administration and The 111th Congress
Bill Schneider, senior political analyst, CNN, and Omer L. and Nancy Hirst professor of public policy, George Mason University
2:15 p.m. - 2:45 p.m.
Break
2:45 p.m. - 4:00 p.m.
The Outlook for U.S. Relations with Turkey in the Obama Administration
Ömer Taşpinar, director, Turkey Project, Center on the United States and Europe, Brookings Institution
4:00 p.m. - 4:15 p.m.
Break
4:15 p.m. - 5:30 p.m.
U.S. Relations with the Middle East Under the Obama Administration
Ambassador Theodore Kattouf, president, AMIDEAST and former U.S. ambassador to the United Arab Emirates and to Syria
6:00 p.m. - 7:00 p.m.
Reception
7:00 p.m. - 9:00 p.m.
Dinner
Middle East Perceptions of the United States
Shibley Telhami, Anwar Sadat professor for peace and development, University of Maryland, College Park
Day 2 - Friday, October 23, 2009
 
Breakfast on your own
Complimentary at Embassy Suites Hotel
8:30 a.m. - 9:45 a.m.
The Outlook for U.S.-Latin America Relations in the Obama Administration: Focus on Cuba
Robert Pastor, professor of international relations and co-director, Center for North American Studies and the Center for Democracy and Election Management, American University
9:45 a.m. - 10:15 a.m.
Break
10:15 a.m. - 11:30 a.m.
Foreign Policy Challenges Facing the Obama Administration
Ambassador Nicholas Burns, professor of the practice of diplomacy and international politics, Harvard University, former undersecretary of state, and former U.S. ambassador to NATO and to Greece
11:30 a.m. - 12:00 p.m.
Break
12:00 p.m. - 2:00 p.m.
Lunch and Closing Session
The Economy and Higher Education: Impact on International Education
D. Bruce Johnstone, distinguished service professor of higher and comparative education and director, International Comparative Higher Education Finance and Accessibility Project, University at Buffalo (SUNY)
Schedule subject to change