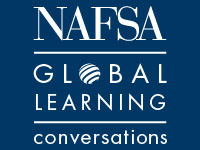 Offered from 2013-2016, Global Learning Conversations explored on a variety of topics related to global learning, student learning, outcomes, and educational experiences that deliver global knowledge, skills, and perspectives to students.
On-Demand Global Learning Conversations
Engaging Students, Faculty, and Staff with Issues of Sustainability
April 21, 2016
Sustainability remains a vital issue in both global and local communities. As environmental and social change accelerates, higher education institutions are developing new ways to help students, faculty, and staff engage in productive ways that enhance community resiliency. In the process, colleges and universities are inventing new strategies to help students gain the skills they need to address complex global issues.
Interdisciplinary Curricular Designs to Address Global Challenges
March 30, 2016
Faculty members and international educators are developing interdisciplinary approaches to create engaging learning experiences that address global challenges. Experts on general education, interdisciplinary undergraduate programs, and global learning discussed models for linking interdisciplinary curricular designs with global issues and share strategies to empower students to become global learners capable of solving complex global issues.
High-Impact Learning Approaches for a Global Civil Society
November 16, 2015
Through high-impact learning approaches, students can become more effective communicators, more engaged citizens, and learn to think critically about the relationships between local and global issues. These skills are all vital to building peace in a world full of conflict. As part of its 2015 International Education Week activities, NAFSA partnered with the Alliance for Peacebuilding and the United States Institute of Peace to present a Global Learning Faculty Conversation celebrating the peacebuilding capacity of international education.
Assessing Global Learning: Measurement, Implications, and Applications
October 28, 2015
Global learning is an essential component of education today. Whether through study abroad, service learning, or classroom-based curriculum, the critical analysis of and engagement with complex, interdependent global systems is a crucial component of the educational experience. Assessment experts discussed both formative and summative methods of assessing global learning that promote student success.
Service Through Learning: Ethics, Partnerships, and Best Practices
August 25, 2015
This collaborative NAFSA Global Learning Faculty Conversation featured Jessica Evert, the editor of Developing Global Health Programming: A Guidebook for Medical and Professional Schools, published by Global Health Education Collaborations Press, along with a panel of interprofessional leaders in global health education, service learning, and global engagement.
Framing the Global: Entry Points for Learning, Research, and Campus Change
March 4, 2015
What does it mean to "go global?" How can focusing on global phenomena enhance disciplinary approaches and regional studies? The editor and authors of Framing the Global shared how academic leaders can use global frameworks to implement new learning strategies at their institutions.
Curricular Designs for Global Learning
November 20, 2014
How are colleges and universities reimagining undergraduate curricula and majors to help students thrive in a globally interconnected world? Experts in the field led a discussion of how institutions are working to prepare all of their graduates for active, successful engagement in the global community.
Intercultural Competence and Student Development: Working Toward a Fuller Picture of Global Learning
September 24, 2014
This stimulating conversation focused on how student intercultural competence may be measured, what these measures tell us about the impact study abroad experiences have on learning, and how this affects our theory and practice.
Model Internship Abroad Programs for Preservice Teachers
April 11, 2013
In the first conversation of the series, strategies were shared for developing successful models of teaching internships, institutional exchanges, and teaching abroad. Presenters and participants discussed how the commitment to providing global experiences for teacher candidates also involves attending to what teachers do when they come back.