Rendy Schrader
Indiana University
NAFSA: Briefly describe your professional background.
Rendy: I began my professional career at NAFSA long, long ago, as administrative support to the Executive Director and the Director of Administration. That gave me a bird's eye view of the entire association. I ended my stint at NAFSA a mere 16 years later, as the Director of Human Resources. Since then, I've been at Indiana University. For a couple of years, I ran grants and a couple of programs, all loosely related to international experiences and employment, until I landed at the Office of International Services, where I have been for almost 17 years. My current title is Director of International Student & Scholar Advising. When I started here, we had 3 advisers serving a student and scholar population of around 2,000 students. Now, we are a complex office of 70 staff, serving a student/scholar population of over 8,000. In addition to immigration advising, we also have international admissions, student life, and development and support of sunapsis within our portfolio.
NAFSA: What made you want to be an Academy Coach?
Rendy: Since I left NAFSA, my involvement in the association has been restricted to conference sessions and Connecting our World. I wanted to more actively give back, and the Academy resonated with me. I love mentoring, and I felt like I had the breadth of knowledge to be helpful. It's a great way to support a young professional, see results, and build your network. I got a lot more out of it myself than I expected – more below.
NAFSA: What does your average work day look like? How did you balance your work life, Academy coaching responsibilities, and your personal life?
Rendy: Average? One of my favorite things about my job is its diversity. I suppose a typical day is answering email, attending meetings with various entities across campus, reviewing up-coming programming needs with our Student Life staff, reading up on the latest international education news over lunch, having conversations with my senior advising staff about specific cases, and answering more email. In between that, I'm building agendas for future meetings, working on project proposals, and making sure my boss is informed of anything newsworthy. Then it's off to the gym or visiting my mom, home to dinner (which my husband sometimes has ready!), checking in with my adult children, and watching TV. And always watching that darn email.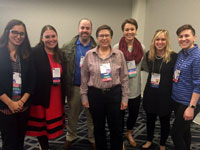 In my mind, my trainees sort of fit in the same category as my kids. They are adults, but they are still learning and developing. They don't need me to micro-manage them, but they could use some direction and insights, and need to know that somebody is paying attention to them. So, they know they can reach out to me anytime they need help, and, if they don't, I'll track them down at least once a month, and see how they are doing. I don't want to give the impression that these young professionals are children – they are dedicated, hard-working professionals – but in terms of making time for them, you just do. I worked with 6 trainees at a time, so the burden is not heavy. You talk to each one 1-3 times a month, for a conversation.
NAFSA: What skills do you think are necessary to be successful in the coaching role?
Rendy: Empathy, an awareness of resources, intuitive listening skills, the ability to be direct and provide constructive feedback, strong organizational skills, creativity, accessibility, good energy, and a positive outlook.
NAFSA: What advice would you give to a new incoming coach?
Rendy: Don't panic! The Academy seems overwhelming at first, but it breaks down neatly into defined monthly/quarterly events. You have big events organized by NAFSA on a quarterly schedule, and then monthly – mostly by phone - activities with your trainees. That's do-able. The trainees also tend to be very motivated, and appreciative of the time you are able to give them. And, if you feel overwhelmed at any point, the NAFSA staff and the Academy Leadership are great at providing you with the input you need to get you back on track.
NAFSA: Describe a pivotal moment in which your cohort really began to click together. How did you encourage cohort bonding?
Rendy: This was the biggest challenge for me. In year one, I had a natural leader within my cohort that sort of pulled everyone together for me. By the time we got to the NAFSA National Conference, we had bonded. I think the fear factor of navigating a national conference on their own was the primary factor. My second cohort was mostly friendly introverts with pretty widely different interests. They dutifully worked together at Spring Training, the national conference, and even took turns leading cohort subject-matter discussions. We were fine, but it wasn't until the regional conference that we really became a team as we prepared a group presentation. By the time we got to the final presentation in December, we were a well-oiled machine!
NAFSA: From your view as a coach, what are the most common challenges you had to work through with your trainees?
Rendy: Most of the trainees are too ambitious. They develop learning plans that just aren't realistic. You need to talk them down a bit, without crushing their admirable ideas. The opposite side of the coin is also true – they start with the best of intentions, but then life happens and they just sort of stall out. Helping them figure out a way to make progress, especially when they are feeling overwhelmed with work or personal issues, is a challenge. We don't want to break them!
NAFSA: What did you like the most about being an Academy coach?
Rendy: Making new connections, learning new techniques (particularly technical) from my trainees, meeting the challenge of coaching in an area I didn't know a lot about, and, most of all, celebrating the successes of my trainees.
NAFSA: What is the most challenging aspect of being an Academy Coach?
Rendy: Scheduling! It's not my favorite thing anyway, but finding time for 7 people to work together isn't easy. That goes hand-in-hand with making sure you commit to making time for your group. Both of my cohorts were incredibly respectful of my time, so I had to take the lead in making sure we talked as often as necessary. Their needs varied, so I'm not sure I always got to each of them in their times of greatest need.
NAFSA: How was the coaching experience different than what you anticipated? How was it the same?
Rendy: I don't like to present from someone else's script, so in my first year, I was really surprised that we had to use one for the Spring workshop. I understand NAFSA's rationale, and, in the end I have to admit it worked out very well, but that's something I didn't anticipate.
The 1:1 coaching was as expected, and I enjoyed it very much.
NAFSA: What has NAFSA's role been in supporting you? How has NAFSA assisted your development as a coach?
Rendy: Well, they taught me how to work from a script! The NAFSA support staff does a lot of work behind the scenes – advertising, screening to establish a cohort, giving you tons of helpful materials and training, scheduling big events, making the Spring workshop a success, providing materials as needed – in general, making the coaches look good. I know they also help resolve any issues or roadblocks coaches may run into. As for my development, they put labels and theory into many techniques that I've used – it was not only validating, but it provided some extra depth to my knowledge that wasn't there before.
NAFSA: What did you gain professionally from serving as an Academy coach?
Rendy: In addition to the items mentioned above, I feel like the Academy put me back on the regional and national radar. I was even recognized by Region VI with an advocacy award! I also have 12 young professionals to keep an eye on – they are going to do great things!
NAFSA: We know you're a big baseball fan and have visited many stadiums! What baseball stadiums are left to visit on your list?
Rendy: Names change with sponsors, so I'll go by city: Seattle, Tampa, Atlanta, Arlington, Minneapolis, Pittsburgh, Phoenix (although there's a Spring Break possibility here, husband notwithstanding!). I love going with locals if anyone's up for it!