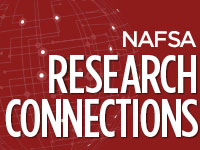 NAFSA Research Connections is an online network. NAFSA community that is designed to connect international educators across the field who want to be informed about research and scholarship and the various connections to practice. The community serves administrators, advisers, faculty, researchers, scholars, scholar-practitioners, senior international officers, students, and other professionals in international education by:
Posting abstracts and summaries of new research on critical issues such as diversity and inclusion, ethical internationalization, global learning and teaching innovation, intercultural communication and understanding, and assessments and outcomes.
Noting unique resources and opportunities available for individuals interested in research.
Providing compilations of new research and available resources in bibliographies on a bi-weekly basis.
Encouraging networking and promoting dialogue through questions and commentary in the Discussion forum.
Connect with the Community
Research Connections Network
Explore resources, participate in discussions, and network with peers and colleagues across the international education field.
Join the community
Research Symposium Events
Biannual peer-reviewed events designed to discuss theories, methodologies, and practices in international education.
Learn more
Questions
If you have any questions, please contact NAFSA Research.