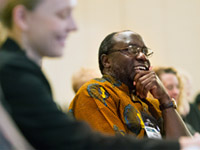 "21st-Century Skills" and the Future of Internationalization: Opportunities for Leadership
Tuesday, May 27, 2014
San Diego, California
NAFSA's 2014 Symposium on Leadership, 21st-Century Skills and the Future of Internationalization: Opportunities for Leadership, was held at the 2014 Annual Conference and Expo, and aimed to guide senior international officers (SIOs) through the latest developments in higher education to better prepare their institutions with 21st-century skill learning opportunities.
The event featured Jeffrey Selingo, author of College Unbound: The Future of Higher Education and What It Means for Students, and a contributing editor to The Chronicle of Higher Education. He emphasized higher education's transition towards a more personalized and à la carte system where students combine different degree pathways in multiple cities and countries at different institutions and with different learning models.
Selingo's presentation was followed by a panel discussion on 21st-Century Skills and Institutional Transformation: Voices from the Field with Susan Crichton, associate professor, faculty of education at the University of British Columbia and the founding director of the Innovative Learning Centre, and Brian Etheridge, associate provost for academic innovation at the University of Baltimore. Crichton discussed the importance of applying appropriate technologies to education in the developing world and shared relevant lessons helpful to SIOs. Etheridge discussed how to ensure experiential learning is actually viewed as a learning opportunity and provided ideas on where to find data to leverage international education.
Participants also heard from Jon Rubin, founder and director of the State University of New York's (SUNY) Center for Collaborative Online International Learning (COIL), who shared examples of how technology can be used to enhance international education experiences.
The symposium included facilitated group breakout sessions, where participants were able to discuss and explore further the various themes of 21st-century changes; learning outcomes and data; appropriate technologies and global context; and technology, as well as consider institutional type contexts. Participants also shared ideas on institutional technology use via Twitter using #nafsaSIO, the hashtag designed specifically for SIO communication.
Read the 2014 Symposium Series article.