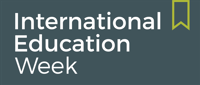 November 14-18 marked the 17th anniversary of International Education Week (IEW), an annual celebration of international education and exchange worldwide. Institutions across the United States and around the world hosted events throughout the week to recognize international students, education abroad, and internationalization.
Webcasts
International Education: What Place in U.S. Diplomacy
NAFSA joined with the United States Institute of Peace to host this high-level panel discussion. Presenters discussed the ways in which international education, religion, and civility can rectify culture clashes and help alienated members of society to return to positive relationships with their community.
Senator Paul Simon Campus Internationalization Presidential Panel
Leaders from Simon Award-winning institutions gathered in Washington, D.C., for this annual event to discuss their approaches to and successes in campus internationalization. NAFSA thanks INTO University Partnerships Limited for underwriting this event.
Learn more about the Simon Award
Special Events
NAFSA International Education Town Hall
The final day of International Education Week 2016 featured a special event open to the extended international education community. This event was the first in a new series of virtual town hall meetings that will provide international educators with the opportunity share, listen, and learn together in a time of uncertainty and change.
Learn more about the town hall.
NAFSA Research Symposium: Theories, Methodologies, and Practices in International Education
The inaugural NAFSA Research Symposium: Theories, Methodologies, and Practices in International Education served as a venue for the research community in the field of international education and related disciplines to share original unpublished work and discuss research problems in an academic and professional environment. View details at www.nafsa.org/researchsymposium.
Special Resources
NAFSA International Student Economic Value Tool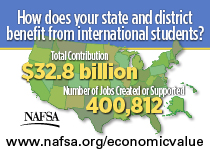 NAFSA released new analysis showing spending by international students studying at U.S. colleges and universities supported 400,812 jobs and contributed $32.8 billion to the U.S. economy during the 2015-2016 academic year. This tool can be used to view 10-year trends as well as state and congressional district breakdowns.
Internationalizing the Campus 2016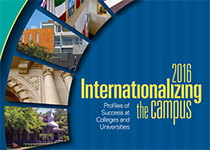 Four institutions, from a strong and diverse set of submitted nominees, were chosen by the selection committee to receive the Senator Paul Simon Award for Comprehensive Internationalization in 2016, and are profiled in depth in this fourteenth edition of the annual report published by NAFSA.
Collegial Conversations
NAFSA hosted two Collegial Conversations during the week. Transcripts for both are available to all NAFSA members.