Conference Hotel Information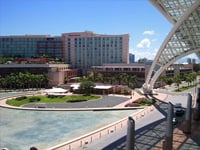 09/13/12 update: If you have not yet made your reservations for the Sheraton Puerto Rico Hotel and Casino in San Juan, please be aware that the hotel no longer has any run of the house rooms available. However, we have worked with the hotel to offer us some additional rooms on the club floor for $199 per night for a single and $219 for a double.
To reserve one of these rooms, please use the following link: https://www.starwoodmeeting.com/Book/NAFSACLUB
Anyone wishing to reserve one of these rooms should do us as soon as possible because the number of available rooms is limited. Also, the conference rate is only offered through next Wednesday, September 19 at 5 p.m. EDT.
---
This year's conference hotel is the Sheraton Puerto Rico Hotel & Casino, San Juan's newest hotel. The Sheraton is ten minutes by taxi from the Luis Munoz Marin International Airport, five minutes by taxi from Old San Juan and just steps away from the Puerto Rico Convention Center, where all conference activities will take place. The hotel's state-of-the art amenities include Wi-Fi access, 40" flat-panel TVs and the Sheraton Sweet Sleeper Bed in all of the sleeping rooms.
Conference rates, which include a buffet breakfast and complimentary Wi-Fi access, are $189 for a single, $209 for a double, $229 for a triple and $249 for a quad. The $20 charge for each additional guest in the room covers the cost of the buffet breakfast. Like all of the resort hotels in San Juan, the Sheraton adds an 11% government tax and a 14% Hotel Service Fee to the room rate.
Conference rates are available through September 19, 2012. After that date, reservations will be subject to prevailing rates and availability. A credit card is required to reserve the room. Guests may cancel their reservation up to 24 hours prior to arrival. A non-refundable deposit of one-night's fee will be charged 24 hours prior to arrival and applied to the guest's bill. There is a $75 early departure fee.