NAFSA's Diversity Impact Program supports institutions serving underrepresented populations by helping them expand capacity, grow study abroad, and increase student global competencies. The goal is to help build diversity within international education, both in the development of professionals and by assisting these institutions in their efforts promoting internationalization on their campuses.
In its fourth year, the program has grown to provide international education professionals from tribal colleges and universities; historically black colleges and universities (HBCUs); Hispanic-serving institutions (HSIs); and community colleges and associates colleges, with complimentary NAFSA membership, registration to the NAFSA Annual Conference & Expo, and yearlong mentoring and professional development opportunities.
Community/Associate Colleges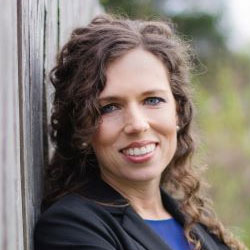 Jennifer Apthorpe is the coordinator on international education and primary designated school official at Jamestown Community College (SUNY). She has 16 combined years of experience in learning and development leadership. Apthorpe holds degrees from Transylvania and Columbia Universities in French and education. She is currently pursuing a degree in higher education administration from Stony Brook University. In her current role as coordinator of international education at Jamestown Community College, she oversees international admissions, international student and scholar services, and study abroad programs. As a participant in NAFSA's Diversity Impact Program, Apthorpe is looking forward to the opportunity for professional development in strategic enrollment development and management at the community college level.

Heather Azzu is the coordinator of admissions at Forsyth Technical Community College in Winston Salem, North Carolina. She has worked with the international student applicants there for the last five years and has served as the PDSO for the past three years. She is also part of the Global Awareness Committee that is working to globalize the curriculum of courses at Forsyth Tech and create a Global Scholar of Distinction program. This program will be an opportunity for students to concentrate in a combination of global coursework, study abroad, and a capstone project to bring together all aspects of their experiences. Azzu hopes to use what she learns as part of the Diversity Impact Program to enhance the development of these projects. Prior to working in this position, she was senior assistant director of admissions at the University of North Carolina-Greensboro for 10 years. She also participated in study abroad experiences in both undergraduate and graduate programs in England and Italy.

Jamie Battjes is an international student specialist at Borough of Manhattan Community College (BMCC). She is originally from Texas, though she lived in China for six years as a young child and later for three years as an English teacher, after finishing her bachelor's degree from the University of Texas. Battjes moved to New York to earn a master's degree in urban and multicultural education, while at the same time working as an international student adviser. She advises students on visa, immigration, and career assistance issues. She is interested in research about student success, especially at the community college level.

Renee Cave is an enrollment services counselor in admissions. In admissions, she works with the Hispanic population as well as researching and developing plans to initiate international student enrollment at the college. She received a bachelor of arts in Spanish from Winthrop University and a master of arts in Spanish translation studies from the University of North Carolina-Charlotte. Cave's love of languages, culture, and helping students succeed has ignited her passion for higher education. Her goal is to increase diversity training and initiatives throughout the campus and find ways to make students better global citizens.

Marieta Chemishanova is the coordinator for international student services (ISS) at Valencia College in Orlando, Florida. She provides immigration, academic, and personal advising to international students and manages the daily functions and operations of the ISS West Campus Office. Originally from Bulgaria, she earned a bachelor's degree in English from her home country and came to the United States in 2000 as an F-1 international student. She earned a master's degree in educational leadership studies: college student development from Oklahoma State University and is currently finishing her EdD in educational leadership–higher education at University of Central Florida. Prior to joining Valencia College, Chemishanova gained diverse experience working in higher education at Oklahoma State University, Texas A&M University, and Rollins College.

Stacey Chen serves as the international student specialist at Moorpark College in Ventura County Community College District. She joined Moorpark College after working eight years for California State University (CSU)-Northridge in international admission and recruitment. Chen joined U.S. higher education as an international student and earned her BS in international business/marketing from Cal Poly Pomona, her MA in educational leadership and policies study from CSU-Northridge, and is an EdD candidate in CSU-Northridge's Educational Leadership Program.

Maureen Coulter is an admissions counselor and designated school official at Kansas City Kansas Community College and has been in the international education field for a little more than two years. Coulter has a bachelor's and master's in sociology, and enjoys serving students from all over the world. In her current role, Coulter processes international student applications for admission and advises international students on status maintenance, immigration, and cultural concerns. Coulter is thrilled to be a part of the Diversity Impact Program and looks forward to engaging with and learning from her colleagues.

Natalie Cramer is an enrollment adviser and financial aid specialist at Dakota County Technical College (DCTC) in Rosemount, Minnesota. She advises accounting, electrical construction maintenance technology, and information systems management programs, as well as athletes, Post-Secondary Enrollment Options, and international students. Cramer has a master's in college counseling and student development, and before beginning her career at DCTC interned at Nelson Mandela Metropolitan University in Port Elizabeth, South Africa. Working at a technical college has its own challenges for students, and Cramer is passionate about ensuring that all international students are just as prepared for living in a small rural suburb as they are for class.

Elizabeth Iannotti is the director of The English Language Center at LaGuardia Community College, City University of New York. She oversees LaGuardia's precollege ESL programs serving more than 3,000 English learners from more than 130 countries annually, including an intensive English program that hosts approximately 200 international students per quarter. Iannotti is interested in exploring partnerships with oversees educational institutions. She studied abroad in France while completing her BA in English and French from Bowdoin College and worked abroad in Costa Rice before completing her master's in Teaching English to Speakers of Other Languages at Columbia University, Teachers College.

Amber Joy Prieb serves as the international specialist at Butler Community College in El Dorado, Kansas. She joined the college in 2015, where she works with international admissions, student services, and advising. Prieb studied abroad in France while completing her BA in French in 2012 from Grace College and is currently pursuing her MS in higher education from Grace College. She hopes that participation in the Diversity Impact Program will provide a growing understanding of the field of international education and a deeper appreciation for the students she works with.

Venita Ross is the international admissions adviser at Salt Lake Community College. She earned an undergraduate degree from the University of Utah in management and finance and a master's degree in business administration from Westminster College. She has transitioned from the financial industry to international education and discovered her passion working with international students. She has journeyed this course as an international student from St. Vincent and the Grenadines and thus far found this opportunity to lend her experiences to new students for the last 16 months very rewarding. She is grateful to be selected as a participant of the 2016 Diversity Impact Program and is looking forward to learning and developing her skill set in this new field from peers and mentors.

Stacye Fraser Thompson is the coordinator of international student services at Jefferson State Community College in Birmingham, Alabama. Her undergraduate work and graduate work (FSU) were in international affairs. After 17 years working as an immigration adviser/assistant director at a four-year year public institution with F and J students and teaching adjunct in international relations, she has moved into admissions, advising, and campus internationalization at the community college level. She is hoping to introduce study abroad to the community college system, increase internationalization into the curriculum, and open the community college to the multinational community in her area. She serves as NAFSA Region VII KC Liaison for International Education Leadership and Teaching Learning Scholarship and on the Board of Directors for Study Alabama.

Joy Wells is an international students and programs specialist and DSO at Riverside City College and adviser for the Associated Students of Riverside City College International Club. Wells has worked in the international field for eight years and is significantly involved with the city of Riverside in the role of secretary on the executive board for the International Relations Council. Wells has a master's degree in business administration management from Western Governor's University in Utah and is one of three program managers for the RCC campus C.E.R.T (community emergency response team) program. Wells is a lifelong learner and is anticipating great professional and personal development as a participant in the NAFSA Diversity Impact Program.

Kenny E. Yarbrough, Phd has entered his 18th year in the higher education arena and currently serves as the director of student life and diversity initiatives at Volunteer State Community College. He is a certified diversity professional. He provides leadership not only for his unit but also works in conjunction with the Office of International Education to help screen and select students for study abroad opportunities. He holds a bachelor of science degree in biology, a master's in counseling, a master's in business administration, and a doctorate in theology and is currently pursuing another doctorate in education. He is a member of several civic and social organizations (many holding board member status), and works with several agencies to develop diversity initiatives both domestically and globally.
Historically Black Colleges or Universities

Martin Abayomi Dada is an international student specialist at Bowie State University. Originally from Nigeria, Dada has more than 10 years of experience working with international students at various colleges such as Georgetown University, Stratford University, and Strayer University. He earned his BA in philosophy from the University of Ibadan, Nigeria, an MA in philosophy from Concordia University, Montréal, Canada, and he is a doctoral candidate in the higher education program at Morgan State University, Baltimore. He has presented academic papers at international education conferences in Japan, Thailand, Mexico, and London. He is fluent in Yoruba and English.

Letitia DeNard is the director of inclusion at Spelman College. She earned a bachelor of arts degree in sociology in 1996 from City College, CUNY, and a master's in adult education and training in 2015 from Argosy University. DeNard has worked in higher education for 28 years, with 22 years working with international students and for the past two years in diversity and inclusion. She is excited to be back as a member of NAFSA and meeting new people in the field of diversity.

Aurea Diab is the coordinator of the World Languages Program and the interim director of the Center for Intensive English Language (CIEL) Program at Dillard University. Having been an international student herself, she is an avid advocate for campus internationalization. She has helped articulate partnerships between Dillard University and several Brazilian institutions as well as between Dillard and the Brazilian government as part of the White House Initiative HBCU / Brazil Alliance. The program has hosted more than 100 Brazilian students and teachers as well as learners sponsored by Proyecta 100,000, a project sponsored by the government of Mexico. In addition, Diab is the Fulbright program adviser as well as the Boren/Gilman Scholarships campus representative at Dillard.

Rokhaya Fall is a study abroad coordinator for summer faculty-led programs and data analyst at Spelman College in Atlanta, Georgia. She is responsible for the recruitment of students, coordination of logistics with study abroad partners, management of summer study travel budgets, and risk management support in addition to the tracking, data entry, and processing of all surveys and assessments of students' intercultural competence. She also serves as a designated school official (DSO) for international students. Rokhaya has a BA in psychology and comparative women's studies from Spelman College and a master's in social work from Clark Atlanta University.
Debra Jones is the responsible officer for the Office of Diversity and International Affairs at Alabama State University (ASU). Jones holds a BA in advertising and marketing from the University of Alabama. She began her career in international education in 1997, initially working as an administrative professional. She later took on the role of coordinator of the National Student Exchange Program, and then J-1 scholars. She continues to develop creative programming that facilitates inclusion as well as enlightens ASU's campus and community about the importance of learning and respecting other cultures. She also serves as adviser for the International Student Association on her campus and actively recruits students to participate in the Clinton Global Initiative University.

Tonija Hope Navas brings more than 18 years of experience international education to the Ralph Bunche International Affairs Center at Howard University (HU), where she started as the deputy director in August 2015. Prior to joining Howard, Navas served as the executive director of the Baoba Fund for Racial Equity-North America, a Brazilian foundation, and before that worked at Phelps Stokes, a DC-based international NGO. Navas received her BA in Latin American studies/history from Macalester College and her master's in tourism administration with a specialization in international education from George Washington University. Navas speaks Spanish and Portuguese. She is deeply committed to increasing the participation of students of color in study abroad.

Shameka Reed serves as the international marketing and recruitment specialist for Jackson State University. She is also an award-winning public relations and marketing specialist. A 2003 graduate of Jackson State University, Reed has more than 10 years of experience in the mass media and communications industry. In 2013 she helped lead the charge for Jackson State University's Tiger Challenge Commitment enrollment campaign that resulted in the university's record enrollment and the university having the highest enrollment growth in Mississippi. She was also instrumental in implementing marketing strategies that helped the university increase enrollment in its summer camp programs by 17 percent. Both campaigns received an Award of Excellence and Award of Merit from the Southern Public Relations Federation during the 2013 Lantern Awards.

Erika Rodriguez, who has a passion for empowering student leaders, taught English abroad for several years before beginning her next chapter in international education as the diversity admissions officer at Morgan State University in Baltimore, Maryland. There, she is also the faculty adviser for the Latino Student Association and is working on starting the first Latina-based multicultural sorority on campus. As a participant in the Diversity Impact Program, she is looking forward to having the opportunity to develop professionally as well as explore new practices for assisting international students at Morgan State.

Lei Angela Yang is the director of international programs and services at Bloomfield College in New Jersey, working under the president to ensure institutional compliance with federal immigration regulations, develop cocurricular programs to engage international students on campus, and create initiatives on campus internationalization. Prior to this, she served as the associate director of international education outreach at Shoreline Community College in Washington and increased international enrollment by more than 40 percent within three years. Yang has more than 10 years of experience in higher education, encompassing all aspects of international programs, including international recruitment, student services, admissions, immigration, and study abroad.
Hispanic Serving Institutions

Kari Rankin is an international education adviser at New Mexico State University (NMSU) in Las Cruces, New Mexico. Rankin's first foray into international education was on a faculty-led semester program to India while a student at Gustavus Adolphus College. After graduating, she taught English in Northeast China and spent eight years living in Northern Japan. In addition to a BA in individualized distributive studies from Gustavus, Rankin also has her MS in international management from Troy State University. Those experiences abroad give her a unique perspective in her role as incoming exchange adviser at NMSU. She is very excited to be working in international education and to be attending NAFSA.

Michelle Romero is an assistant director at Florida International University's College of Business in Miami, Florida. She serves as the international liaison for the Career Management Services department and manages graduate programming. She has more than 15 years of business and legal experience and earned a bachelor of business administration and JD from the University of Miami. Romero is also a lecturer for the university's Honors College and College of Business, teaching courses in law, leadership, and marketing. She is well-travelled and speaks fluent Spanish and Italian.

Peter Seilheimer currently works at California State University-Monterey Bay to coordinate its participation in ACE's Internationalization Laboratory for comprehensive campus internationalization. His passion for international education stems from a love of the German language, cultivated at Concordia Language Villages in Northern Minnesota. Seilheimer's main interests within international education are diversity and inclusion and facilitating the development of foreign language and intercultural communication competencies. Seilheimer received his bachelor's degree in German, Russian, and gender studies from Lewis & Clark College. Recently, he completed his master's in international education management at the Middlebury Institute of International Studies at Monterey.
Tribal/Indigenous Colleges or Universities

Freda Gipp has worked in various capacities for more than 20 years at Haskell Indian Nations University located in Lawrence, Kansas. Haskell has a unique history and was built in 1884 during the era of "kill the Indian...save the man" to educate Indigenous students. Today, Haskell is a federally funded higher education institution designated as a Tribal College/University (TCU). Gipp's current role is supporting the university's newest venture, the Center for Institutional Effectiveness. Her goal in participating in NAFSA's Diversity Impact Program is to encourage a dialogue among NAFSA Annual Conference participants and other TCUs.

MarCia McBride McGee is a faculty member in the human development department at Northwest Indian College (NWIC), a land-grant tribal college on the Lummi reservation in northwest Washington. She is a member of the Choctaw Nation of Oklahoma and is devoted to educating and empowering Native students. Her undergraduate degree was in French, and she studied abroad in Switzerland and attended the Sorbonne in Paris, France. She was a French teacher in Baton Rouge, Louisiana, then earned her master's degree in marriage and family therapy, practiced as a therapist, and worked in family services. She began her career in higher education as assistant director of counseling services at St. Mary's College of Maryland for 11 years. When the travel bug bit again, she lived abroad in Mexico for years, running a B&B, learning Spanish, and doing therapy with the expatriate population. She is an avid traveler, student of the world, and photographer. Studying and living abroad have been the most transformative experiences of her life, and she hopes to introduce the idea of international study to NWIC's Native American students and to develop study abroad and student exchange programs with other indigenous peoples around the world.