We, international education professionals, know that food is a key to discovering culture. If there is one facet of Los Angeles that speaks for our values, it is our culinary scene. L.A. is beaming with international dishes, often presented with Angeleno flare. In this post, I will introduce some of my preferred restaurants, with a special focus on those closest to downtown Los Angeles.
Downtown Los Angeles (DTLA)
No matter how many upscale and trendy restaurants open in the area, The Original Pantry remains my favorite breakfast cafe. The Pantry is only two blocks east of the L.A. Convention Center, and it is open 24 hours a day, 7 days a week. In fact, it has not closed since it opened in 1924. Part of the appeal is the quick service and affordable prices—what's not to love when you can get two eggs, potatoes, toast, and coffee for $5.85? Bread lovers, I recommend the sourdough French toast. You might have to wait in line, especially during the weekend.
From college football to professional basketball, Angelenos love a good same-city rivalry. Take Coles French Dip and Phillipe's for instance. Both restaurants claim to be the originators of the French dip (or "French dipped") sandwich, a beef, lamb, or pork sandwich dipped into the gravy of the roasts. At Cole's you dip the sandwich into the sauce yourself, whereas the sandwiches at Phillipe's have been dipped before they reach the table. Which is the best sandwich? I will let you be the judge.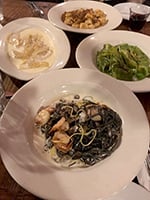 Ravioli di Zucca, Agnolotti Di Bucca, and Bianchi & Nerri at Maccheroni Republic
Venture further into the heart of DTLA and you will find some noteworthy restaurants. Take Maccheroni Republic for example. This gem of a restaurant is owned and operated by an Italian family that takes pride in their authentic pasta dishes, made from scratch and organic flour. The dishes are perfect to enjoy family-style; my friends and I always order the pumpkin ravioli with truffle sauce (Ravioli Di Zucca); the tortelloni filled with osso bucco meat and marrow in a green sauce (Agnolotti Di Bucco); and the black and white thin vermicelli pasta served with shrimp, mushroom, and roasted pancetta in a creamy bisque (Bianchi & Nerri). They do not take reservations, but this quaint place is worth the wait for small groups.
If you don't have time to sit down at a restaurant, not a problem! You can still find some quality dining down the street at Grand Central Market. The market is filled with more than 20 eateries featuring cuisine from all corners of the world, with an Angeleno twist of course. A prime example is the vegan ramen booth, Ramen Hood. I had a hard time believing the flavorful ramen was vegan because of the real-looking egg on top. For a popular breakfast spot, try Eggslut. I have never eaten here, but friends describe The Fairfax as a mouthwatering egg sandwich. The wait should be shorter on a weekday. Seafood lovers, head to Bombo for steamed mussels and clams in a lobster broth, served over egg pappardelle pasta. Most of the dishes range from $8 to $13 in the eateries mentioned above. However, if you would like to indulge in a serious $21 burger, try the lamb burger with all the fixings from Belcampo Meat Co. All meat patties are organic and grass-fed, and luckily you can enjoy the simpler lamb burger for $16 and the thin patty Fast Burger for $6.50.
Looking to celebrate a special occasion? I recommend booking a table at Perch LA for French-inspired fine dining. The restaurant is on the 15th floor, not to be confused with the lounge on the 16th floor. Even on a cloudy day, the unobstructed view of DTLA is spectacular. Ask the waiter for recommendations and do not be afraid to ask for substitutions. Enjoy the live string quartet from 7:00 to 10:00 p.m. daily. If you'd like to skip dinner and splurge on French dessert instead, head to Bottega Louie for posh pastries and macarons.
After a night of karaoke in Little Tokyo, my friends and I usually find ourselves at Wurstküche in the Arts District. Not only does their impressive selection of gourmet sausages pair nicely with their beer menu, but they close at 1:30 a.m.. The pesto mayo is a must for the Belgian fries! During the day, I visit Pie Hole for savory or sweet pies. Ice cream lovers, they just opened the Portland-original ice cream shop Salt & Straw in the neighborhood.
My final recommendation for DTLA is actually on my "To Try" list. My taste buds have been craving fried chicken and I think Howlin' Ray's in Chinatown is the answer. It was voted one of L.A.'s top 10 new restaurants by Los Angeles Magazine. I have not been able to visit because the restaurant is only open Wednesday to Sunday, 11:00 a.m. to 4:00 p.m. Take note!
Silver Lake and Echo Park
I understand that vegan ramen goes against the art of the traditional slow-cooked pork broth. Allow me to recommend Silverlake Ramen, a Japanese restaurant where they boil the broth for 16 hours before serving. I can attest to the explosion of flavor in every bite! The lemon roll and marinated chicken karage are quite nice too.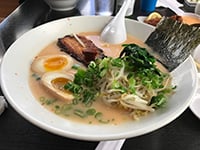 Tonkotsu Spicy Ramen from Silverlake Ramen
Closer to DTLA in Echo Park, you will find the bakery and restaurant Masa, known for their deep dish pizzas. Try the manchego salad while you wait 40 minutes for the pizza to bake, or order the pizza while you wait for your table. Dessert lovers like me, leave space for their signature bread pudding! My vegan friends, try Sage Bistro a few doors down for tasty jackfruit nachos and tacos.
A few weeks ago, I took a few friends to Ostrich Farm for brunch. It took us 30 minutes to secure a table at this new 50-seat restaurant, though we were originally quoted a 1-hour wait. The good news is that parties of 4 to 6 people can reserve a table by calling ahead. The bowls during brunch were incredibly flavorful, and I've heard that the flatbread with grilled leeks; the mussel and clam starter; and the ribeye steak from the dinner menu were phenomenal. If the wait is too long, try your luck at the small sandwich shop Trencher. Visit them for lunch or an early dinner since they close at 7:30 p.m. I have been known to rush in before closing to order the buffalo cauliflower.
Neighborhoods to Explore!
Moving away from downtown L.A., allow me to recommend some restaurants in other neighborhoods. Yelp.com can be your friend to look up more places.
Mexican Food
My last piece of advice is related to Mexican food. If you do not live on the west coast, this is the time to try Mexican food! Taco trucks are our version of street tacos. Hence, if you see one on the street, be bold and try an adobada, al pastor, or carnitas taco. Want to drive around in search of the best taco truck? There's Leo's Taco Trucks on Brea Boulevard and Venice, and they have other locations too. In Echo Park, hipsters and non-hipsters alike are loyal to Taco Zone at 1342 North Alvarado Street. Ave 26 Taco Stand is kind of out of the way, but they have earned 5 whole stars on their Yelp page. Did I mention that tacos cost $1.00 or slightly more, at all of these trucks?
I admit that I rarely eat at Mexican restaurants because my wonderful mother has spoiled me with authentic dishes my entire life. Therefore, I rely on my friends' recommendations for sit-down restaurants. My friends rave about the original El Cholo restaurant on Western Avenue, though I noticed that they have a location in DTLA. El Cholo would be considered more Cali-Mex than Mexican, but I noticed that they serve albondigas (meatball soup) and tamales, which brings me to my next point. Mexican food is more than tacos and burritos—the latter of which is actually American. Look for these items on the menu if you want to try something new: pozole, chiles rellenos, chilaquiles, sopes, and mole. If you spend time in West Los Angeles, search for Oaxacan restaurants in Venice.
And with that, I am officially hungry! I look forward to hearing your thoughts on these restaurants. Buen provecho! Bon appetit!
---

Kelly Zuniga is J-1 exchange visitor counselor at the University of California-Los Angeles and the Local Arrangements Team (LAT) communications chair for the NAFSA 2017 Annual Conference & Expo.