Build Community
Connect with Community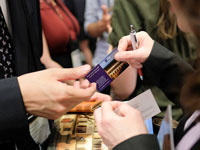 The NAFSA Annual Conference is your opportunity to establish new contacts and deepen professional relationships within communities that share your professional challenges and interests. Community-focused events and gatherings at NAFSA 2019 connect you with peers and senior leaders you can call upon all year round for professional guidance and advice. Build your professional network while strengthening the diverse communities that advance the field of international education and support international education professionals before, during, and after the conference.
Open Meetings
Knowledge Community (KC) open meetings and Member Interest Group (MIG) meetings welcome participants to engage in small group conversations focused on variety of personal and professional interests. Browse these great networking opportunities and be sure to add them to your conference schedule!
Education Abroad Knowledge Community
International Education Leadership Knowledge Community
International Enrollment Management Knowledge Community
International Student and Scholar Services Knowledge Community
Member Interest Group Meetings
Shared Interest Open Meetings
Teaching, Learning, and Scholarship Knowledge Community
Regional Meetings
Each of the 11 NAFSA regions located throughout the United States will hold individual meetings at NAFSA 2019. Find your region and then add your regional meeting to your conference schedule.
Regional I Update
Regional II Update
Regional III Update
Regional IV Update
Regional V Update
Regional VI Update
Regional VII Update
Regional VIII Update
Regional X Update
Regional XI Update
Regional XII Update
Knowledge Community Networking Receptions
Gather together with colleagues and friends who share similar professional interests at five networking receptions.
Education Abroad
International Education Leadership
International Enrollment Management
International Student and Scholar Services
Teaching, Learning, and Scholarship
Testimonial

I look forward to attending this conference every year. It is so nice to have the opportunity to meet and exchange ideas with colleagues from across the U.S. and around the world. Marilyn J. Jackson, San Francisco State University