Connect with Peers
Make Connections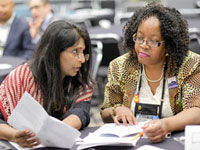 The NAFSA Annual Conference & Expo is the must-attend international education event of the year because it provides international educators with one-on-one interactions with peers, partners, and senior leaders from across the globe.
NAFSA 2019 is your opportunity to connect face-to-face to share insights and advice; create lasting partnerships; and expand your professional learning community. Achieve your career success goals all year round using the powerful connections you make at the NAFSA Annual Conference & Expo each year.
NAFSA 2019 Mobile Conference App
The NAFSA 2019 Mobile Conference App and Online Planner make networking and agenda building easier. The NAFSA 2019 online planner will be available in spring 2019, and the conference app will be available a few weeks before the start of the conference.
Message and connect with attendees who are interested in networking
Search the full list of conference participants and exhibitors
Building your event, session, and meeting schedule
Build Partnerships
Discover new partnerships, resources, and technologies to help grow your programs and offerings inside the International Education Expo Hall, the largest of its kind in the field. Use the NAFSA 2019 mobile app to connect with exhibitors and set up times for face-to-face meetings.
Knowledge Community Networking Centers
Each knowledge community (KC) has a designated networking center to facilitate informal meeting and networking during the conference. The KC networking centers are open to all conference attendees. Networking centers hours are typically open 7:00 a.m.-6:00 p.m., Monday through Thursday, and 7:00 a.m. to 3:00 p.m., on Friday.
Education Abroad Networking Center
International Education Leadership Networking Center
International Enrollment Management Networking Center
International Student and Scholar Services Networking Center
Teaching, Learning, and Scholarship Networking Center
Testimonial

The NAFSA Annual Conference & Expo was an invaluable opportunity to network with domestic and international partners and create future opportunities for collaboration. Katy Lane, Texas A&M University