Networking Events
Attend a Networking Event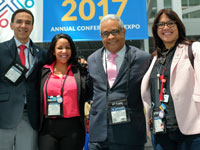 Networking events at the NAFSA Annual Conference & Expo provide attendees the opportunity to focus on strengthening their professional connections. Add these special events to your conference schedule to dedicate time for meeting with colleagues and partners, and expanding your professional network.
Take advantage of these important opportunities to broaden the circle of thought leaders and peers you reach out to for advice and resources year-round. Learn more about these events and be sure to add them to your NAFSA 2019 conference schedule.
Networking Luncheons
Join other international education professionals to discuss shared interests and potential partnerships.
Pathways to Peace Luncheon
Diversity and Inclusion Luncheon
Community College Luncheon
Liberal Arts Institutions and Women's Colleges Luncheon
First-Timers Breakfast
Get your conference week off to a great start by joining other first-timers and NAFSA leaders for a networking breakfast.
Knowledge Community Receptions
Monday, May 27, 5:30 p.m. - 7:30 p.m.
Education Abroad
International Education Leadership
International Enrollment Management
International Student and Scholar Services
Teaching, Learning, and Scholarship
International Connections
U.S. Higher Education Partnership Fair
Latin America Forum
Africa Forum
NAFSA 2019 Celebrations
Opening Celebration
Join your fellow NAFSA 2019 attendees for a sensational event kicking off this year's conference.
Closing Celebration
Share memories of NAFSA 2019 as we look ahead to our next conference destination: St. Louis, MO.
Testimonial

As a graduate student entering the field, I found the NAFSA Annual Conference & Expo to be a fantastic way to network for future positions, explore what kind of international education organizations are out there, and best of all, to find a mentor who I believe I will be in touch with for many years to come. Kelsey Prima, Middlebury Institute of International Studies at Monterey