2014 Conference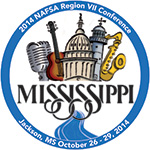 The 2014 Region VII conference will be held October 26-29, 2014 in Jackson, Mississippi at the beautiful Jackson Convention Complex.
Directions and parking map for Jackson Convention Complex.
October 26-27: Preconference workshops
October 27: Conference begins and exhibit hall opens
October 29: Conference ends at noon
Explore Jackson at the Visit Jackson Website
 Please check this page regularly for any updates or changes to the information below.
Schedule
Download the complete conference schedule.

Conference Hotel
Jackson Marriott
200 East Amite Street
Jackson, MS 39201
Room Reservations for the NAFSA Region VII Conference in Jackson Mississippi are now open at our conference hotel, the Jackson Marriott!
NAFSA Region VII room rates are $149 for single or double. You can reserve online or by phone.
To reserve online, visit the Marriott site here and fill out the left side of the screen to book your room. Under "Special Rates & Rewards" enter the Group code "NAFNAFA" to receive the $149 room rate.
To reserve by phone, call 800.228.9290 and indicate that you are part of NAFSA Region VII.
 The deadline for room reservations is Friday, October 3, 2014.
If you have any questions, please contact Sylvia Shortt, Conference Planner.
Conference Events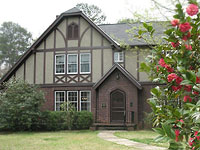 Book Club Tour of Eudora Welty House
Monday, October 27 9:00am - 11:30am
$4 tour fee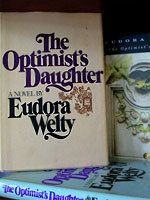 Book Club Conference Session
Monday, October 27, 1:30 p.m.
Conference session will be lead by Dr. Carolyn J. Brown earned her Master's and Ph.D. at UNC-Greensboro and has taught at UNC-Greensboro, Elon University, and Millsaps College. She is the Regional Coordinator for the Mississippi Chapter of the Jane Austen Society of North America. Her publications include articles in Notes on Mississippi Writers, College Language Journal, and Persuasions: The Jane Austen Journal, as well as the books A Daring Life: A Biography of Eudora Welty and Song of My Life: A Biography of Margaret Walker, to be published later this year.
 Casino Night
Monday, October 27, 8:30p.m. to 11:00p.m., Jackson Marriott Ballroom

Our Platinum Sponsor International Student Protection will be hosting our Casino Night! Enjoy music, dancing and table games. Gaming will include: blackjack, poker, craps, roulette and slot machines!
 Opening Plenary Luncheon
Tuesday, October 28, 11:30am-1:30p.m., Jackson Convention Complex
 Special Guests: Mississippi Band of Choctaw Indians (MBCI)
MBCI is the only federally-recognized American Indian tribe living within the state of Mississippi. Tribe members will give us an overview of their culture and perform traditional dances with a chanter and striking sticks. They will also have arts and crafts available for purchase. Go to http://www.choctaw.org/ for more information on MBCI.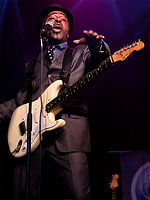 All-Conference Event
Tuesday, October 28, 6:30p.m.-10:00p.m., Mississippi Museum of Art
We have an exciting event planned for you at the Mississippi Museum of Art. Special guest performer: Vasti Jackson!
Vasti Jackson is known for sweat-drenched, soul-ripping performances marked by some of the most stunning and innovative guitar playing, and soulful singing on the global touring circuit today. He has been featured in numerous award-winning films, including Treme, Martin Scorcese's The Blues series, Lifetime Networks "Infidelity", and Starz "Last Of The Mississippi Jukes," and he is in constant demand for his myriad of talents by the top names in the music, and entertainment industry.
Recent CDs by Vasti Jackson are "Stimulus Man", "Mississippi Burner", "New Orleans Rhythm Soul Blues."
Vasti Jackson was bestowed the honor of Mississippi Cultural Ambassador June 14, 2014, and inducted into Mississippi Musicians Hall of fame in 2012.
Registration
October 17th is the LAST day to use the online form.  Paper will be accepted through the 24th but any registration received after the 17th will have their materials printed onsite.  On-site registration is available for the conference only.
Registrant Type

Regular
By 9/26

Late/Onsite
After 9/26

NAFSA Member

$250

$325

Nonmember

$330

$450

Student /Community Member /Retiree

$95

$95

One Day (NAFSA member or nonmember; includes meals for chosen day)

$200

$200
Registration Refund Policy:
95% refunded if written notification received by e-mail or postmarked by September 26, 2014
50% refunded if written notification received by e-mail or postmarked between September 27, 2014 and October 3, 2014
No refunds after October 3, 2014 except for emergency/special situations (examples: sickness and natural disasters).
Region VII is offering 30 travel grants in the form of FREE conference registrations!! Apply today using the travel grant form. Applications for travel grants are due by September 5, 2014. All grantees will be notified by September 12, 2014.
Preconference Workshops
Online and paper forms will be available soon!
You must preregister for workshops. Onsite registration for a workshop will not be permitted. The workshop registration deadline is September 26, 2014.
List of workshops offered at the 2014 conference:
While highly encouraged, you do not have to attend the conference to participate in a preconference workshop. Region VII reserves the right to cancel a workshop if sufficient enrollment is not reached by October 1, 2013.
Exhibitors, Advertisers, and Sponsors
Registration now open- see link above to online and paper forms.
Exhibit Hall Schedule
 Monday, October 27:
Exhibit Hall Set-up: 8:30 a.m.–10:00 a.m.
Exhibit Hall Opens: 10:00 a.m.–5:00 p.m.
Grand Opening Exhibit Hall: 2:45 p.m.–3:15 p.m.
 Tuesday, October 28:
Exhibit Hall Opens: 8:30 a.m.–5:00 p.m.
Exhibit Hall Closed for Plenary Luncheon: 11:30a.m.–1:30p.m.
 Wednesday,October 29:
Exhibit Hall Opens: 9:00 a.m.–12:00 p.m.
Exhibit Hall Breakdown: 12:00p.m.–1:00p.m.
Sponsors
Session Proposals
The session proposal submission link is now closed. We will post a list of sessions in late August/early September. 
Questions? Contact your regional Knowledge Community (KC) representative.